Tutu Inspires UM-Flint Students to Continue Struggle for Justice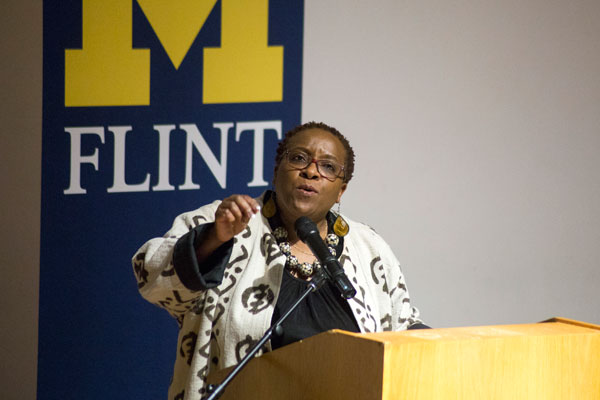 The active pursuit and quest for justice is the way to continue the work of Martin Luther King, Jr., said one of the world's leading voices in civil rights and equality issues during the keynote MLK Day address at the University of Michigan-Flint Monday.
Nontombi Naomi Tutu, speaking at the Kiva Monday evening, said that the fight against injustice didn't end with King, and pointed to the water crisis in Flint as a learning example for the rest of the country.
"We actually needed the people of Flint to remind the people of this country what happens when political expediency, when financial concerns, overshadow justice and humanity," Tutu said.
Tutu is the third child of Archbishop Desmond Tutu and Nomalizo Leah Tutu. The challenges of growing up black and female in apartheid South Africa have been the foundation of her life. She has gone on to work as development consultant in West Africa, program coordinator at the Race Relations Institute at Fisk University, as well as teaching at multiple universities.
During Monday's address at UM-Flint, she said social justice leaders like King and Nelson Mandela made active decisions to address injustice while maintaining their humanity and not lowering themselves to the level of those that tried to bring them down.
"We are here today to say thank you to Dr. King and those who walked with him for trying to make it right. But even more we are here to say we are going to carry on that struggle to make it right," Tutu said.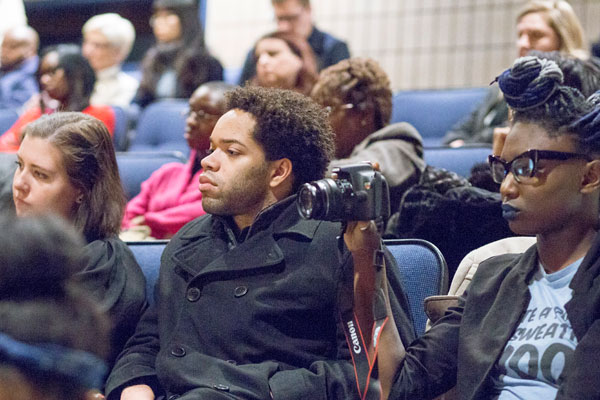 Tutu said everyone can leave their imprint.
"We are called by the legacy of Dr. King to look where we are, to look at where we find ourselves, and find that place we can make a difference, find that place where we can move our country and our world closer to being just places for all to live," she said.
Part of that quest for justice is not remaining silent, she said.
"We cannot allow political decisions to be made on the basis of expediency. We cannot allow political discourse to be based on division and enmity. We cannot simply sit by as people build their reputations and names by dividing us against one another. That is not a society that Dr. King lived for, worked for, and died for. It is not a society that so many sacrificed their lives to see."
After Tutu's address, she answered several questions from the audience, including discussions about racial identity and personal ethics.
Rushika Patel, PhD, director of the Women's Educational Center and interim director of the Intercultural Center at UM-Flint, lauded Tutu for being direct and talking about the universal principles of justice and equality.
Contact University Communications & Marketing with comments, questions, or story ideas.