Nontombi Naomi Tutu to Speak at UM-Flint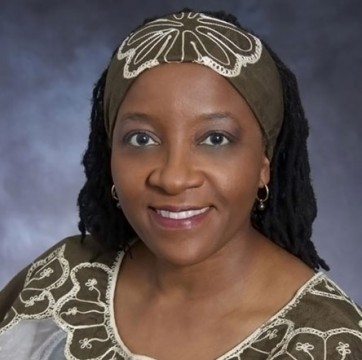 Human rights activist Nontombi Naomi Tutu will give the keynote lecture at the University of Michigan-Flint on Martin Luther King Jr. Day.
The January 18 lecture is part of a series of events and service opportunities throughout the day designed to honor the work and life of the late civil rights leader. The lecture is free and open to the public.
Tutu is the third child of Archbishop Desmond Tutu and Nomalizo Leah Tutu. She was born in South Africa and has lived in numerous countries.
"Naomi Tutu is someone who thinks in serious ways about "impact" and inspiring others to make an impact. She encourages people to deeply consider what we can do that will potentially bring us joy on the one hand, and will fulfill an unmet need in the world on the other," said Rushika Patel, PhD, director of the Women's Educational Center and interim director of the Intercultural Center at UM-Flint.
"She reminds us that we can truly opt to be driven by our passions, as opposed to bandwagons, and that only the kind of personal and collective drive that is propelled by underlying feelings of love will sustain the energy and commitment required to organize and make a material impact. For me, the significance and impact of her speaking on campus is in precisely the moments after her visit, when we will carry lessons from what she has shared about her own experience, into the spaces in which we work, study, create knowledge, and serve."
Tutu's professional imprint includes: working as a development consultant in West Africa; program coordinator for programs on race and gender, and gender-based violence in education at the African Gender Institute at the University of Cape Town; program coordinator at the Race Relations Institute at Fisk University; teaching roles at University of Hartford, University of Connecticut, and Brevard College in North Carolina. She has been a public speaker since the 1970s. She formed Nozizwe Consulting, which works to "bring groups together to learn from and celebrate their differences and acknowledge their shared humanity", according to her biography.
Patel said Tutu has the background and mindset to inspire students.
"I mostly wanted to find someone who would be able to speak in a compelling way about the work of Dr. Martin Luther King Jr., but I also wanted to select someone with whom our students might identify. When she was in college she searched for her own voice and her own passions, just like our students. She took on leadership roles in student organizations that she believed in, such as the African Students Association, the Black Student Union, and Students United Against Apartheid," Patel said.
"She worked with faculty and administration to teach other students about race relations in South Africa. She even had to search for scholarships to be able to fund her own education. I wanted to invite someone here that our students could relate to and who might inspire and challenge all of us to think about the world and how to approach social problems with a critical lens, while navigating personal challenges."
Tutu is scheduled to speak from 4:00 p.m.—5:30 p.m. in the Kiva, located in UM-Flint's Harding Mott University Center.
Robert is a staff writer in University Communications & Marketing. Contact him with comments, questions, and story ideas.