Q & A: Rushika Patel, Intercultural Center & Women's Educational Center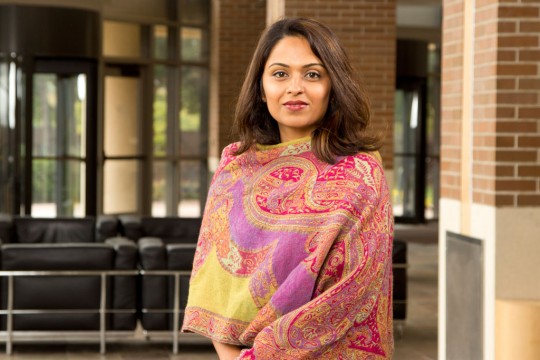 Rushika Patel, PhD, is director of the Women's Educational Center and interim director of the Intercultural Center at the University of Michigan-Flint. She discusses a range of student services and programs in this interview with UM-Flint staff writer Robert Gold.
 What support services does the Women's Educational Center provide for students?
 The staff in the Women's Educational Center (WEC) ultimately want to support individual students in persisting through their educational goals towards finding personally fulfilling and secure futures while ensuring that the services across campus are responsive to a diverse population of students with complex lives and competing demands. To this end, the WEC basically provides support services directly to students that allow us to approach success in three broad strategic campaigns that include resources and support for low income students, sexual violence prevention education and advocacy, and education and training about issues related to gender and diversity in local and global contexts.
We offer walk-in support for any student who is experiencing an emergency. We have a comprehensive list of resources that we use to refer students to services that can help them meet basic needs related to food, housing, clothing, transportation, bills, and childcare. We can serve as advocates for students with these providers, though our focus is on helping students learn how to self-advocate. If we aren't able to find a resource or provider that can help, we encourage them to apply for our Critical Difference Grant (CDG) or Center for the Education of Women Scholarship. Thanks to the compassion and commitment of our donors and supporters, the CDG enables us to offer students small amounts of money so they can get out of difficult short-term emergencies and stay enrolled in classes. Most often, students just need a little financial help to address an unexpected emergency before they receive their next paycheck. We plan to increase our support to low income students this year by coordinating an effort that will focus on the academic, personal, and financial needs of single parent students; research in higher education points to critical intergenerational benefits of education for this group of students.
We also provide advocacy and confidential support for students who want to talk about sexual or gender violence. The WEC and Counseling, Accessibility, and Psychological Services (CAPS) are officially the only places on campus where students can talk completely confidentiality. WEC staff are trained and experienced in providing this kind of support and we just want to make sure that our students have enough support to make it through to graduation, no matter the pain or fear they've experienced either before or during college. This year we are increasing our educational services by working with Greek Life, Housing, and Student Government to offer a range of tailored bystander intervention training opportunities and we are also organizing awareness raising events for Domestic Violence, Dating Violence, and Sexual Assault Awareness Months. We are also doing a comprehensive inventory of our programs for addressing sexual and gender violence and conducting a survey that will help us gauge where the needle is on students experiences with different forms of violence. This will help us determine how we can constantly work with the changing context of student life to offer a coordinated and compassionate response to needs for safety, healing, justice, and education about the dynamics of sexual violence.
Finally, we offer training services on a range of issues related to gender, including diversity, social justice, sexual misconduct policy, and bystander intervention training. Offices from around the University as well as student groups and organizations increasingly call on the WEC to facilitate intergroup dialogues, workshops, and trainings.
We maintain a breast feeding room next to our Center and a comfortable space on campus where students can come to study, take a break in between classes, or just talk to someone who cares about their future. Besides these support services we offer many more forms of support!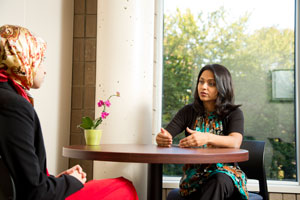 What is the center's approach to outreach into and with the community? How does this contribute to the university's mission?
 Our approach to outreach with the community is centered around great feelings of gratitude for the ways that community members and organizations support and inform the work of the Women's Educational Center and, ultimately, the academic success of our students. The WEC participates in organizing the Sister 2 Sister Summit and the Girls Court Mentoring Program. These programs have offered WEC staff an opportunity to understand how young girls experience the city of Flint and how the University can thoughtfully and strategically work with the community to make sure that getting good grades and going to college gets and stays on their wish lists. I am equally grateful to have met local artists and activists such as Cherisse Bradley and Mama Sol. It is through listening to their analysis and music, in standing-room0only performances that speak to the hearts of people in Flint, that we in the WEC continually learn about the social, emotional, and economic challenges that our students endure and we learn how to better support them through our services. The WEC is also grateful for our relationship with Gear Up 2 Lead, an organization that is educating about the "growth mindset" concept in our community and reminds the WEC that even structural limitations for our students and our community can transform if we see and seek out opportunities to transform them collectively. The University prioritizes student centeredness, academic rigor, and making a better community and world.  In the WEC we work with and listen to the community as members of the community, and not imposing our own ideas about what a better world looks like on the community. This enables the WEC staff to gain the knowledge that is critical for us to be able to better serve our students and moves us towards realizing UM-Flint's mission.
The center has a long history of educational events and seminars. Is there a particular focus or goal this year?
 In 2014 the WEC Advisory Board began a strategic planning process and we decided that WEC programming for the 2015-2016 year would include the WEC Speaker Series which focuses on women's participation in social movements; programming for Domestic Violence, Dating Violence, and Sexual Assault Awareness Months; and participation in the Global 16 Days of Activism Against Gender Based Violence Campaign. Dr. Joy James will be our WEC Speaker this October. Next year, we plan to increase collaboration and partnership on events and seminars with other departments to increase programming that addresses self-advocacy and knowledge of rights; economic literacy and financial management; graduate and continuing education; and learning and career support.
 The Intercultural Center opened last fall. How has feedback from the first year contributed to the goals and expectations for the upcoming school year on how the center can further benefit students?
 Feedback from the first year has generally come as expressions of hopes and dreams from students about what the Intercultural Center (ICC) can potentially be. Students are hungry for programs and events that not only offer education about their collective history and notions of cultural heritage, but allow them space and time to talk together about and share information about how they experience racial and ethnic identity in empowering, ambiguous and/or oppressive ways. Students want a forum in which they can make their voices heard and more ways to contribute meaningfully in the process of creating a University culture that works for them. And since everything we should do at UM-Flint is ultimately for the benefit of our students, my goals for this year are truly to work with students to guide the work of the Intercultural Center.
This year I'm focusing on efforts to cultivate a diverse community of students who are aware of the ICC and think critically and in generative ways about diversity and inclusion at UM-Flint and beyond. I want students to know that identity is not supposed to be a straight jacket in which they have to belong, but is rather a way of thinking about issues related to justice, equality, progress, and democracy.  I'll do this by organizing a range of opportunities for students to engage each other over contemporary issues during events for Hispanic, Native American, African American, Arab American, and Asian Pacific American Heritage Months. I further plan to collect data from students as well as faculty and staff that will allow us to identify priorities for additional programs and services that are offered in upcoming years.
Is there potential for collaboration between the Women's Educational Center and the Intercultural Center? How do you view partnerships between the various resources at the university?
 Partnership and coordination at the University is critical. It helps us stretch University dollars, but even more importantly, it allows us to achieve our mission of student centeredness. Every student has unique needs and dreams and we can only meet this needs if our efforts are coordinated and our communication is near seamless. The potential for collaboration between the WEC and ICC is promising. The Women's Educational Center and Intercultural Center play a central role in making sure that all students, including women, students of color and working class students, feel like they belong at UM-Flint. Both Centers also play a role in making sure that the voices of women, students of color, and working class students are given due weight in decision making processes that effect their lives. When students feel like they belong here and like this campus is theirs, like they have a large and diverse community here that cares about who they are and values what they contribute, then they are more likely to want to come back and will work harder, with whatever resources they can find, to persist through graduation. In this way, the missions of the WEC and the ICC are structurally binded and binding with the overall educational and retention goals of the University. So, while the Women's Educational Center puts gender at the fore in our planning processes, issues related to culture, race, sexual and national identity, and class are not secondary, but integral to our understanding of gender relations. The corollary is true for planning efforts in the ICC.
Robert is a staff writer in the Office of University Relations. Contact him with comments, questions, and story ideas.