UM-Flint to open historic downtown ice rink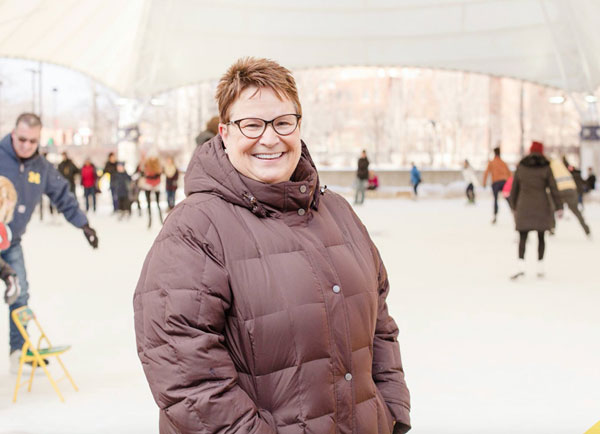 The University of Michigan-Flint will reopen the downtown ice rink, Chancellor Susan E. Borrego announced today.
"As we continue to find ways to enhance campus, opening this rink is a simple way to have a dramatic impact," Borrego said. "We know as a university that we must be an academically excellent institution and also offer a thriving, diverse student experience. As an anchor institution in downtown Flint, our campus success and our community success are inherently tied to one another. We are proud to be partners, working together to enhance both our campus and our community."
The public is invited to attend a grand opening celebration for the ice rink on Jan. 2.
Skating will be free and open to the public on Wednesday evenings as well as Saturday and Sunday afternoons through March after the Jan. 2 opening.
Borrego gave special thanks to Kettering University and Jocelyn and Phil Hagerman, through the Hagerman Foundation, for their financial support to get the rink opened. The University continues to seek other partners in the effort.
"We are delighted to partner with UM-Flint to continue a great tradition — free community ice skating in Flint during the winter," said Kettering University President Dr. Robert K. McMahan. "The free community ice skates we held at Kettering University's Atwood Stadium the past two winters have been great successes, and we have seen people from all over Flint taking advantage of the opportunity to skate outside in such a great venue.
"Through our partnership with UM-Flint, this great tradition will now continue in the heart of downtown. Now people from across Flint as well as the students, faculty and staff of our colleges and universities will be able to see firsthand and take advantage of the great things happening in downtown and the University Avenue Corridor. This is just one example of the power of the Universities working together in our community, and I want to thank my colleague at UM-Flint, Chancellor Sue Borrego, for her leadership in making this happen."
The rink will use an IceMat system, which consists of a series of continuous loops spaced very close together and laid out on the concrete surface, completely filling the rink area. The tubes are half-inch in diameter. An 80-ton cooling unit will chill an ethylene-glycol solution to sub freezing temperature and pump it through the IceMat to keep the ice frozen.
The IceMat is now being shipped to Flint. Installation, freezing and painting of the ice are scheduled to take place over the next week.
Flint Mayor Karen Weaver also applauded the effort.
"This is a great asset to our community. It offers families a chance to have fun and show off all the great things our city has to offer," Weaver said.
The Downtown Development Authority also is a partner in the effort, assisting with the ice installation as well as ice maintenance and snow removal.
The rink also will be available for rent. Special events and programing are being planned, including broomball tournaments for students.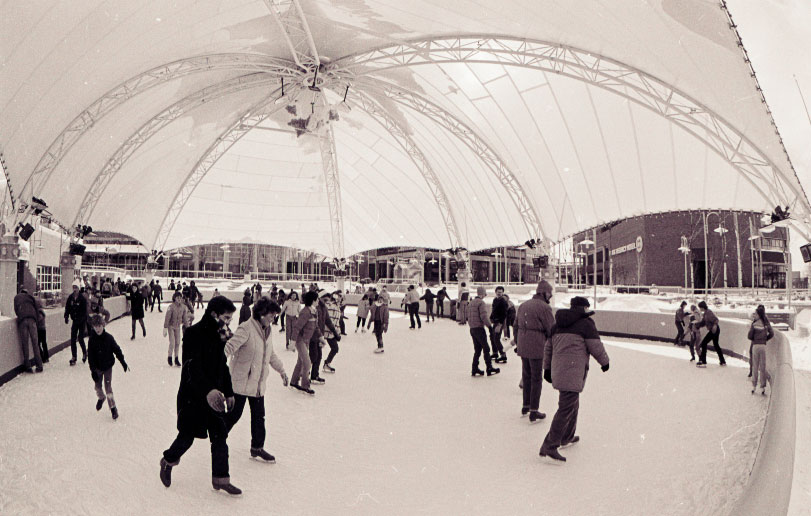 The rink first opened in 1985 as part of the Water Street Pavilion. It closed before the university announced in 1990 it would take ownership of then mostly vacant property and turn it into administrative offices.
The facility was renamed University Pavilion and it continues to be home to administrative offices, the university bookstore, a tutoring center and five of restaurants.
The ice rink is one of several recent moves to prepare UM-Flint for the future, enhancing and allowing for growth of campus activities.
In October, the University of Michigan Board of Regents approved the purchase of one of the FirstMerit Bank buildings on Saginaw Street to be used for academic and administrative space.
Last week, the Uptown Reinvestment Corporation and the Charles Stewart Mott Foundation announced the Riverfront Residence Hall & Banquet Center would be donated to the University, adding a second on-campus housing option for up to 500 students.
Contact University Communications & Marketing with comments, questions, or story ideas.