December Graduates Reflect on Their UM-Flint Education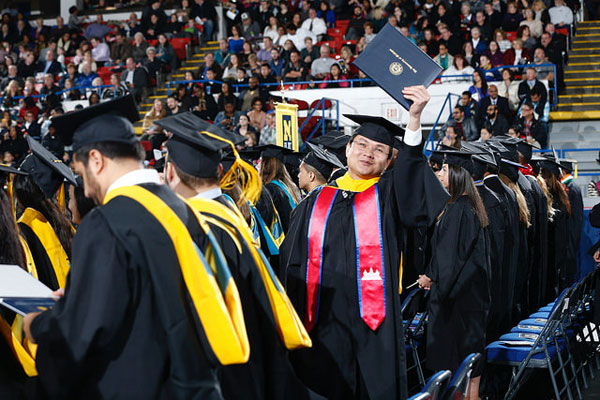 The University of Michigan-Flint held its December 2015 Commencement Ceremony, honoring the talents and commitment of its graduating students.
Here are some of their personal stories and reactions to the important day.
Sopheak Pouv
When Sopheak Pouv (photo above), who is from Cambodia, was looking for universities to study graduate-level computer science and information systems, he turned his attention to the United States. Pouv, chose UM-Flint for its program and curriculum, and for the University of Michigan reputation.
"I chose Michigan because it is one of the greatest schools in the United states. And in terms of computer science and IT, it is also good," he said.
Pouv, who earned his Master of Science in Computer Science and Information Systems, started at the university in the fall of 2014. He lauded the campus community for its supportive nature. "I really enjoy it here," Pouv said. "The people are very, very kind."
Lori Johnston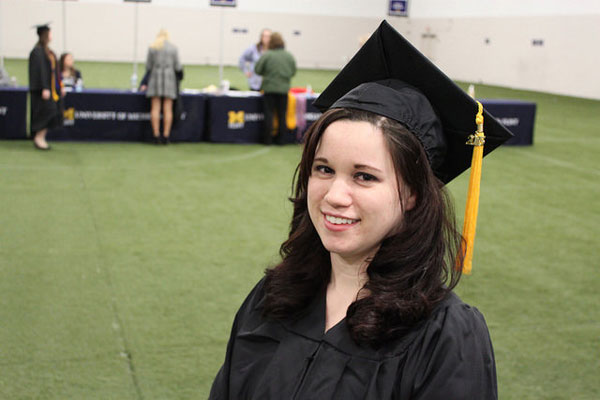 Lori Johnston continued a family tradition by studying at UM-Flint. Four brothers and her father attended school here. But Johnston said she wasn't overly familiar with the campus until she started taking classes in January, 2009.  What she found left her with no regrets.
"It was a nice experience," Johnston said, who graduates with a Bachelor of Arts in Psychology. "It made you feel at home."
Johnston said the range of ages of students on campus added to its appeal. "You have students right out of high school, to students in their 50s and 60s," she said.
As she prepared for Sunday's commencement ceremony, Johnston called the moment "exciting."
"It's the finish line. It's a huge accomplishment," she said.
Narendra Kumar Sanath Kumar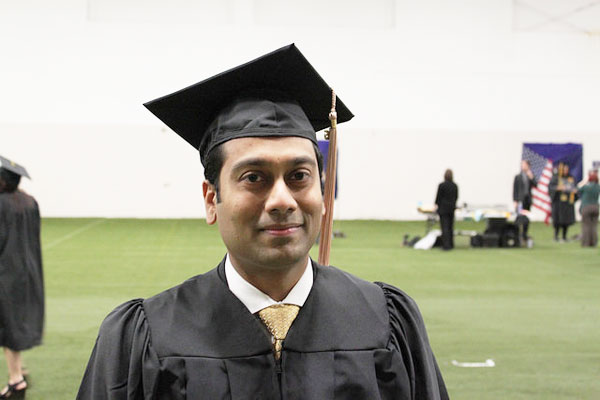 Narendra Kumar Sanath Kumar joined the university in Fall of 2014 to advance his career. Kumar held a director-level position at the hospital, Beaumont Farmington Hills, when he started at UM-Flint. A year into his studies, he was promoted to a Vice President job. Kumar graduated Sunday with a Master of Business Administration.
"It's a big day. Finally, all the hard work pays off. I am walking also for my wife and kids because they sacrificed more than I did."
Kumar decided to study at the University of Michigan, and liked the mixed-mode style of the NetPlus! program. This allowed him flexibility in scheduling and taking classes both online and in the classroom, while maintaining the quality.
"It's a very good, quality program. I gained a lot from this program."
LeAndrea Scruggs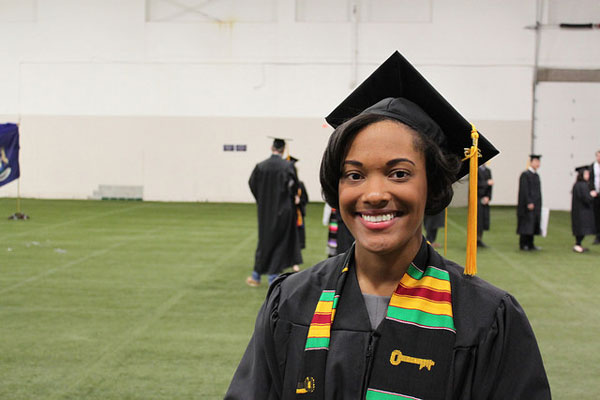 LeAndrea Scruggs gathered with her peers before Sunday's commencement ceremony and pondered the fact that graduation was here and her undergraduate career was coming to a close.
"I don't think it has hit me yet," Scruggs said. "It is bittersweet."
Scruggs started at the university in the Fall of 2011. She knew the university because her mom attended school here.
"It was better than I expected," she said, saying she felt safe and enjoyed campus. "I've grown to really like it."
Scruggs earned her Bachelor of Science in Applied Psychology.
Thomas Mulcahy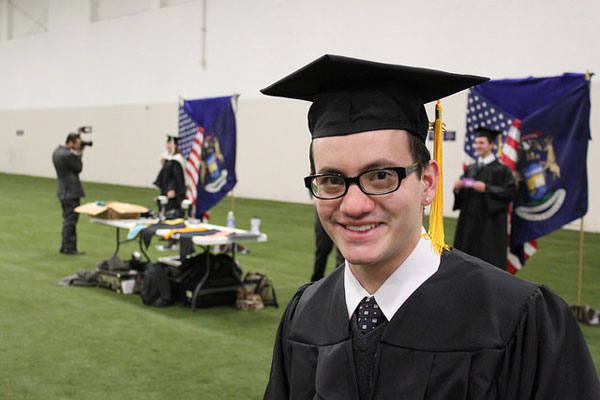 Thomas Mulcahy originally transferred to UM-Flint in the Fall of 2012 from Central Michigan University. He didn't know what to expect regarding the atmosphere, but was happy with what he found.
"It still had a college feel and everything to it," he said.
He often found laser focus at the library, and a good study environment at the William S. White Building. Next up, he is looking for public relations or advertising jobs. He earned his Bachelor of Arts in Communication.
Mulcahy, who commuted from Davison, said graduating felt "surreal."
"I don't think it's sunk in. On Monday, I'll feel like I still have to do something."
Darius Dunn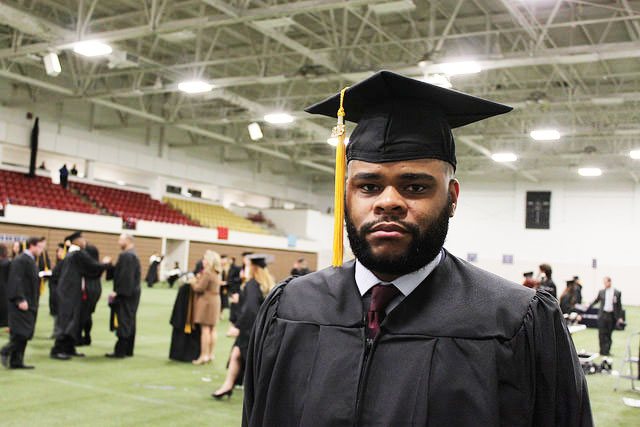 Darius Dunn joined UM-Flint in the Fall of 2014, and found academic and career achievement here and abroad. Dunn was heavily involved with the student economics club, a sports economics group, and a student group focused on study abroad programs. He spent six months taking economics classes in Sweden.
"It was like no other experience I ever had. I am very, very glad I took the experience. I knew graduating in December, and graduating among so much talent, I had to have something on my resume to try and make me stand apart," Dunn said, about his time in Sweden.
And of the campus in Flint, Dunn said he "loved it."
"I had a great experience here," he said, celebrating his teachers as approachable and intelligent. He graduated with a Bachelor of Arts in Economics.
"I had great teachers here. Every teacher was a great teacher and good influence."
Contact University Communications & Marketing with comments, questions, or story ideas.