UM-Flint Chooses Commencement Ceremony Student Speaker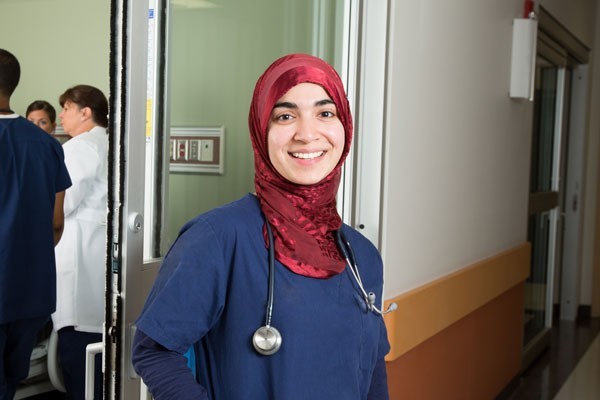 University of Michigan-Flint has selected its student speaker for the December 2015 Commencement Ceremony. Fatima Rafiq will receive her Bachelor of Science Degree at the ceremony. She is a recipient of the Maize and Blue Distinguished Scholar Award, the highest academic award bestowed upon UM-Flint graduates.
When Rafiq transferred to the University of Michigan-Flint two years ago from UM-Ann Arbor, she wasn't sure what to expect. She moved to the Flint campus after her husband took a job in the area.
What she found was a supportive community that's helped her thrive as she pursues a career in nursing.
"Everyone was so welcoming, from the professors to the students," Rafiq said. "It has been an incredible experience. They've accepted me, they've supported me and they've reached out to me. It has been a really good relationship."
Rafiq is pursuing jobs in nursing, with eventual plans of earning her doctorate degree in the field. She has interests in pediatric, neonatal, and critical care.
"Nursing is a profession where one is privileged to share patients' and families' toughest life experiences," she said. "To give hope, courage, and strength to an ill person is the most rewarding experience and I love that fact that I am able to make a difference in someone's life each day."
Rafiq said the university's community ties helped shape her professional skills.
"The community partnerships at UM-Flint has established with institutions such as Hurley Medical Center, McLaren Regional Medical Center, and the Flint Farmers' Market have allowed me and my fellow nursing students to gain a unique insight to the vulnerable population in Flint, Michigan and have also allowed us the privilege to represent the University and use it's tools to provide benefit to the community."
Rafiq, who is Muslim, was born in Pakistan, and moved to the United States when she was four-years-old. "I take this opportunity to portray Muslims, to portray Muslim women, positively," Rafiq said about her commencement address. "I have a very supportive family. I have a very supportive husband."
She has lived in several areas, including Kentucky, Detroit, Ann Arbor, and Flint. She is a mother of two.
Rafiq said part of her commencement speech will discuss the need for a global perspective.
"Even though we are mainly a commuter university and very busy with our own lives, let us be aware of everyone. There is a whole world out there".
Contact University Communications & Marketing with comments, questions, or story ideas.