UM-Flint to Create Second Donor-Funded Active Learning Classroom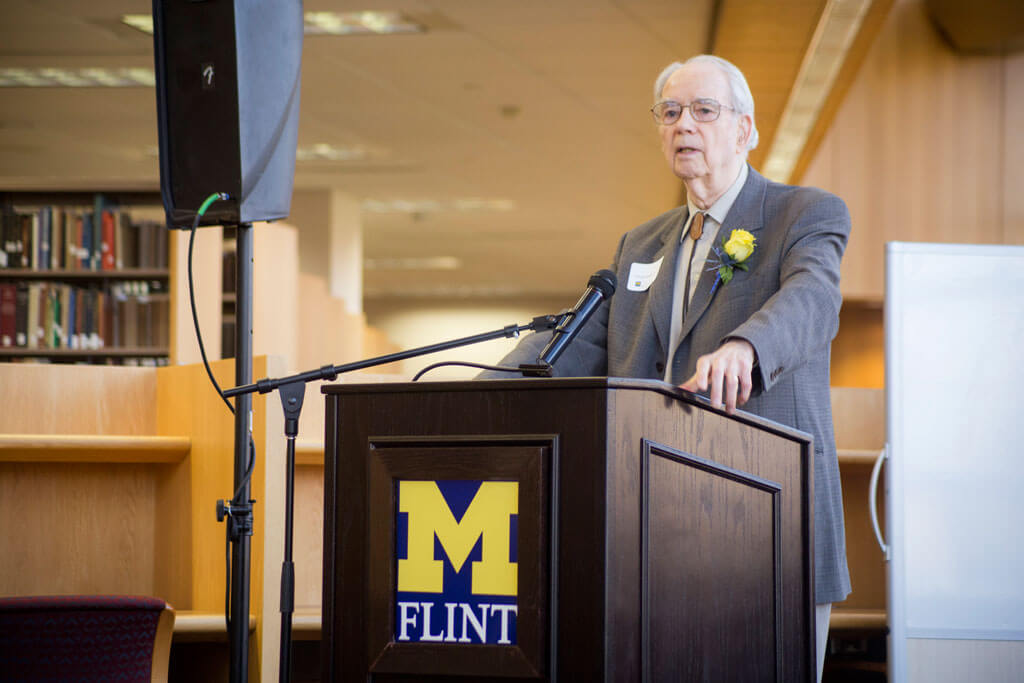 The University of Michigan-Flint's Physics program will soon have another state-of-the-art feather to add to its already impressive cap.
In a ceremony held on Friday, December 4, Chancellor Susan E. Borrego announced plans to create the DeGraaf Active Learning Classroom at UM-Flint.
The classroom, made possible by a generous gift from David and Francine Zick, will be named in honor of Dr. Donald DeGraaf, a founding member of the UM-Flint Physics department who taught here from the year the university opened in 1956 until 1990.
"Dr. Don DeGraaf exemplifies what makes this University great, and I'm very pleased that he agreed to let us recognize and honor him through the naming of this classroom," said David Zick, founder and president of Michigan-based Group Associates and UM-Flint alumnus ('73). "My wife, Francine, and I have long supported UM-Flint, and remain committed to the continued success of its students and faculty as they pursue their studies and scholarship."
This will be the second active learning classroom on campus. The first, the Zick Active Learning Classroom for physics, was completed in 2011 and officially dedicated in October of 2012.
Like the Zick classroom, the DeGraaf Active Learning Classroom will be a departure from the typical lecture-style classrooms prevalent on college campuses. The design of the classroom is intended to promote dialogue between students and increase teacher-student interaction, using msall groups and activities developed to enhance hands-on learning by consolidating lecture, discussion, and lab work into one educational experience.
Chris Pearson, chair of the Computer Science, Engineering, and Physics Department and interim associate dean of the College of Arts and Sciences at UM-Flint, proudly points to data that shows the academic improvement by students in the new active learning classroom.
"Our students are finding increased academic success in the active learning classroom as compared to the same class taught before that space was available," said Pearson. "Comparing student performance in courses taught before the space was available shows an increase in GPAs, and student retention has been much improved through the use of the classroom. The results speak for themselves, and, thanks to the Zick family, we have the ability to reach even more students in the years to come."
For his part, Dr. DeGraaf was touched by the honor. "For a student, simply listening is not learning; for a teacher, simply speaking is not teaching," said DeGraaf. "Students, especially scientists, must learn with their hands, and this classroom will allow them to do just that and reach their full potential."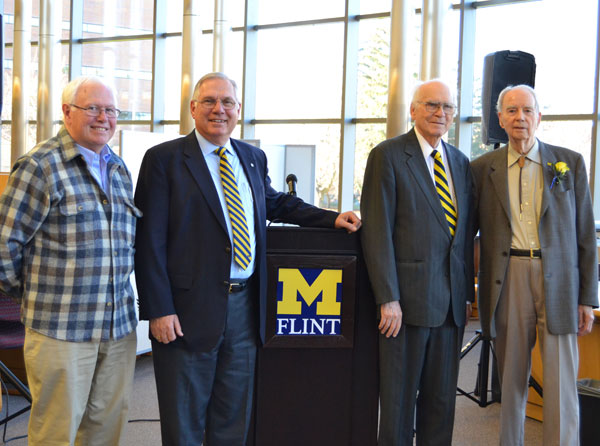 In remarks made at the ceremony, David Zick also announced a gift of $30,000 to endow a new scholarship within the physics department at UM-Flint. The Boys, DeGraaf, Rose Physics Scholarship is named in honor of three long-time faculty in the department, professors emeriti Dr. Don Boys (1967-2002), Dr. DeGraaf, and Dr. Frank Rose (1963-94).
The announcement comes just two months into the public portion of UM-Flint's $40 million Victors for Michigan campaign.
"Our alumni and friends are helping our students today in countless ways by supporting scholarships, engaged learning, top faculty, and bold new ideas," said Kristin Lindsey, Vice Chancellor of University Advancement at the University of Michigan-Flint. "Equally important, their donations are ensuring that UM-Flint will remain a top-tier institution for generations to come."
About the University of Michigan-Flint's Victors for Michigan Campaign
The Victors for Michigan-Flint capital campaign is a multiyear effort that seeks to raise $40 million or more in private philanthropy to increase student support, advance UM-Flint's academic priorities, and expand its positive impact on the community.
The Office of University Advancement's mission is furthering the University of Michigan-Flint and fulfilling the aspirations of those it serves. The university's dedicated contributors fund a broad array of needs, from student scholarships, breakthrough research, community outreach, and the highest-quality education.
For more information about giving to the Victors for Michigan-Flint campaign, visit the website.
Contact University Communications & Marketing with comments, questions, or story ideas.