UM-Flint Students Talk About the Year Ahead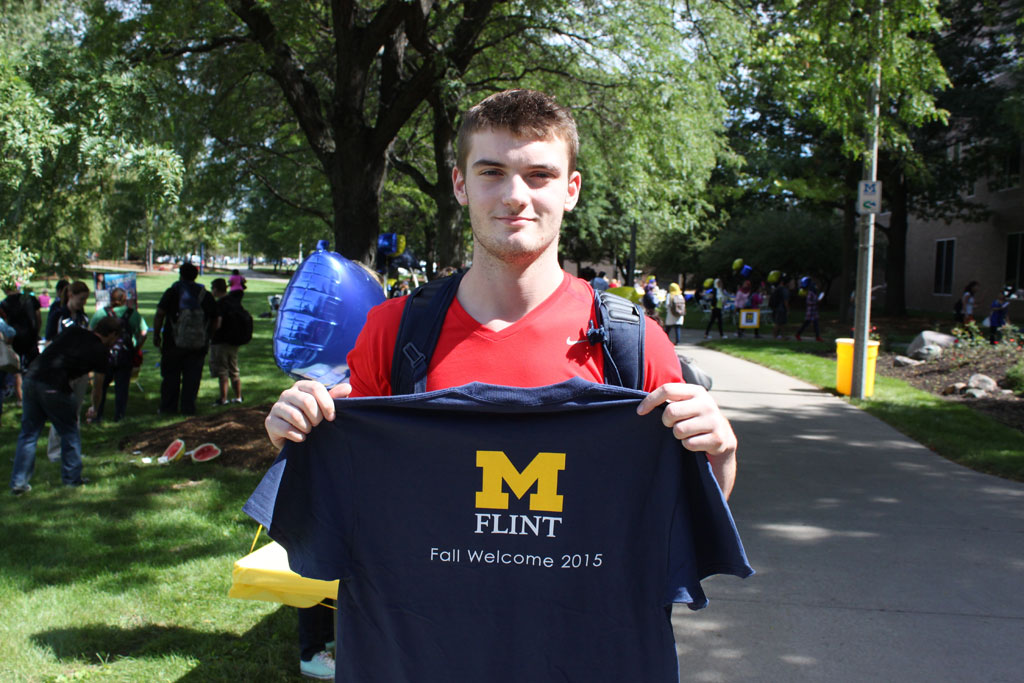 The new textbooks have their first creases. The first quizzes or tests have been taken. The welcome events have kicked off the academic year. The fall semester has begun. University Relations spoke with several students about the new year, life on campus, and their college career at University of Michigan-Flint.
Mataya Simmons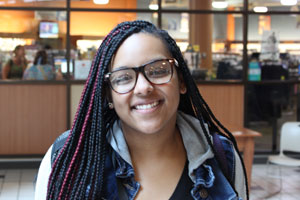 Mataya Simmons started her third year at UM-Flint this month.
"It's going to be my most difficult semester but I'm excited because I'm also into my related studies," for her business management major, Simmons said, talking with University Relations after leaving the university bookstore recently.
Simmons, plans on opening her own business someday.  Until then, her days are filled up with class, homework and working at the UM-Flint Recreation Center.
Simmons, from Kalamazoo, didn't initially consider UM-Flint but her mom encouraged her to apply.  A trip to campus changed everything.
"At first I wasn't that interested. Until I visited the campus, and I fell in love," with UM-Flint, she said.
Yumin Li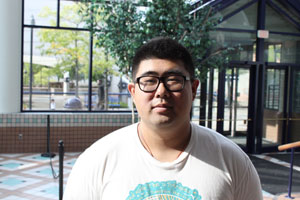 Yumin Li, originally from China, learned about the university thanks to two years of high school life in Ann Arbor.
He found about the University of Michigan system, and came to UM-Flint. Now a senior studying mechanical engineering, he is thankful he found out about the university.
"I like the professors in the department," Li said, shortly after getting his MCard recently at the University Pavilion. "They are professional and help me so much."
As Li embarks on his last academic year, his focus has shifted to landing an engineering-related internship.
"That's what is most important to me," he said.
Hunter Whitworth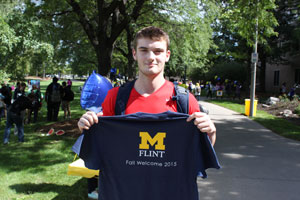 Hunter Whitworth took in the Fall Welcome Picnic and embraced the experience.
"I think it is awesome," Whitworth said, who started his college career this semester. "I've met a lot of cool people and just getting to know everyone is a real fun thing."
Whitworth, a pre-physical therapy student from Swartz Creek, said he's been impressed with the cultural diversity on campus. And he is embracing the academic rigor.
"It is a lot different from high school. People take it more seriously. There is not as much goofing around. I like it lot."
Shawna Nemes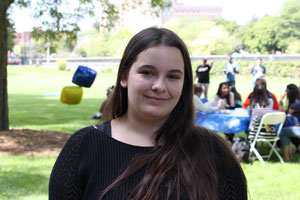 Shawna Nemes started her first full-time year of college this semester, but she is already deeply ingrained into life at UM-Flint.
Nemes, from Flint, attended Genesee Early College on campus for three years. Besides paying tuition now, Nemes said nothing feels different about the school year.
"I was already very, very familiar with the campus," she said while attending the Fall Welcome Picnic.
She lauded the university's professional connections and the quality of her program.
"The school has a lot of connections with other schools, medical schools. Just the school itself, pre-med, and human biology, it is allowing me to get where I want to go while staying close to home."
Valerie Forrest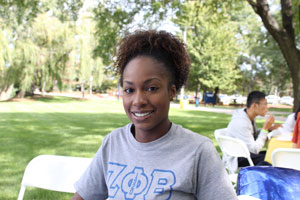 Valerie Forrest spent two years at community college before taking the jump into university life. She was accepted into University of Michigan-Ann Arbor but was drawn to the smaller size of UM-Flint.
Forrest, a senior studying in nursing, is slated to graduate in May. Her instincts about the campus were proven right. She said she likes "the smaller class sizes, how personable the teachers are."
"Even though it is a smaller campus, there are still so many people. You will always see something you've never seen before," said Forrest, at the Fall Welcome Picnic.
As graduation looms, Forrest said her focus has turned up another notch.
"I find myself always in the library," she said.
Contact University Communications & Marketing with comments, questions, or story ideas.