Project Introduces New Students to UM-Flint through Books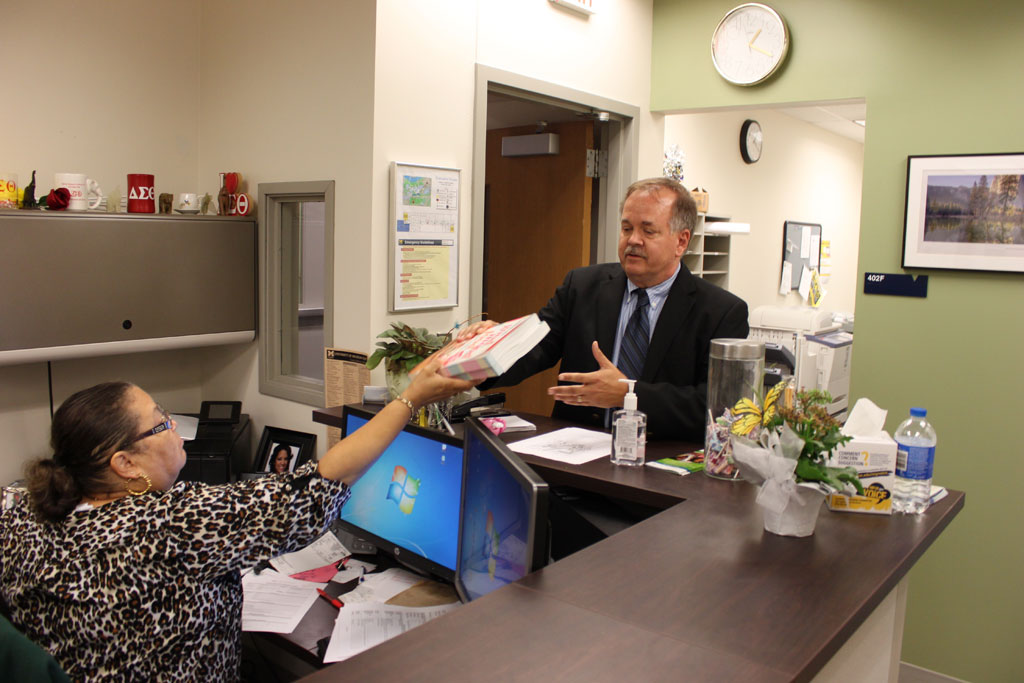 The Freshman Book Project celebrates its 11th year this semester, an initiative that welcomes new students into the University of Michigan-Flint community.
Faculty, staff, and administrators donate new or gently used books for incoming freshmen, often including a note of encouragement, welcome, invitation to talk, or an ode to reading. It also gives tribute to scholarship at UM-Flint said Thomas Wrobel, a professor of psychology who helped start the project.
"This is a real nice, unique tradition, to extend a hand and welcome new students. It is nice for them to feel, when they come into this institution, it really is made up of a collection of scholars."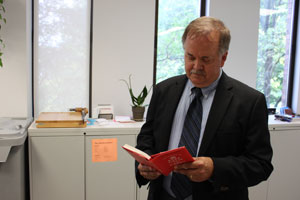 Wrobel handed out this year's books September 10 at the Fall Welcome Picnic at McKinnon Plaza.
We asked some of this year's donors what book they donated and why:
Donna Fry, PT, PhD, CHC, Professor and Interim Dean, School of Health Professions and Studies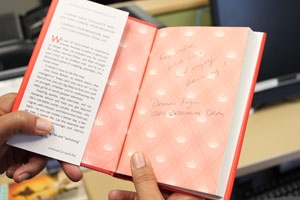 I selected the book Little Ways to Keep Calm and Carry On by Mark A. Reinecke, PhD. This book has a series of short chapters/lessons on anxiety-reducing techniques presented in a non-threatening manner. It is very common for students across all majors to experience some form of anxiety during their college career. In fact, anxiety is one of the major health problems faced by college students today across the U.S.
A significant part of the education at a university occurs outside of the classroom. Students learn how to navigate their way through a complex and highly stressful world. Learning constructive means of dealing with life's complexities and stress is a laudable goal for a student's college years. Whether or not the student who receives this book uses it, I hope the book will be a resource to someone to learn how to more effectively deal with stress. Perhaps the book will be set aside until an issue arises and the student will look to it for some help. Or perhaps the book will be passed along to a friend who is stressed about something. My hope is that whoever reads it will find some useful ideas to keep calm and carry on.
Dr. Stephanie Roach, Associate Professor of English, Director of Writing Programs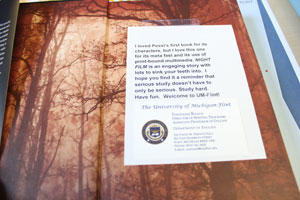 I think the Freshman Book Project is a great idea. I love the idea of making connections through books, and so whatever book I choose, I always include a note about how I know the book and what interests me about it. Yet, mostly, the note is about welcome and encouragement. Starting college is an exciting and scary moment, and if nothing else, I want the students who get the books I donate to know that there is a faculty member they don't even know who is already in their corner. I choose a different title every year. Sometimes it is fiction, sometimes non-fiction, sometimes contemporary, sometimes classic. Sometimes I pick a book because I know the author or because I read it recently or because I think it hits on an important theme that might be of interest to someone starting a new chapter in their life—the idea of transition, the power of memory, the work of nostalgia, the importance of friendship, the steadfastness of grief, the relief in loss, the need for purpose. In the end, I pick books that I think are good reads, which means that my selections may seem like the book is just for fun. But I believe that what makes something "academic" is less what you are working on and more how you approach it. The books I select are well written and often downright fun, but they still offer things to chew on. This year I selected Night Film by Marisha Pessl. As I wrote to the students who will receive this book, "I hope you find it a reminder that serious study doesn't have to only be serious. Study hard. Have fun. Welcome to UM-Flint!"
Kazuko Hiramatsu, Associate Professor of Linguistics
Since 2008, it has been a beginning-of-the-year ritual for me to choose a book for the Freshman Book Project. I usually share books that I love. Some are from my childhood, like The Phantom Tollbooth by Norton Juster, and others are by essayists I enjoy, like Sarah Vowell. I've also shared non-fiction books that are related to my academic work in linguistics. This year I donated Miss Peregrine's Home for Peculiar Children by Ransom Riggs. I read it a few years ago and I'm eagerly awaiting the third book in the series, which comes out later this month. I was initially drawn to the eccentric vintage photographs that are part of the story. In the note I leave inside each book, I encourage students to stop by my office to chat. I hope this year I'll get a visit or two!
Brian D. Blume, Ph.D., Associate Professor, Organizational Behavior & Human Resources, School of Management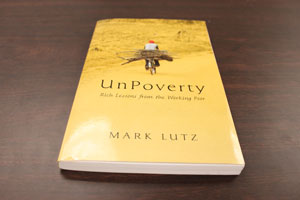 I selected the book Unpoverty, by Mark Lutz. Unpoverty includes stories of several of the billion or so people living in extreme poverty (i.e., on $1 or $2 per day). Despite their poverty, as the book cover notes, many of these people "enjoy rich family relationships, build vibrant communities and exude deep faith. They have much to teach us about life and inspire us with their ingenuity, persistence, generosity and self-reliance."
Unpoverty also discusses the promise of micro-loans and micro-enterprise, which is a method of providing small loans to these people and enabling them to create small businesses. Since I teach in the entrepreneurship area, these stories are inspirational to me and relate to the promise of entrepreneurship to help alleviate poverty. Unpoverty also reminds me to be thankful for what I have and to ask what I can do to help the less-fortunate in our world.
Krista Hansen, Associate Professor of Mathematics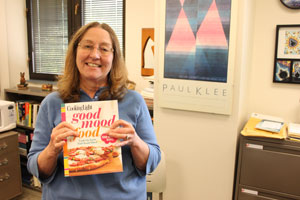 I believe the book project is about welcoming our new students and showing them the faculty cares about them. This year, I decided to donate cookbooks (Good Mood Food), as I collect and enjoy reading them myself. I thought a cookbook could be equally useful to a young person living in a dorm for the first time, or for a nontraditional student with a family to feed. I also thought giving a cookbook might make this math professor seem a bit more like a "normal person" a student could drop by and talk to.
This is the note I included in the books:
Not everyone loves math, but almost everyone likes to eat! I enjoy math, eating, and collecting cookbooks—and some of my most precious memories are about sharing good food with my friends. I hope this cookbook will enable you to create some precious memories of your own.

Please stop by and see me in the Math Department (402 Murchie Science Building) if you'd like to share a good recipe—or a good math problem!
Charles Thomas Jr., Associate Professor of Sociology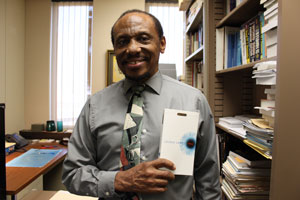 I chose the book 1984 by George Orwell, a well-known classic. When I was in high school, I read the book and did a major paper reviewing it and discussing the issues it raises. Since the book had such a strong impact on me, I feel it's a good book to choose for the Freshman Book Project.
Contact University Communications & Marketing with comments, questions, or story ideas.