Q & A: Tracy Wacker, Thompson Center for Learning and Teaching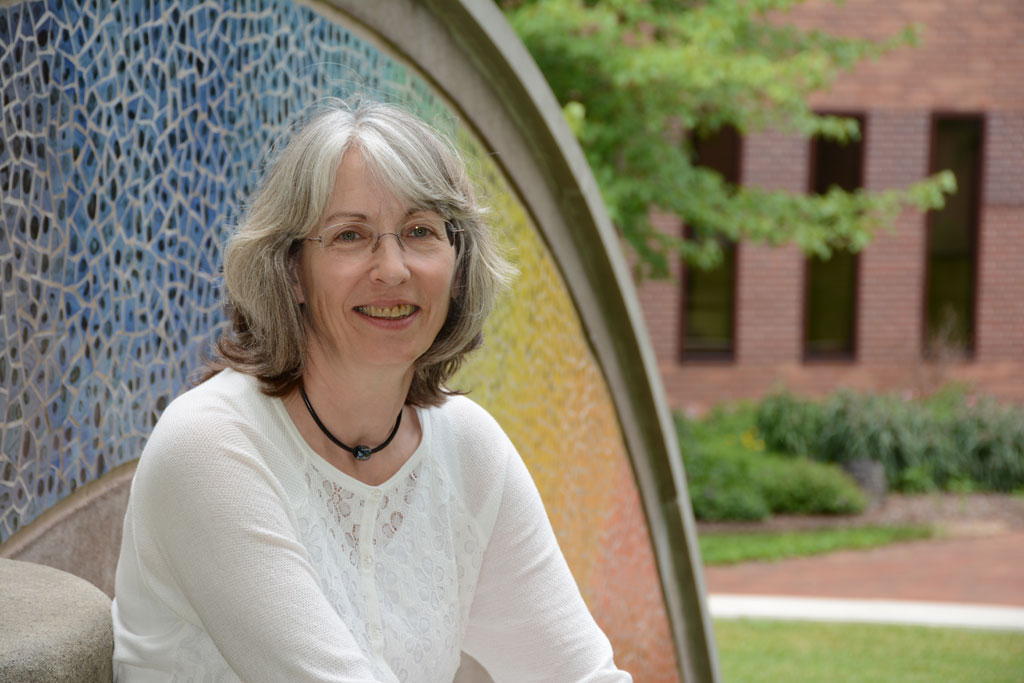 Tracy Wacker is the director of the Thompson Center for Learning and Teaching at the University of Michigan-Flint. She discussed the center, faculty mentoring, support programs, and other issues in this interview with UM-Flint writer Robert Gold.
How important is it for UM-Flint to acclimate new faculty members into the campus culture? How does the Thompson Center for Learning & Teaching help achieve this?
My opinion is that this acclimatization is essential to their success at UM-Flint. They are expected to both learn and do so many things in their first year; we need to welcome them and be available for any questions or concerns that they may have. TCLT plans and executes the new faculty orientation in August and past directors have continued an orientation of sorts through the first year of employment at UM-Flint. I have plans to do this in 2015-16 with information sessions/workshops for new faculty every other week or so.  All of our events are open to all faculty and we hope that new faculty will take advantage of them. We also offer spring/summer fellowships that assist faculty in designing/re-designing a course over one of those semesters—new faculty are given priority for these fellowships.
The Faculty Mentoring Program, which we are involved with, is a program that helps to acclimate new faculty to the campus culture beyond teaching.
The range of academic and professional fields is wide-ranging at the University of Michigan-Flint. What benefits are there in having faculty members from different disciplines learn each other's teaching methods? What challenges are there? How does the center help stimulate conversations and learning between professionals in different fields?
The beauty of learning different teaching methods is that it is always beneficial – whether you decide to use a new method or not, it has made you ruminate on your teaching. All good teachers continually assess teaching strategies, learning strategies, and mechanisms to gauge and improve student learning in their courses. Teaching should be dynamic and learning the methods of others contributes to this behavior.
There are two major challenges: 1) finding a meeting time that works for many faculty, and 2) encouraging participation in TCLT events by more of our seasoned teachers; as a community of scholars, it is of great service when knowledge/wisdom is shared. I am thankful for the senior faculty that do attend our events and hope that more of them will contribute to our mission of advancing excellence in teaching throughout campus.
There are multiple ways that TCLT helps stimulate conversations about learning:
TCLT sponsors an annual pre-convocation workshop that is topically current in the field of teaching and scholarship.
The TCLT cloth bag series this past academic year was based on the 5 characteristics of Learner-Centered Teaching and each of 5 workshops dealt with a different characteristic. This coming academic year, we are working with other offices on campus to offer a series on equity and inclusion in the classroom (and beyond).
TCLT is fortunate to have funds donated by Marian Wright to sponsor teaching circles, where faculty come together monthly to discuss a topic of interest. This year the topics were The Intersections of Race and Class for Women in Academia, Enhancing Community/University Collaboration for Global Cross-Cultural Awareness and Ethnic Pride in High School and College Classrooms and GISD Neighborhoods, Equity and Instruction, Learning Together with Young Children, Disabilities in the Classroom: Challenges and Opportunities, Equity and Poverty, and Development of a Trans-curricular Model for Physical Therapy Patient/Client Management Using a Case Study Approach for Didactic and Experiential Education
The Provost Teaching Innovation Prize is a new award that recognizes exciting, innovative lessons that were developed by our faculty. There are prizes for lessons developed for face-to-face, hybrid, and completely online courses. TCLT is proud to have written the proposal for this award and that the Provost graciously agreed to co-fund it with the Bruce and Lillian Wright donation for online learning innovations (OEL).
TCLT has limited funding to sponsor teaching conference attendance. The TCLT also sponsors sessions where the conference attendees share either what they presented or what they learned (or both) at conference to their UM-Flint colleagues.
The Celebration of Teaching is an April event that invites faculty and staff to enjoy the camaraderie of their colleagues through highlights of the year's TCLT activities.
This past semester, we started a series called "Fill in the Blank" where faculty members are invited to complete this sentence regarding any aspect of teaching: "How do you __________?" The sessions this year were "How do you handle non-attendance?" and "How do we improve student participation in course evaluations?"
In 2015-16, I wish to implement a series entitled "TCLT Test Kitchen" where faculty can try out new ideas/classroom activities on their colleagues before introducing them to their students.
In 2015-16, I hope there will be interest in the development of faculty writing communities that we will gladly sponsor through TCLT.
How does the center help departments, units, and other programs at UM-Flint?
Both individual faculty and departments are eligible for the Catalyst Course Design Program. This program uses backwards design for course development and encourages incorporation of active learning strategies into the course and this experience impacts how faculty perceive their contributions to the department agenda and curriculum. At the departmental or collaborative level, the goal is to incorporate high impact practices, experiential or active learning strategies that benefit at least two faculty members and apply to at least two courses.
We are available upon request for consultation to all academic units on campus. These consultations are wide-ranging but typically revolve around curricular development: scaffolding student learning across a curriculum, incorporating active learning into a curriculum, etc.
We co-sponsor a variety of seminars and workshops with other programs across campus—University Outreach, Student Success Center, Faculty Mentoring Program, Ellen Bommarito LGBT Center, International Center to name a few.
What are the services provided by the center that most often surprise faculty?
Formative classroom observations are offered through TCLT where we will visit faculty (upon request) to observe their classroom, teaching strategies, interactions with students, student engagement, etc. A report is shared with the faculty member that may include recommendations for pedagogical strategies that they may benefit from.
Faculty often balance research, teaching, service work and other obligations. What are ways the center helps them with this and how do these different skills enhance each other?
Our mission relates directly to excellence in teaching and while I believe that it will impact these other obligations, I do not have empirical evidence of how that occurs. I like to think that research, teaching and service are integrated and inform each other, rather than "balanced". For me, "balance' conjures up the image of a scale with these items in different weighing pans, they are separate entities that must be weighed against each other—ugh. I think that each of them enhances our skills in the other categories—research informs teaching, teaching informs service, etc.
The Faculty Mentoring Program is where the question you ask is best addressed.
Just like students, faculty learn and absorb knowledge in different ways. How does the center work with faculty in various ways that maximize their learning?
I do not prescribe to the "one-size-fits-all" approach to teaching and learning strategies. As mentioned earlier, we offer a wide variety of programs that can inform faculty's teaching. I think that we can present the plethora of recommended strategies and the research supporting them, invite participation from individuals that have had success with them, and then through informal conversation or formal consultation, assist faculty in finding the right fit for them. Not everyone should lecture, not everyone should lead a discussion – instructors need to personalize their teaching strategies so that they are both comfortable with, and energized by, what they do in the classroom.
In your position as director, I imagine you get to know the teaching styles, skills and innovations of a broad spectrum of UM-Flint faculty.  What are some traits that impress you about the faculty on campus? What attributes do you find abundant?
Even before I became the director of TCLT, I was well acquainted with the vast array of teaching and problem-solving approaches on our campus. Indeed, coming from MSU where I only knew people in my department to UM-Flint in 1990, where I got to know and interact with people across campus was a game-changer for me. Being able to draw from such a wealth of knowledge and innovation in both faculty and staff has been a sustaining feature of my existence at UM-Flint.
There are so many characteristics of our faculty that impress me but I am going to mention two of them that I believe can be generalized across the board: the faculty at UM-Flint are gracious in sharing their ideas with each other, and perhaps most importantly the faculty at UM-Flint care about their students' success.
Contact University Communications & Marketing with comments, questions, or story ideas.