Q & A: Theresa Landis, Director of Auxiliary and Recreational Services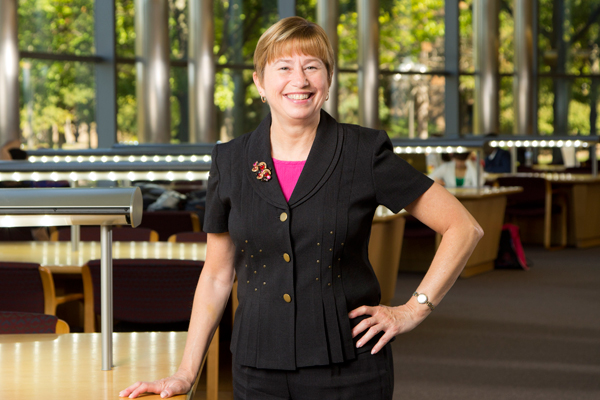 Theresa Landis is the director of Auxiliary & Recreational Services at the University of Michigan-Flint. She discusses the Recreation Center and its services, along with a wide variety of other topics, in this interview with UM-Flint staff writer Robert Gold.
How did you come to be the director of Auxiliary & Recreational Services at UM-Flint?
I feel my college education (BA in Physical Education, MA in Exercise Science, and EdS in Educational Leadership) and higher education experience prepared me for my journey to UM-Flint. I started out teaching aerobics in the early 1980's before obtaining a position as Employee Wellness Coordinator at Western Michigan University (WMU) in 1985. When WMU decided to build a new student recreation center, I was transferred to a newly created department called University Recreation Programs and Facilities and became the Associate Director. My years of teaching experience combined with my administrative experience made me an excellent candidate for the position of Director of Recreational Services at the University of Michigan-Flint. UM-Flint was looking for someone to grow fitness and wellness programming along with improving the financial status of the department.
I was hired in 1997 and have found UM-Flint to be a wonderful place to work. My administrative skills have helped the department to become financially sound while providing excellent service to our customers. My programming background has helped to create quality classes and services to meet the needs of a diverse participant base. From the students to the faculty and staff, to the members and guests, I have found everyone strives to make UM-Flint a healthier place to study, work, and play.
Students can lead hectic and busy lives. Many commute, which means even less time for exercise each day. How does the Rec Center provide options for them and try to encourage students to find time to stay healthy?
During fall and winter semesters, the Rec Center is open Monday through Sunday for a total of 99 hours per week. The facility is designed to improve quality of life and includes an indoor track, multi-purpose gymnasium, racquetball courts, free-weight equipment, and weight machines. There is a television system for the treadmills, ellipticals, stair steppers, rowers and bikes. The center also has an indoor swimming pool, whirlpool spa, and dry saunas.
Intramural sports are very active at UM-Flint and includes basketball, indoor soccer, and volleyball, along with various one-time tournaments. A variety of drop-in fitness classes such as Ab Lab, Aqua Fitness, Zumba, WERK, Yoga, and Cardio Step are available at convenient times throughout the week. For additional motivation, there are also several personal training opportunities available, as well as a specially designed program called U-Fit. U-Fit offers several types of cross-training options: Work Out of the Day (WOD), Pump and Body Mechanics, all of which are taught by certified coaches.
So whether a student is looking for a quick workout, a leisure activity, an instructor/trainer-led class, or a competitive sport the UM-Flint Rec Center has it all to help students meet their health and fitness needs.
What is the Rec Center's approach to outreach into and with the community? How does this contribute to the university's mission?
Since its opening in 1982, the Rec Center has provided service to the community through memberships, day passes, family passes, group visits, and special events. Members make up 50% and day pass patrons make up 10% of daily participation numbers. Our largest membership category is alumni, so students are able to stay connected to UM-Flint through the Rec Center after graduation.
The Rec Center partners with numerous community organizations in multiple ways. One way is through programming with the Crim Fitness Foundation, the Greater Flint Health Coalition, the Health Alliance Plan, the American Cancer Society, and the American Red Cross to name a few. The Rec Center also sponsors road races and fundraising events throughout the community with membership and fitness package donations.
The mission of the Rec Center includes serving the health and fitness needs of the greater Flint community by providing a setting in which the relationship between the university and the community is enhanced and by providing experiences which can improve the quality of life for those who choose to participate.
Is there anything that surprises people about services or features at the Recreation Center?
Many new patrons have commented that they did not realize how large the facility was and that we have such a comprehensive offering of quality programs and services. They are also surprised that the Rec Center is open to anyone in the community; you don't have to be a student to use it. Membership rates are very reasonable and children under 13 and adults over 62 years of age are half price. There are discounted membership rates for family members of students, as well as for alumni.
The Rec Center couldn't operate without the approximately 60 student employees, and we are often told by our members that they keep coming back because of the excellent customer service our students provide. Many long-lasting mentorships have been forged as members get to know student employees. Members also share that they are impressed with the knowledge, expertise, and caring attitudes of our professional staff. Rec Center pro staff have degrees in related fields and maintain current certifications and trainings to keep abreast of latest trends and information in the fields of recreation, fitness, health, and wellness.
People often get their fitness outdoors in the summer. What role does the Recreation Center play during the sunny season? How do the dynamics of visitors change from season to season?
To support active living and transportation, the Rec Center has worked to grow the use of, and support for, bicycles on and around campus. Each year from May 1 to October 31, the Rec Center provides hourly bicycle rentals for students, faculty, staff, and members. With assistance from the Walk & Bike Work Group, the Rec Center supports a free bike share program called Maize Bikes. Maize colored bikes are located at bike racks throughout campus for individuals to use for leisure rides and/or transportation to locations throughout the downtown area. To participate, stop by the Rec Center to register and obtain a bike lock key.
The number of student users at the Rec Center decreases in the summer months as less students are taking classes. This provides the opportunity to offer Youth Basketball camp for children ages 9-16 years old. In collaboration with the Flint Cultural Center, the Rec Center also offers a day camp for children ages 6-11 called Camp Summer Fun. Both camps offer children from the greater Flint and university communities experiences that will last a lifetime while exposing them to a college campus. Both camps provide scholarships for children who otherwise would not be able to attend if not for the generosity of friends of the Rec Center.
For the first time this summer, the Rec Center is assisting UM-Flint to be a part of the Crim Adult Training Program by offering a Crim "Campus" Training Program. The Rec Center recruited ten individuals to be trained as group leaders and approximately 55 students, faculty, and staff are participating is this program designed to safely and effectively help participants run and walk in the Crim Festival of Races in August.
Do faculty or other departments utilize the Rec Center for classes, programming, or other projects? What resources can the center provide the larger university population?
To assist with recruitment and retention, the Rec Center is the host site for events like Super Science Friday, the Career Fair, and Relay for Life, as well as for many school group visits. Many registered student organizations and club sports teams regularly reserve space at the Rec Center for practices, tournaments, and other activities.
In 1999, the Rec Center partnered with the department of public health and health sciences to offer a variety of 1, 2, and 3 credit hour physical education courses. The courses include martial arts, basketball, volleyball, physical fitness, cardio conditioning, weight training, lifeguard instruction, stress management, and more. They are taught by adjunct lecturers who are also Rec Center professional staff and professional staff with relevant degrees from other departments at the university. The Rec Center also assists other academic classes offered through physical therapy, nursing, and theatre and dance for special class sessions and activities.
Gyms can be intimidating for people. Does the Rec Center have any specific approach to working with people with varied exercise and social histories, goals and expectations?
A safe, non-intimidating, and supportive way for someone wanting to embark on a new exercise regime is to start with a fitness assessment. The fitness assessment program offers tests for muscular strength, cardiovascular endurance, flexibility, and body composition, and based on the results an exercise program is developed. Personal training is another option, and appointments can be made with a certified trainer as a follow up to a fitness assessment or independently just to kickstart a conditioning program. In addition to the physical conditioning, nutrition consultations with a registered dietician and massage therapy with a certified massage therapist are available to help with overall well-being.
Exercise shouldn't be a chore or something you dread doing. Since exercise needs to done on a regular basis to gain benefits, it needs to be something you want to do, something you perceive as fun and enjoyable. So whether you want to work out on your own, with a friend, or with a group, the UM-Flint Recreation Center has the facilities, equipment, classes, programs, and services to help you meet your health and fitness needs and leisure time pursuits. No excuses…just do it!
---
Contact University Relations staff writer Robert Gold with comments, questions, and ideas at goldr@umflint.edu, (810) 424-5596, or on Twitter, @writerobert.
Contact University Communications & Marketing with comments, questions, or story ideas.