UM-Flint Group Presents at National Conference on Race & Ethnicity in American Higher Education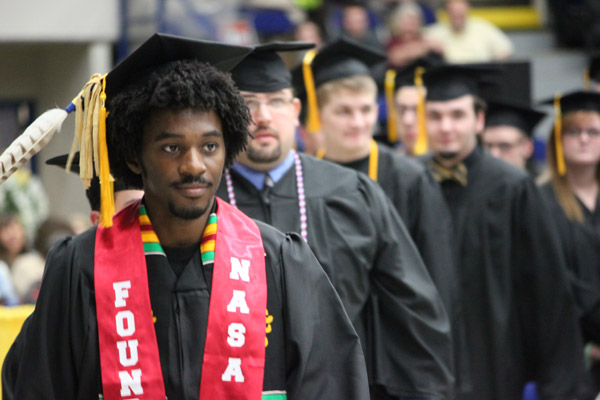 A group of University of Michigan-Flint students and recent graduates have traveled to Washington D.C. this week to attend and present at the National Conference on Race & Ethnicity in American Higher Education (NCORE).
Ten people with UM-Flint connections are attending the weeklong series of events and workshops, said Kyle Manley, who graduated in December with a degree in psychology. Some in the group, including Manley, will present at the conference.
NCORE, which runs from May 26 to May 30, draws students, staff, administrators, and others from higher education. The Southwest Center for Human Relations Studies started the annual conference in 1988.
A group from UM-Flint has been attending for several years. This year, students from the Muslim Students' Association, the Native American Student Association, Black Student Union, Student Government, and other campus groups are attending. The UM-Flint group is scheduled to present May 27, according to the NCORE website.
"This session will provide participants with tools needed to properly respond to racism over social media. Collegiate cultural clubs/organizations often communicate or have a social media page, and when a national event happens such as Ferguson, organizations most often immediately start planning their next steps," according to the online presentation description. "Protests and teach-ins are a few things that organizations start arranging, but what happens when not everybody responds in a positive way to your organization's ideas/workshops? This session will allow the audience to explore past social movements, take a critical look to issues that are "not my problem," and learn how to create cross cultural networks for solidarity. Presenters will also provide guidelines on how your cultural club should properly respond to a large scale national event within or outside communities with which one identifies."
The group expects to talk about the event it held days after the April 2 massacre at Garissa University College in Kenya. Several student groups, utilizing Facebook and Instagram, drew scores of people outside UM-Flint's University Center to honor the victims. The event helped show solidarity with the victims and people of Kenya, said Mohammad Dlewati, a UM-Flint student attending NCORE for the first time.
Manley is participating in the NCORE event for his third straight year. He called the conference an energy-boosting and encouraging experience, as participants meet people from across the county.
"Your battery is on full," Manely said about its effect. "Your battery is actually past full."
---
PHOTO: Recent UM-Flint graduate Kyle Manley is attending NCORE for the third time.
---
Contact University Relations staff writer Robert Gold with comments, questions, and ideas at goldr@umflint.edu, (810) 424-5596, or on Twitter, @writerobert.
Contact University Communications & Marketing with comments, questions, or story ideas.