UM-Flint's University Pavilion to "Go Blue"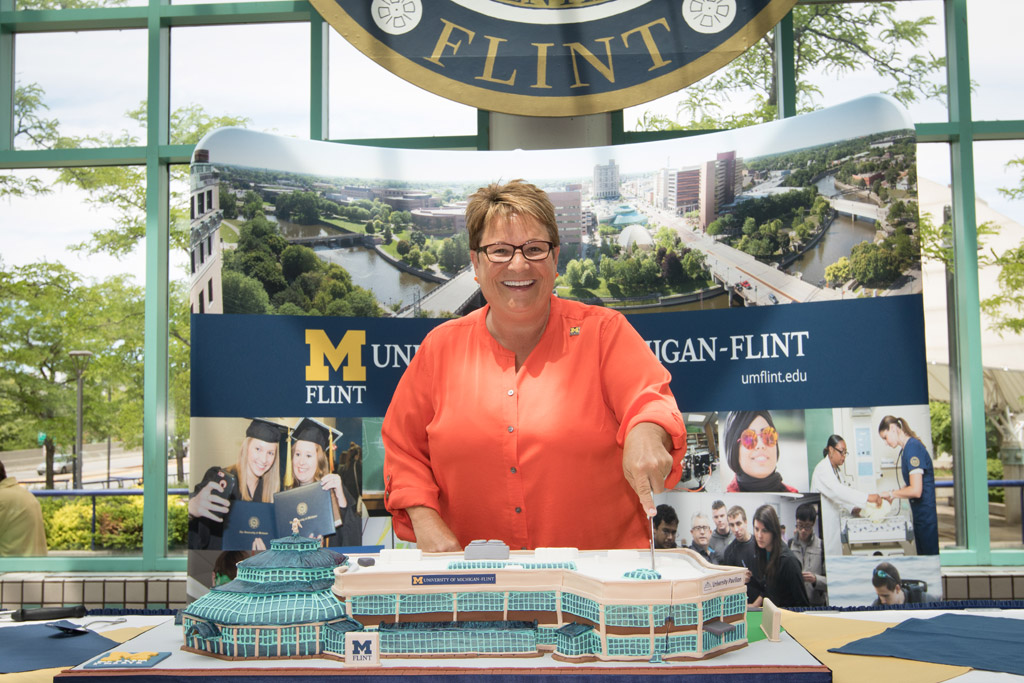 The University of Michigan-Flint campus and downtown Flint will go blue this summer with the painting of the historical University Pavilion.This substantial transformation of one of the community's most iconic buildings will begin on June 2, 2015 and will be completed by mid-August.
The project will include the painting of the exteriors of the main University Pavilion Building, the adjacent rink, as well as the annex by the rink and the parking deck. The painting work is being done by two local firms, Niles Construction and Bennings Painting, both of Flint.
At the June 1 event announcing the project, Chancellor Susan E. Borrego applied the ceremonial first swipe of paint on the building, and cut a cake shaped as a replica of the pavilion.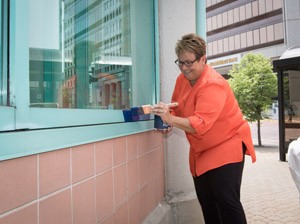 The University of Michigan Board of Regents, in September 1990, approved the plan for UM-Flint to take over operations of the facility. According to minutes from that Regents meeting, former UM-Flint Chancellor Clinton B. Jones laid out why the move made sense.
"Chancellor Jones reported that this proposal is very important to the Flint campus; it has broad-based support in campus, in the Flint community, in the state legislature, and from the Mott Foundation, and addresses very serious space needs. In addition, occupation of the Water Street Pavilion would make a very clear statement that the University of Michigan-Flint is very committed to serving the Flint area."
City and university leaders trumpeted the plan as a way to extend the university's reach downtown and add stability to the area. The complex had been closed since early in the year after attempts to attract visitors to the festival marketplace known as Water Street Pavilion.
"It's hard to imagine a better use of this beautiful building than filling it up with students, faculty, and staff from one of the finest universities in the world," former Flint mayor Matthew S. Collier said in a Flint Journal article in February 1990, when it was announced the city DDA offered to transfer the lease to UM-Flint.
An October 1991 opinion piece by the Journal lauded UM-Flint's move into the complex.
"Its purchase of the unsuccessful festival marketplace, Water Street Pavilion, took a lemon off the hands of the city and made lemonade for downtown."
June 2015 marks 30 years since the building first opened. Today, University Pavilion houses administrative offices including such student service offices as Undergraduate Admissions, Financial Aid, the Student Veterans Resource Center, and the Registrar's Office, as well as food vendors and the campus bookstore which is operated by Barnes and Noble.
Contact University Communications & Marketing with comments, questions, or story ideas.