UM-Flint Faculty Honored for Innovative Teaching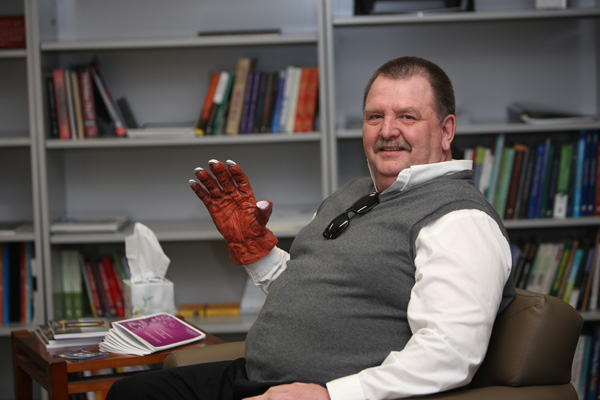 UM-Flint honored several faculty members April 16 with the newly established Provost Teaching Innovation Prize. The awards spotlight faculty with innovative projects that enhance student learning.
The prize was established by the Office of the Provost, Office of Extended Learning, and the Thompson Center for Learning and Teaching.
The recipients were announced at the annual Celebration of Teaching event, held by the Thompson Center. First place winners receive $1,000 each, with second place receiving $750 and third place getting $500. The awards are funded by the Office of the Provost and benefactors Bruce and Lillian Wright.
Faculty members could submit projects for face-to-face, online, and mixed mode courses. There were no applications for mixed-mode projects this year, organizers said. A panel of faculty judged the submissions on "clarity of purpose, distinctive approach to implementation and evaluation; influence on student learning and engagement; and how much the project "promotes/supports equity and inclusiveness of a diverse set of student learners." Judges were looking for projects that can be sustained, and weren't done just one time.
This year's winners are:
1st Place Face-to-Face:
Anthony McGill – Lecturer, Communication
COM 382 Small Group Communication
Lesson: C.H.U.D. (Cannibalistic Humanoid Underground Dwellers) Survival Exercise
Students work in teams in a field exercise loosely based on the 1984 horror movie "C.H.U.D., with each group producing Powerpoint presentations about the experience and papers about the group dynamics.
2nd Place Face-to-Face
Hiba Wehbe-Alamah – Associate Professor, Nursing
NUR 369 Transcultural Health Care
Lesson: Breaking Geographical Boundaries with Innovative Transcultural Education through the use of Transatlantic Video-Conferencing
Students Skype with nursing students from Zefat School of Nursing in Israel or Young Ming University in Taiwan, discussing a range of topics such as health care systems, cultural believes and social factors.
3rd Place Face-to-Face:
Christine Kenney – Assistant Professor, Education
ECE 200 Child Development and Learning
Lesson: Using Text Connections as a Strategy for Active Learning in the University Classroom
Online courses:
The innovation is "to explore text connections as a strategy to assist students in utilizing the time they spend learning outside the classroom in order to best prepare them to contribute to their own and others' learning in the classroom."
1st Place Online:
Jeff Kupperman – Associate Professor, Education
EDT 420 Mentor Seminar for Educational Programs
Lesson: Place Out of Time
The lesson is a "simulation of a trial, where students play guests who come from a range of places/times throughout history to discuss great issues of humankind."
2nd Place Online:
Brian DiBlassio – Associate Professor, Music
MUS 100 An Introduction to Music
Lesson: Teaching the Musical Elements Online
The project brings the "basic building blocks of music to live with real-life examples", such as connecting the sound of a lawn mower to the pitch of an instrument.
3rd Place Online:
Jennifer Blackwood – Assistant Professor, Physical Therapy
PTP 770 Assistive Technology to Enhance Accessibility
PTP 783 Geriatrics in Practice
Lesson: Students Serving as Lead Discussant to Facilitate Ownership of Content in an Online Learning Course
Students take leadership roles for two-week periods during the online course and must develop a podcast that "shares any challenges or knowledge expansion that occurred from them reading the assigned text."
The award recipients will share their ideas and innovations with the broader UM-Flint community at cloth bag sessions and other events.
---
PHOTO: Communication faculty member Anthony McGill won for incorporating a classic horror film into his teaching.
---
Contact University Relations staff writer Robert Gold with comments, questions, and ideas at goldr@umflint.edu, (810) 424-5596, or on Twitter, @writerobert.
Contact University Communications & Marketing with comments, questions, or story ideas.