Inauguration Week Highlighted by Chancellor's Investiture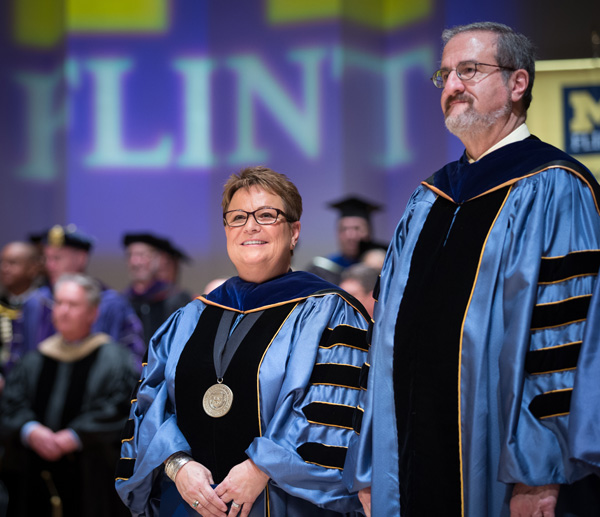 The University of Michigan-Flint capped off the weeklong 2015 Inauguration Celebration April 17 with the investiture ceremony of its eighth leader, Chancellor Susan E. Borrego.
A host of area leaders and dignitaries ­such as University of Michigan president Mark Schlissel and Regent Emerita Olivia Maynard joined the UM-Flint community in celebrating Borrego's formal installation as chancellor at Friday's ceremony at The Whiting.
Several students, faculty, staff, and community members performed at the event, including musical pieces, spoken word, and gift presentations.
Schlissel, who became president of the University of Michigan last July, extoled Borrego's outreach into the community. Borrego became chancellor at UM-Flint last August.
"She cares very deeply about student success, understands the importance of UM-Flint to the community it calls home, and recognizes that UM-Flint is strengthened by the engaged learning opportunities that exist right here in this city," Schlissel said.
Borrego thanked faculty, staff, donors, alumni, students, and others who help make UM-Flint excel.
"I am delighted and humbled to join you in the work of creating our future, a future filled with more opportunity and success for our students and our community," she said.
April 17 also included the M-Town Celebration and Fundraiser at the Riverfront Center, in which money was raised for the Chancellor's Scholars Program at UM-Flint. In the morning, the Chancellor's Symposium entitled "University Public Engagement" was held in the Michigan Rooms of the Harding Mott University  Center.
The symposium's keynote speaker was Gail Wells, Ph.D., co-author of the book Becoming an Engaged Campus: A Practical Guide for Institutionalizing Public Engagement. The panel included Chancellor Daniel Little of UM-Dearborn; Janet Haley, UM-Flint Associate Professor of Theater and Dance; Erica Britt, UM-Flint Assistant Professor of English/Linguistics; Laura Macias, director of social services and student affairs at Court Street Commons; and John Manse, director of community services at Catholic Charities of Shiawassee & Genesse Counties.
The Inauguration week was a celebration of the community and university. It included events both off and on campus. This included an end-of-semester event April 13, in which students celebrated with Borrego.
Borrego was part of a community breakfast April 14 at Mount Olive Missionary Baptist Church in Flint. Later that day, Borrego, along with several other university leaders, celebrated UM-Flint Day at the Flint Farmers' Market.
Check out the Storify summary of the full week's festivities:
Contact University Communications & Marketing with comments, questions, or story ideas.