Speakers Selected for UM-Flint's 2015 Spring Commencement Ceremonies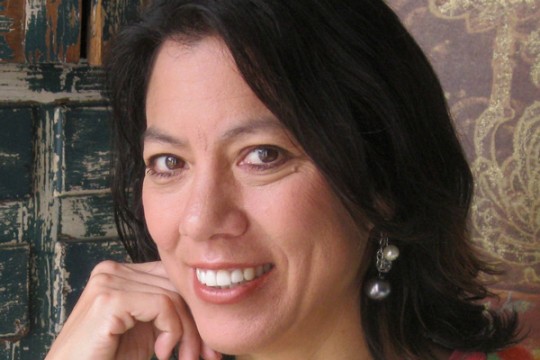 Award-winning author, academic, and host of the syndicated radio show "The Loh Down on Science," which reaches over 4 million people each week, Sandra Tsing Loh will be the keynote speaker at both the morning and afternoon UM-Flint commencement ceremonies on May 3.
Loh is the author of the best-selling book The Madwoman In The Volvo: My Year Of Raging Hormones, and is currently producing a one-woman show of the same title.
Loh says that after she earned a bachelor of science in physics from Caltech, she went on to "sorely disappoint her Chinese engineer father" by pursuing a career in the liberal arts. Shortly thereafter, she went on to receive Caltech's Distinguished Alumna Award, its highest honor.
She is a MacDowell Fellow and adjunct professor of visual art and science communication at the University of California, Irvine.
Named one of the 50 most influential comedians by Variety, Loh uses her unique brand of humor to connect to audiences and tailors each presentation to create a memorable, funny, and uplifting experience.
Loh is a commentator on NPR's "Morning Edition," PRX's "This American Life," and American Public Media's "Marketplace." She is also a contributing editor at The Atlantic, a three-time National Magazine Award nominee, and the composer of the Oscar-winning documentary Breathing Lessons. She won the Pushcart Prize for her short story "My Father's Chinese Wives."
Loh will speak at the 11 a.m. and the 3 p. m. ceremonies.
The morning ceremony is for undergraduate and graduate students from the College of Arts and Sciences and graduate students from the Rackham School of Graduate Studies. The afternoon session is for undergraduate and graduate students from the School of Management, the School of Health Professions and Studies, and the School of Education and Human Services. The 2015 spring commencement exercises will be held on Sunday, May 3, 2015 at the Perani Arena and Events Center, located at 3501 Lapeer Rd, Flint, MI 48503.
11 a.m. Student Speaker: Tobi Adebisi
It was the reputation of the University of Michigan that first attracted Tobi Adebisi to look further at the University of Michigan-Flint. He had the opportunity to visit the UM-Flint campus and meet with students and faculty before enrolling. From that visit, he came to view UM-Flint not only as an institution of learning, but also as a community. He viewed it as a community small enough to get to know him, a place where could make a lasting impact, and yet big enough to help him fully develop his potential.
Adebisi describes his time at UM-Flint as "life changing." He says it has transformed him from the 17-year-old boy he was in his freshman year, into a better, matured, and a more refined man. By taking advantage of all UM-Flint has to offer in academics, research projects, internships, clubs and organizations, on-campus housing, and community service, Adebisi says it has all combined to mold him into what he is today. He sees himself as a leader, a follower, a servant, a computer scientist, an entrepreneur, and most proudly, a UM-Flint graduate.
During his time on campus, he has been an active member in several clubs and organizations. He served as a director for Student Government, the president of the Association of Computing Machinery, vice president of the African Students Association, bible study leader at Intervarsity Christian Fellowship, and as a resident advisor at First Street Residence Hall. Keeping active has helped him learn, serve, and grow as a college student.
Above everything else, he says UM-Flint has given him a heart for Flint. He moved to the city in 2011, and has worked to help the city continue its steady rise.
On June 1st 2015, Adebisi will begin full-time employment as an iOS developer at Detroit Labs LLC.
3 p.m. Student Speaker: Brittney Rice
Brittney Rice was born and raised in Flint, Michigan. Upon graduating from Carman-Ainsworth High School, she decided to attend the University of Michigan-Flint "after hearing about the phenomenal nursing program." Her desire to become a nurse stemmed, in part, from the fact that her grandmother was a great nurse.
Rice's most memorable UM-Flint experience was traveling to Kenya with fellow nursing student Veronica Doty. She said that during this trip her love for the nursing profession grew and she knew that she was meant to be a nurse. The trip also gave her the opportunity to fulfill her life-long dream of traveling to Africa to take part in an international clinical experience. As she put it, "I found my inner nurse in Kenya."
Rice believes that during her time at UM-Flint she has had the opportunity to learn from the best professors and truly believes that she has received the best education. She credits UM-Flint for bringing out her work ethic and shaping her into the person she is today.
After graduation she hopes to become a critical care nurse and plans to return to school to obtain her Doctor of Nursing Practice (DNP) degree.
Contact University Communications & Marketing with comments, questions, or story ideas.