Inauguration Week Continues with "UM-Flint Day at the Farmers' Market"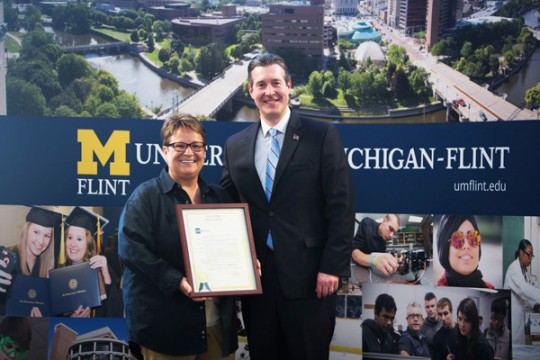 Zach Smith stopped by the Flint Farmers' Market late Tuesday morning for a break before class at the University of Michigan-Flint.
He was welcomed into a sea of blue, as the university and public celebrated "UM-Flint Day at the Farmers' Market." The event was part of the 2015 Inauguration Celebration, a week-long tribute to the campus and community that culminates this Friday with the Investiture Ceremony of the eighth leader of UM-Flint, Chancellor Susan E. Borrego.
Tuesday's event included staff handing out UM-Flint tote bags and temporary tattoos, maize M cookies, and more. Flint mayor Dayne Walling also made an official proclamation, marking this upcoming Friday as "Chancellor Susan E. Borrego Day." Both he and the chancellor addressed the crowd.
Smith, a lifelong Flint resident and music education senior, cheered the event as a way to showcase the university. The French horn player is one of several students who will be performing at the investiture.
"It's a really underrated school, in my opinion," Smith said. "There are a lot of good teachers. And the facilities are very good, too."
Borrego said the week's festivities are a way to reach into the community and connect people. Tuesday morning, she attended a community breakfast at the Mount Olive Missionary Baptist Church in Flint.
"These are all kinds of opportunities to create awareness around the university," she said.
Walling said he's been impressed with Borrego's leadership style since she started her position last August.
"The University of Michigan-Flint has always had a strong community focus and I've seen that throughout the years, but Chancellor Borrego has taken that on in a very hands-on way, where she is personally looking at the university's connection downtown, the market, serving on boards, and providing leadership to the entire community. That's what I really appreciate about her," Walling said. "From day one, she has really rolled up her sleeves and taken a hands-on approach to public engagement."
---
Contact University Relations staff writer Robert Gold with comments, questions, and ideas at goldr@umflint.edu, (810) 424-5596, or on Twitter, @writerobert.
Contact the Office of University Communications & Marketing with comments, questions, or story ideas.