UM-Flint Students Honored for Community Service by Michigan Campus Compact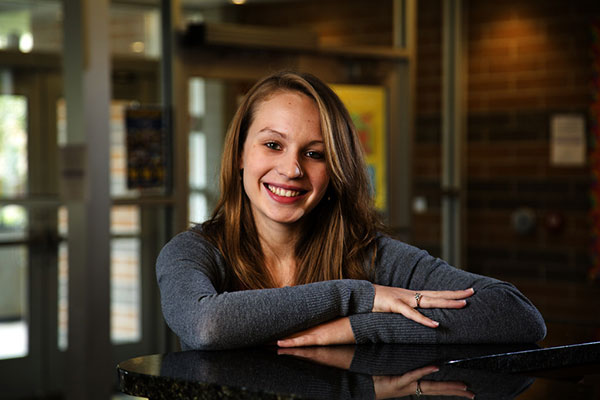 A University of Michigan-Flint student and staff member is one of only six people statewide honored later this month with an Outstanding Community Impact Award from the Michigan Campus Compact.
Alicia Gillman will receive the award April 18 at the Kellogg Hotel and Conference Center in East Lansing.
Gillman graduated in December with a bachelor's degree in health science. She is currently taking a life-long learning class and starts her Doctor of Physical Therapy classes in the fall. She is also an associate project coordinator in the office of University Outreach, a community adviser for First Street Residence Hall, and a research assistant in the Undergraduate Research Opportunity Program.
Ten current or recent UM-Flint students will be recognized at the Michigan Campus Compact event for their community service contributions.
The Outstanding Community Impact Award is given to "students who have made service an integral part of their college experience through their significant contribution to community resources," according to the compact, which is a coalition of college and university presidents. The coalition helps college students be engaged within the community. The award winner's efforts "build partnerships between their campuses and communities to demonstrate personal reflection and a commitment to lifelong engagement."
Gillman has been involved with Alternative Spring Break for the past four years, including the past two as a board member. Throughout her UM-Flint career, she has been involved with numerous other groups, such as the Crim Festival of Races, Relay for Life, and FoodCorps. She is president of the campus Pre-Physical Therapy Club.
Gillman said she was honored by the recognition and lauded the work of the other students–and the long line of others involved.
"There are a lot of people on campus that do a lot of good work," she said.
Others from UM-Flint being honored at the Michigan Campus Compact event include Noelle Looney, who is receiving the Commitment to Service Award; and Ashley Bush, LaShaya Darisaw, Samantha Grathoff, Karla Hammond, Kevin Johnston, Kimberly Redmond, Mona Sahouri, and Kristin Sedore, who are receiving the Heart and Soul Award.
The Commitment to Service Award is given to students for "the breadth or depth of their community involvement or service experiences." Only 31 of these are being awarded statewide. The Heart and Soul Award is given to students "to recognize their time, effort, and personal commitment to their communities through service."
All of the recipients will be honored at the April 18 East Lansing event, which will be held from 11 a.m. to 2 p.m.
The Outstanding Community Impact Award recipients are selected by an outside review panel and receive $200 to donate to an organization of their choosing. Gillman decided to give her award money to the Alternative Spring Break.
---
Contact University Relations staff writer Robert Gold with comments, questions, and ideas at goldr@umflint.edu, (810) 424-5596, or on Twitter, @writerobert.
Contact University Communications & Marketing with comments, questions, or story ideas.