Earth Day and Earth Week Activities at UM-Flint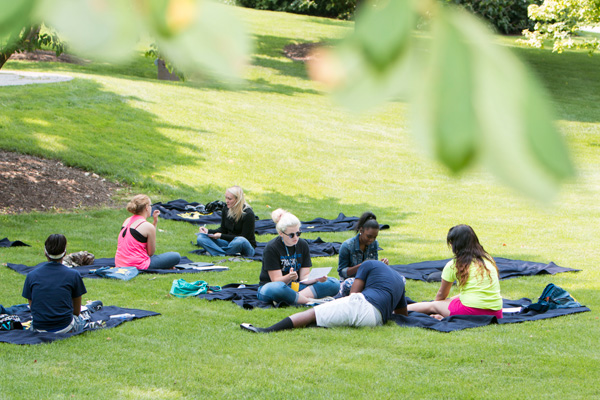 The University of Michigan-Flint will host the annual Earth Day celebration on April 11, in partnership with Mott Community College and Kettering University. A separate series of events­ coined Earth Week, organized by the UM-Flint student group Future Urban & Environmental Leaders (FUEL), starts April 4.
Earth Week kicks off Saturday, April 4 with a trash cleanup along the banks of the Flint River. The group will meet at noon in the University Center lobby to hand out gloves, bags, and buckets to volunteers before heading to the river.
Other events include:
Monday, April 6
– Seed ball making; Room 517 of the Murchie Science Building; 2:30-4:30 p.m.
Tuesday, April 7
– Taste test of tap water versus bottled water; University Center, 3rd Floor, 11 a.m. to 4 p.m.
Wednesday, April 8
– Movie Night: Dam Nation; Urban Alternatives House, 924 Eddy Street., 6:30 p.m.
Thursday, April 9
– Erin Caudell of The Local Grocer will discuss local food systems; Room 306 of the Murchie Science building, 4-5 p.m.
"I hope it creates some momentum and that we see more students at Earth Day this year," said student and FUEL president Gabrielle Veal about Earth Week. "Alternatively, if students can't make it to Earth Day, they can get engaged by going to one of our events."
The local Earth Day Celebration is a series of events on Saturday, April 11, organized by University of Michigan-Flint, Kettering University, and Mott Community College. Most of the events will be held in UM-Flint's Harding Mott University Center. The full list of events, with times, can be found at the Earth Matters website. Some of the highlights include:
• Keynote speaker Dr. Partha Nandi, M.D., F.A.C.P, will speak on the importance of one's daily practice and how it connects to healty, sustainable, and mindful living. Dr. Nandi is the creator and host of the medical lifestyle show Ask Dr. Nandi.
• A Healthy Living Fair will include vendors selling sustainable and eco-friendly products and healthy foods.
• The winner of the annual College Recycling Challenge between University of Michigan-Flint, Baker College and Kettering University will be announced.
• More than 50 exhibitors and presenters will be at the event, with live music, short environmental talks and bicycle tours to UM-Flint's Urban Alternatives House, local urban gardens, and the Flint Farmers' Market. The Recreation Center is providing free bikes for the tour.
---
Contact University Relations staff writer Robert Gold with comments, questions, and ideas at goldr@umflint.edu, (810) 424-5596, or on Twitter, @writerobert.
Contact University Communications & Marketing with comments, questions, or story ideas.