UM-Flint Math Professor Ricardo Alfaro Nominated Michigan Distinguished Professor of the Year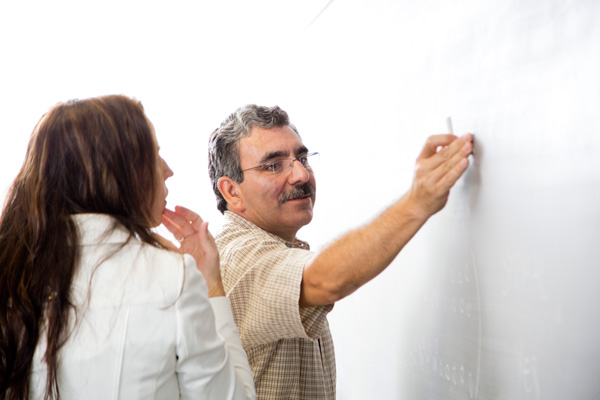 UM-Flint's Interim Provost and Vice Chancellor for Academic Affairs Barbara Dixon recently announced the selection of mathematics professor Ricardo Alfaro as the University of Michigan-Flint's 2015 nominee for the Michigan Distinguished Professor of the Year.
The Michigan Distinguished Professor of the Year program was established by the Presidents Council of State Universities of Michigan to recognize the outstanding contributions made by the faculty from the state's public universities to the education of undergraduate students.
Professor Alfaro earned his B.S. degree from the Universidad Católica del Perú in 1983, and his M.S. and Ph.D. from the University of Cincinnati in 1986 and 1989, respectively. He joined the University of Michigan-Flint in 1989 as a visiting assistant professor, was appointed as assistant professor in January of that academic year, promoted to associate professor with tenure in 1995, and to professor in 2005. Prior to joining UM-Flint, Alfaro served as assistant professor at the Universidad Católica del Perú during the 1983-84 academic year.
In the announcement, Interim Provost Dixon described Alfero as one of the most popular and well-liked professors on campus in spite of the fact that he teaches courses that are often feared and dreaded by many students. In his career of over 25 years of teaching, he has taught 23 different courses ranging from elementary mathematics to masters-level courses. He has been an active mentor to aspiring mathematicians by supervising over 17 honors theses, and advising over 15 independent student projects, along with hours of advising to help students plan their education.
"I feel honored being nominated," Alfero said. "The accomplishments I have had during my 26 years at the university are, in great part, a result of learning from each of my students, faculty, staff, and administrative colleagues the different ways in which we form a university that strives to put the education of our students first."
Alfero has published a total of 18 refereed papers in academic journals and his scholarly accomplishments are globally recognized, having given over 35 invited talks throughout the world. In pure mathematics, involving undergraduates in research is difficult; however, he managed to do so, co-authoring three of his papers with five of his UM-Flint students.
At the end of April, he will lead a group of 10 students to Peru along with Nursing Professor Maureen Tippen to help in under-served communities in rural areas of the country.
Professor Alfaro was recently awarded the David M. French Professorship, the highest faculty recognition awarded by the University of Michigan-Flint.
The Presidents Council hosts an awards ceremony in April to recognize all nominated faculty and announce the three Michigan Distinguished Professors of the Year.
Contact University Communications & Marketing with comments, questions, or story ideas.