Sexual Assault Awareness Week at UM-Flint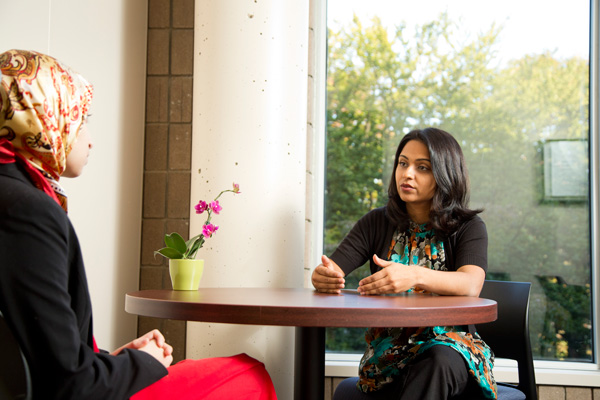 Sexual Assault Awareness Week is Monday, March 9 through Friday, March 13. The week is presented by Student Government and features multiple events on campus and in the community.
Rushika Patel, PhD, director of the Women's Educational Center, lauded student government for launching the awareness week.  
"The student government and its collaborators have organized an incredible series of events and I hope that every UM-Flint student is able to attend at least one. It's a pleasure to have the opportunity to work with a student government that is so visionary and progressive. The series of events addresses not only what one can do to prevent sexual assault on campus, but also educates students about what sexual violence looks like around the country and the world. The best thing about what student government is doing is that they are educating other students about how they can intervene as a bystander in a variety of situations where sexual assault or harassment are happening or potentially going to happen. I am sure that their awareness-raising efforts are going to make a difference in the lives of others."
Monday, March 9:
· Opening Ceremony
Followed by mix & mingle
Kiva: 10 a.m. to 12 p.m.
· Movie: Rape Myths on Trial
213 University Center (UCEN): 12 p.m.
In this film, "Anne Munch, a career prosecutor and advocate for victims of gender violence, examines how cultural attitudes shape the outcomes of rape and sexual assault cases. Drawing on years of experience prosecuting sex crimes," according to the university's Women's Educational Center. The center is co-sponsoring the event with Student Government.
· Students Fight Back
Riverfront Banquet Center: 7 p.m. to  9 p.m.
This event is hosted by sexual assault survivors.
Tuesday, March 10:
· Dialogue: "Rape Culture"
Intercultural Center: 8:30 a.m. to 10:30 a.m
· Intergroup Dialogue (LGBTQ+)
Kiva: 1 p.m. to 3 p.m.
· The University of Michigan-Flint Sexual Assault Policy
Happenings Room: 4 p.m. to 5:30pm
Wednesday, March 11:
· Gender Roles & Objectification of Women in the Media
Kiva: 10 a.m. to  12 p.m.
· What Does Your Masculinity Say About You?
UCEN Michigan Rooms B-C: 1:30 p.m. to 4 p.m.
· Human Trafficking Interactive Session
This is held by the Michigan Human Trafficking Task Force.
Kiva: 4 p.m. to 6 p.m.
· Movie Night:"The Greatest Silence: Rape in the Congo"
French Hall 111: 7 p.m. to 9 p.m.
Thursday, March 12:
· Discussion: The Sexual Assault Policy on Campus
Intercultural Center: 11 a.m. to 1 p.m.
· Sexual Assault Awareness Movement
UCEN Michigan Room A: 1 p.m. to 3 p.m.
· Sexual Assault Speak Out
Kiva: 5:30 p.m. to 8:30 p.m.
Friday, March 13:
· Community Service
 UCEN Michigan Rooms & Carriage Town Ministries: 10 a.m. to 12 p.m.
· Unity March
UCEN Lobby: 12:30 p.m. to 1:30 p.m.
Snacks & light lunch upon return
· Pledge Signing: #WeAllCan #ItsOnUs
UCEN Lobby: 1:45 p.m.
· Closing Ceremony
Kiva: 2:15 p.m. to 3:45 p.m.
The week's events are co-sponsored by The Division of Student Affairs, The Women's Educational Center, The LGBT Center,The EOI Transitions Program, The Social Work club, the Human Resources Department, the Department of Public Safety, the Women and Gender Department, Students for Free Thought, along with the following community groups: The Genesee County Human Trafficking Task Force, The Michigan Human Trafficking Task Force, and Carriage Town Ministries.
Contact University Communications & Marketing with comments, questions, or story ideas.