UM-Flint Hosts 48th Annual Math Field Day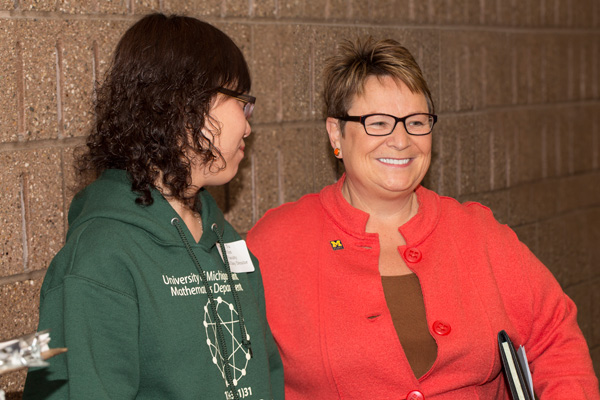 The University of Michigan-Flint Math Department hosted the 48th Annual Math Field Day on March 6, 2015. One of the longest-running traditions at the university, Math Field Day brings together high school students from across Michigan for a day-long competition of skills and knowledge.
Chancellor Susan E. Borrego welcomed the students at the start of the day. From there, UM-Flint faculty and students assisted the teams as the competition got underway.
According to Kenneth Schilling, professor in the UM-Flint mathematics department, this year 25 teams competed with a total of 125 high school students participating. Two new teams competed for the first time, with another team returning to Math Field Day for the first time in almost 40 years. Grand Blanc High School has the distinction of being the only high school in the state that has attended all 48 Math Field Days at UM-Flint.
The competition includes three individual and four team contests. Most require solving problems from throughout the high school mathematics curriculum: algebra, geometry, trigonometry, probability, and so on. One student on each team gives a "chalk talk," a five-minute lecture to which a judge assigns a score. At the end of the day prizes are awarded for the top scores in the individual contests and the top team scores.
"The purpose of Math Field Day is to encourage high school students to study more mathematics, and reward those who excel," said Schilling. "It is a real pleasure to watch students having fun and getting excited about doing math."
The Grand Champion of Math Field Day 2015 was Troy High School.
1st, 2nd, and 3rd place trophies in each of the three divisions were awarded as follows:
Large Schools:
(1) Detroit Country Day
(2) Cranbrook Kingswood
(3) Stoney Creek
Medium Schools:
(1) Greenhills
(2) Okemos
(3) DeWitt
Small Schools:
(1) Lumen Christi Catholic
(2) Almont
(3) West Catholic
---
PHOTO: Chancellor Susan E. Borrego welcomed participants at the 2015 UM-Flint Math Field Day.
Contact University Communications & Marketing with comments, questions, or story ideas.