UM-Flint Ready To Compete Against Area Schools in 6th Annual Recycling Challenge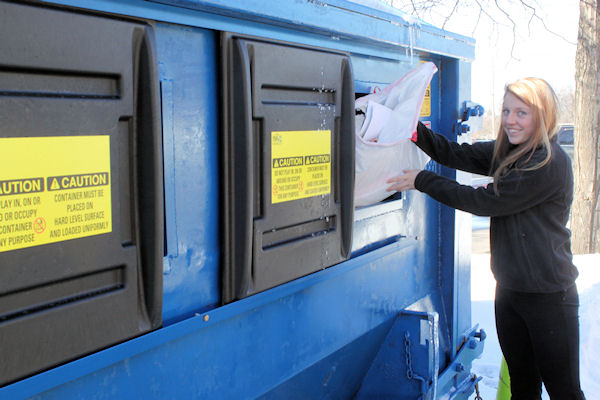 The Sixth Annual Recycling Challenge between Baker College, Kettering University, Mott Community College, and the University of Michigan-Flint is in full swing. For the entire month of March, each campus is the location of a recycling drop-off center.
Students, faculty, staff, and community members are encouraged to bring acceptable recyclable materials to be placed in a collection dumpster. The UM-Flint dumpster is located near the Recreation Center on Mill Street.
Recyclable materials include: clean plastic containers numbered 1 through 7, aluminum cans, steel cans, and small scrap metal are all acceptable. Mixed papers, such as newspaper, junk mail, office paper, cardboard, paperboard, phonebooks, and magazines are also accepted.
Two awards will be presented to the winners of "Most Pounds per Student" and "Most Total Pounds of Recyclables Overall per Campus." The school winners will be announced at the Earth Day Celebration on Saturday, April 11, 2015, from 10:00 a.m. to 3:00 p.m. on the University of Michigan-Flint campus in the Harding Mott University Center.
University of Michigan-Flint student Brandon Eggleston said, "As a member of the student club FUEL (Future Urban & Environmental Leaders), it is encouraging to see the Flint community engaging with one another to promote sustainable living through this month-long recycling challenge."
"The University of Michigan-Flint has been actively expanding our on-campus recycling program over the years. Participating in this worthwhile annual community recycling event is a great way to further support and increase awareness of the City's curbside recycling program," said Mike Lane, director of Environment, Health and Safety. "We hope that this recycling competition between the colleges and universities will collectively encourage greater participation by students and community members in recycling on and off campus, and ultimately divert materials that would otherwise be disposed of in our landfills."
Contact University Communications & Marketing with comments, questions, or story ideas.