UM-Flint Students Join "Pedaling for Parkinson's" Research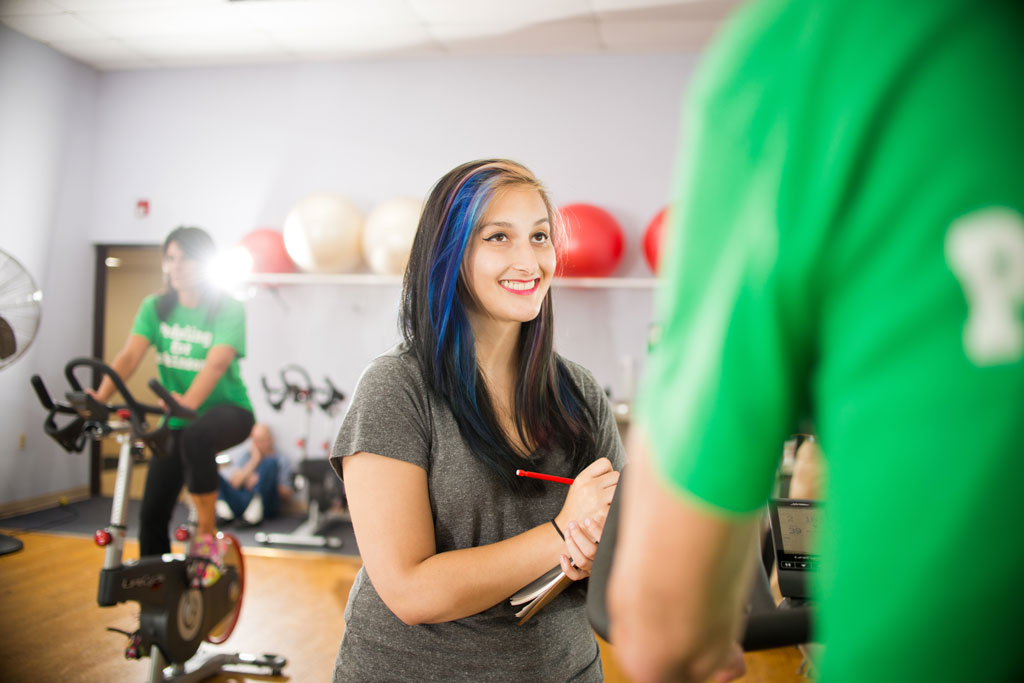 "It doesn't feel like I have Parkinson's when I'm on the bike." These words, spoken between two friends on a tandem bike ride, became the roots of Pedaling for Parkinson's, a foundation dedicated to using cycling as a method of mitigating the motor symptoms of Parkinson's Disease — a progressive disease of the nervous system that affects movement, cognition, and quality of life. The friends were Cathy Frazier and Dr. Jay Alberts, and their journey is well documented through articles and webpages across the internet.
At the University of Michigan-Flint, the Psychology Department's Nathaniel Miller, Ph.D. is doing his part to add to this body of Parkinson's research. Along with his research assistants Matthew Davis and Jamie Staudacher, participants in the Undergraduate Research Opportunity Program (UROP), Miller spends time gathering data from YMCAs in Ann Arbor and Jackson, MI, working with patients in the Neuromotor Behavior Lab at UM-Ann Arbor, and analyzing findings at their UM-Flint lab. This research is funded by the Blue Cross Blue Shield of Michigan Foundation.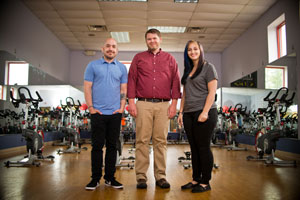 The central idea of Pedaling for Parkinson's (PFP) is that physical activity, if increased beyond a patient's normal routine, can add to quality of life and reduce some motor symptoms associated with Parkinson's Disease (PD) like tremors, poor handwriting, and uneven gait. Consenting patients participating in the program have baseline scores for their motor and cognitive skills recorded at the onset and throughout the duration of the program. The cycling takes place at local YMCAs where three times a week they engage in an hour of exercise: a 10 minute warm-up, 40 minutes of vigorous cycling, and 10 minutes of cool-down. Keys to the treatment appear to lie in the addition of exercise above and beyond the intensity that patients would normally do on their own. In the case of cycling, this means upping the RPMs of a bike's pedals and increasing their heart rate. Pedaling for Parkinson's most often will pair an experienced cyclist with a PD patient on a tandem bike to ensure the increased RPMs.
When asked about his personal connection to this particular research, Miller says, "I had been conducting research on Parkinson's Disease since my dissertation project. I developed an interest in PD specifically because my grandfather had been diagnosed with the disease while I was in graduate school, which prompted me to use my research interests to help individuals with PD. I was fortunate to become involved with the Ann Arbor and Jackson YMCA's PFP programs from the very beginning. It has been extremely rewarding to use the knowledge and skills I have developed conducting research on PD and the skills that I have learned through my hobby of cycling to help this program develop and grow locally."
His research assistants also came to the project with personal interests in and connections to brain disease, disorder, and injury.
This research is a natural fit for connecting university researchers and students with their communities, and it offers an approachable and familiar path for patient participants. Says Miller, "One of the most exciting benefits of this research is that it may offer a low-cost and effective intervention to help mitigate some of the symptoms of PD. Exercise facilities, such as the YMCA, already have most of the equipment available to offer the program, so start up costs are minimal. Additionally, our preliminary results suggest that this exercise program might be effective for mitigating some of the symptoms of PD that are relatively unresponsive to medications. Finally, community-based exercise programs provide an excellent opportunity for individuals with PD to become more physically active in a safe environment. Individuals with PD are less active than their non-PD peers, which can negatively affect their quality of life." Miller and his RA Davis both note an additional and positive social effect of the program: patients, their caregivers, and families—along with the researchers—are able to discover a sense of community and support within the research project.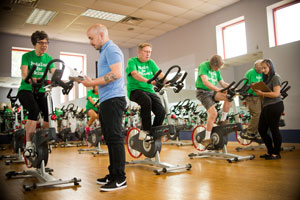 Davis, who has been working on the PD research since the Fall 2014 semester, has found his role in the research to be invaluable. He says, "I not only get to witness the actual process of a research project, but I get to see how it affects the world around us. I learn a lot through going to class, listening to lectures, and taking notes on my assigned readings, but that knowledge pales in comparison to the knowledge gained by my first-hand experience." Staudacher, who is only days into the research, has similar hopes for her time on the project.
Miller echoed his students' feelings on the type of learning that comes with this research, "From my perspective, this project offers a unique opportunity for students to gain experiences relevant to their future career goals, regardless of what career avenue they may pursue . . . For example, students who have helped with this project have come from very different academic backgrounds with very different career goals, including pre-dental, pre-physical therapy, neuroscience, psychology, movement science, and pre-medical students. Because this project offers opportunities that range from applied experience working with older individuals with PD to more research oriented experiences working in the laboratory (collecting and analyzing data), every student has walked away with experiences that will directly impact their future careers and help them develop skills necessary for the next step that they plan to take in their career path. Additionally, students gain a better understanding of what it is like, from the patient's perspective, to face life with a neurodegenerative disorder."
When asked what's next for his involvement with Pedaling for Parkinson's, Miller said, "I would like to help start a PFP group in this region, as I think it would provide an excellent opportunity for engaged learning amongst UM-Flint students while also providing opportunities for individuals with PD in the area. I hope to continue this line of research in the future, along with studying the benefits of exercise for cognitive and motor issues in other populations."
---
For more information on his Pedaling for Parkinson's research, contact Nathaniel Miller, Ph.D. at natmille@umflint.edu. For other undergraduate research opportunities, visit the UROP website.
Contact University Communications & Marketing with comments, questions, or story ideas.