UM-Flint Sponsored FIRST Robotics Team Readies for Competition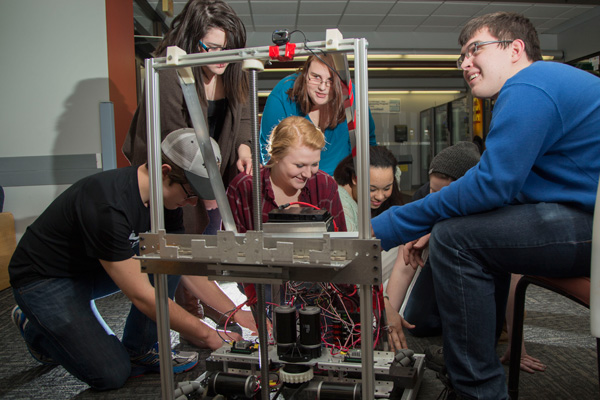 The UM-Flint sponsored robotics team has its robot under wraps—literally. After completing construction of the robot earlier this month, the team is required to wrap it in plastic. They had to sign papers pledging to only remove the plastic for demonstration and not work on it longer than six hours.
The FIRST Robotics Competition (FIRST is an acronym: For Inspiration and Recognition of Science and Technology) was established in 1989 to create an interest among high school students in STEM (Science, Technology, Engineering, and Mathematics). This year, over 3,000 teams will participate in competition across the country.
UM-Flint's team name, TESLA, not only represents Nikola Tesla—widely known as the man who pioneered alternating current electricity—but also Technology, Engineering, Science, Leadership, and Academics. At competitions the team will often don mustaches to channel Tesla's creative spirit.
The team was formed last year with students from the Genesee Early College (GEC). This year, around 20 students from the high school, located on the UM-Flint campus, are participating. The first year proved to be a big learning curve. This year, the team hit the ground rolling with their robot entry. They are ready for the first big competition to be held March 6 at Kettering University.
It is in early January that FIRST Robotics announces what design elements will be needed for the 2015 competitions. This year, the robots must be able to pick up, move, and stack plastic totes.
John O'Brien, a technician in UM-Flint's  engineering  program in the College of Arts and Sciences, and Carly Deleu, a GEC teacher, are co-mentors of the program.
"As the co-mentor of robotics Team TESLA #4998 for the past two years, I have learned so much about not only robotics, but also my students' interests, their strengths, and the importance of positive team dynamics," said Deleu. "Genesee Early College is fortunate to have the awesome partnership with the University of Michigan-Flint. Without the university, our team would have no home."
Deleu described how the program takes learning in lots of directions, "High school students are creating robot design, writing code and programming, using tools like the mill, lathe, and the 5-axis machine. They are also writing safety precautions, formatting a yearbook documenting this season's events, and getting in touch with local businesses and organizations to see if we can be of service in any way."
"The high school students really look forward to working on the robot," said O'Brien. "What surprises me is how many of the students want to explore a career in the area of engineering."
The high school robotics team is also assisted by UM-Flint engineering students.
"As a mechanical engineering major, I get to help high school students learn what's involved in mechanical and electrical engineering," said UM-Flint student Erik Leaske. "I also get to use what I learn in my classes to help them with both design and construction."
The foundation of GEC curricula is the way health sciences are infused throughout the learning. So spending time in the engineering labs is an activity they really look forward to.
This is Samantha Miller's second year on the team, and is its Safety Captain. She said, "One of the main things that I've learned while on this team is teamwork and leadership. As this is my second year on the team, I have learned to find ways of guiding new students to proper practices on the team, teaching them the rules and regulations of the team, and working with them to not only improve their skills, but also make our team even better."
To be more competitive this year, the team added Mecanum wheels to their robot's design. They not only allow the robot to travel forward and back, but also side to side, and they have a zero turn radius.
Contact University Communications & Marketing with comments, questions, or story ideas.