UM-Flint Students Receive Awards from American Advertising Federation of Greater Flint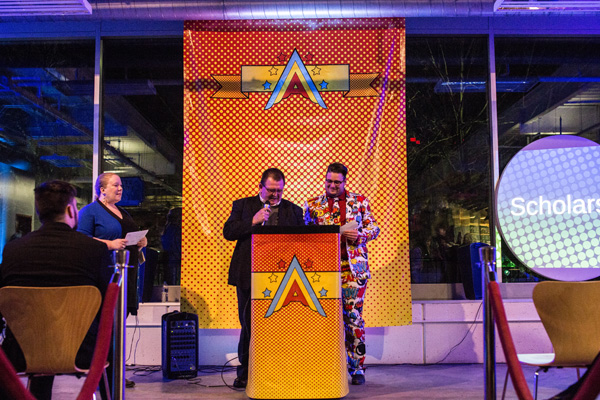 Seven University of Michigan-Flint students took home ADDYs at the recent American Advertising Federation of Greater Flint awards ceremony. The students were recognized February 20 at the ceremony at the Flint Farmers' Market. Overall, the students won three gold and six silver awards.
Congratulations to the following students:
• Brittany Norcross: Gold award (poster design for Flint Institute of Arts)
• Emily Sollinger: Gold award (magazine design for Mix It Up)
• Nick Looney: Three silver awards (poster design for FOMA (Friends of Modern Art) Film Series; book design for Fall 2014 edition of Qua Literary and Fine Arts Magazine; consumer design for 2014 Flint Film Festival).
• Eleni Kelley: Silver award (magazine design for RE Magazine )
• Jacqulyn Leary: Silver award (magazine design for Eire: The Green Isle)
• Heather Workman: Silver award (poster design)
• Helen Lund: Gold award (advertising arts-illustration)
"I was very pleased with the quality of our student's work and the Judges thought the work showed creative thought and exceptional execution," said UM-Flint Anthony McGill, a lecturer IV in the Department of Communication and Visual Arts. "These students are well on their way to reaching the accepted professional standards of the field of advertising. Nothing speaks more highly than the fact that the advertising professionals at the American Advertising Awards were extending numerous offers for internships and jobs."
McGill is a College Connection board member of the American Advertising Federation of Greater Flint.
The UM-Flint's Office of University Relations also earned ADDYs, receiving six silver awards and two gold awards.
---
Photo credit: Austin Speer and Bailey Wright.
Contact University Relations staff writer Robert Gold with comments, questions, and ideas at goldr@umflint.edu, (810) 424-5596, or on Twitter, @writerobert.
Contact University Communications & Marketing with comments, questions, or story ideas.