Curiosity Academy Sparks Interest in STEM Fields Among Area Middle School Girls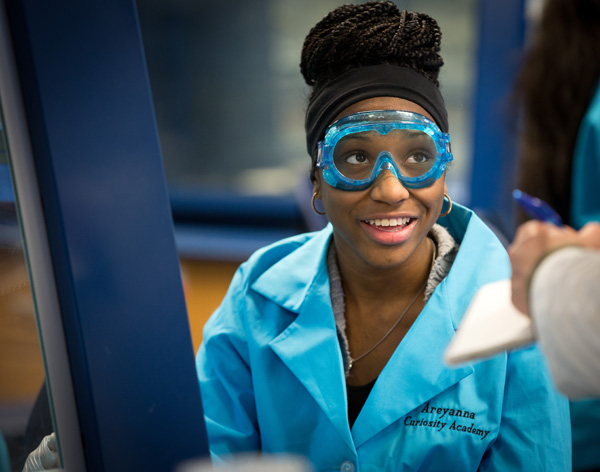 Areyanna Clark, a 7th grader at Carman-Ainsworth Middle School in Flint, wouldn't have considered herself a huge fan of science last fall. Yes, she signed up for the Curiosity Academy—a new regional STEM (Science, Technology, Engineering and Mathematics) program for girls run by the University of Michigan-Flint, Kettering University, and Sloan Longway—but that was because two friends from another school asked her to join them.
Clark's interest grew as she and 13 other area middle-schoolers teamed up to constitute the first class at the Academy. On many Mondays after school, the group has delved into data analysis, the surface tension of water, how shampoo works, its ingredients, and how to evaluate the potential hazards of its chemicals. In early February, they met at the new chemistry labs at UM-Flint to actually make soap.
Clark and two other students made up a team that combined water, ethanol, and sodium hydroxide in a beaker, heated the mixture on a hot plate, added it to a sodium chloride solution, and filtered it to make soap. Wearing lab coats and goggles, all of the Academy students made the soap in the chemistry lab.
"It's fun," Clark said, as her group monitored the heat of the hot plate. "We get to make stuff."
The 7th grader said the lab session was her favorite class so far but the entire Academy had made her more interested in science, including at school. The Academy introduced Clark to the UM-Flint campus.
The joint venture between UM-Flint, Kettering, and Sloan Longway was started to spur, develop, and encourage interest in middle school girls for STEM careers. And it welcome the students to the college environment.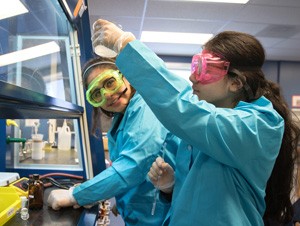 "Every week, we try to get some professional in with the girls, so they can learn about their jobs and provide emphasis that there are women in all these scientific fields and it's attainable," said Samantha Grathoff, a chemistry lecturer at UM-Flint and one of the Academy's directors.
The Academy started in late October and runs until early June, with students meeting at Longway Planetarium and both universities. The group will still investigate several topics, including pH balance, how machinery works to package products, and how to market and sell a product.
This year's class of students come from Flint, Grand Blanc, Clio, Swartz Creek, Fostoria, and Flushing. There is one 6th-grader and the rest are 7th and 8th graders.
Addison Peter, a 6th-grader from Springview Elementary School in Flushing, said she's drawn to all STEM classes.
"I just thought it would be cool to do science and make shampoo," Peter said, explaining why she joined up.
Monique Wilhelm, a lecturer and the lab manager for the chemistry and biochemistry department at UM-Flint, said the program helps girls realize that wide spectrum of careers in STEM fields and to change their image of a scientist as "a guy sitting in a lab doing nothing."
"This is the age range that girls start to lose interest in science," said Wilhelm, one of the Academy's directors. "Everybody is born a scientist. Everybody is interested in how things work."
Organizers want to run the Academy annually.
Essence Wilson, a Curiosity Academy director, said the joint venture should help make the program flourish and continue.
"We took a collaborative approach to this so each institution has its own responsibilities and everybody is able to contribute," she said. "The concept is sustainable because of that collaboration and everyone brings something to the table."
Wilson works with Kettering University staff to help facilitate the program.
Laurie Bone, an Academy director and senior curator of programs at Sloan Longway, said "having the expertise of the universities and having the access to their labs and equipment has just been amazing." It also helps the middle school participants picture life as a university student.
"It's great for them to be able to see what college life is like and to be on the campus and to be in the labs. It's awesome."

For more information about Curiosity Academy, contact Samantha Grathoff at sgrathof@umflint.edu or 810.762.3277.
---
Contact University Relations staff writer Robert Gold with comments, questions, and ideas at goldr@umflint.edu, (810) 424-5596, or on Twitter, @writerobert.
Contact University Communications & Marketing with comments, questions, or story ideas.