UM-Flint's Entrepreneurs Society Joins with Habitat for Humanity to Revitalize Flint Neighborhood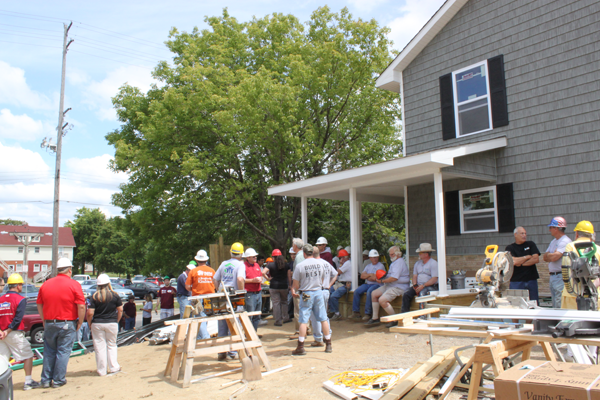 Genesee County Habitat for Humanity has received a $50,000 grant from NeighborWorks America for an initiative to revitalize Flint's Grand Traverse neighborhood. A new marketing plan to attract more residents is part of the initiative, and UM-Flint's Entrepreneurs Society will have marketing students work as a part of the team.
According to Habitat officials, $40,000 will be used to hire a graphic designer to help with the image and visibility of the Grand Traverse neighborhood, develop a peer learning program with 16 other participants, and hire a community development and marketing manager. The remaining $10,000 will be used for implementation of the initiative to revitalize the neighborhood.
The Entrepreneurs Society has partnered with Habitat for Humanity on Work/Live houses in the same neighborhood since 2012. Habitat oversees the construction of the homes, while the students' business knowledge and expertise is used to help insure that the businesses that move into the homes are successful.
'The Entrepreneurs Society is looking forward to continuing the partnership with Habitat," said Bryon Killin, president of the UM-Flint Entrepreneurs Society. "We will continue working with prospective home/business owners in the future to aid in the revitalization of the Grand Traverse neighborhood, and the Flint community as a whole."
The goal of creating a marketing plan for the neighborhood would include among other things:
Develop a brand for the neighborhood that captures its spirit and highlights what is special about the Grand Traverse District
Utilize the neighborhood brand to attract home buyers to the neighborhood
Utilize the brand to attract investments to the neighborhood
Habitat neighborhood outreach coordinator Tom Wyatt said that the marketing team will also include community members from the neighborhood and foundations such as the Center for Community Progress and Local Initiatives Support Corporation.
More than two dozen homes have already been rehabbed by Habitat in the Grand Traverse area.
Contact University Communications & Marketing with comments, questions, or story ideas.