Ring in the New Year: UM-Flint Department of Public Safety Reunites Student with Class Ring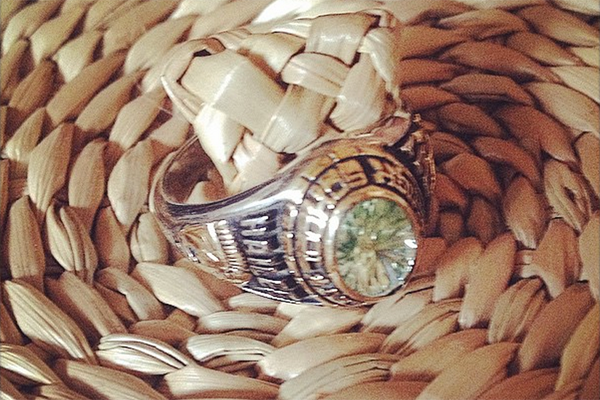 Hailee Dudzik gave up hope long ago that she would find her personalized high school class ring.
The 2011 graduate of Davison High School and current student at University of Michigan-Flint lost the gold, silver, and peridot ring nearly three years ago during her first year in college.
"I scoured my room for a year after that, because I had thought I dropped it in my room," she said, calling the ring "pretty much a daily accessory of mine."
The jewelry was customized, including her name etched in silver and a paint brush and computer crafted in gold.
But after exams this year, the holiday spirit came in the shape of a telephone call from the university's Department of Public Safety. She was at Meijer in Davison when she checked her voicemail and found a message from Sgt. Allen Cozart.
"I started to panic," Dudzik said. "What had I left on campus? Did I even leave something on campus?"
Cozart, in fact, tracked her down after doing a year-end inventory of the lost and found collection at the campus public safety department. He had her ring. (It wasn't as epic of a gap in time between lost and found as UM-Flint alumnus Russ Braden's ring story, but it still left everyone involved in its rediscovery heartened.)
"The first name was very unique," Cozart said, explaining why he was hopeful he could find the owner by searching multiple databases. Finding her name and information in a student listing, Cozart called and emailed her December 21. The department had also emailed her when the ring was originally found too, he said, but hadn't heard from Dudzik.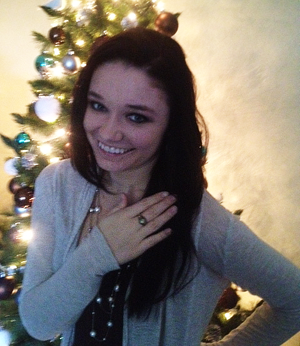 Dudzik drove back to campus after speaking with Cozart and picked up the ring.
"It is always nice to reacquaint people with their property," he said, describing Dudzik as "ecstatic."
He also lauded the individual who turned in the jewelry.
"That is what makes the system work," he said.
Dudzik, a dual major in English and graphic design, said the experience meant more to her than just getting her ring back.
"There are good people in the world," she said.
Contact University Communications & Marketing with comments, questions, or story ideas.