Keith Moreland Appointed Interim Dean of UM-Flint School of Health Professions and Studies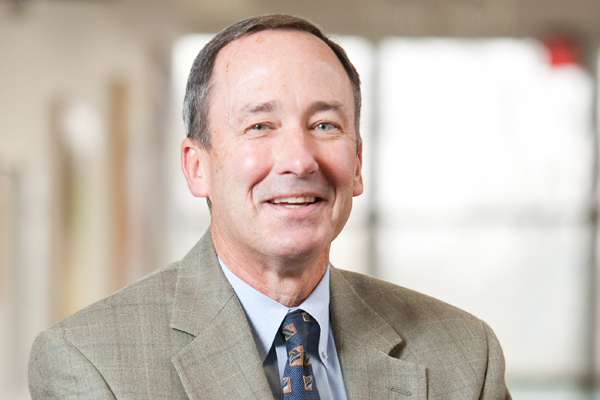 A professor of accounting in the University of Michigan-Flint School of Management (SOM) has been selected to serve as the Interim Dean for the School of Health Professions and Studies (SHPS).
The appointment of Professor Keith Moreland to the position has been approved by the University of Michigan Board of Regents, effective January 1, 2015.
"I am confident that Keith's leadership will provide stability, strength, and momentum for the School of Health Professions and Studies during this transitional time," said Provost Gerard Voland. "I welcome him to the Academic Affairs leadership team."
Moreland joined the UM-Flint faculty in 1994. Prior positions include manager for an international public accounting firm, and as the controller for a large consumer services company. He holds a PhD (Accounting) and MBA (Finance Concentration) from the University of Cincinnati and a BBA (Accounting Concentration) from the University of Michigan. He is a CPA, registered in Michigan, and a Certified Management Accountant (CMA).
Moreland said he considers it an honor to serve as SHPS' interim dean. "I've long admired SHPS's focus on delivering high-quality academic programs for their students and their dedication to improving health outcomes in our community. Their commitment to innovation and growth creates a vibrant environment that benefits our university and community. I am looking forward to supporting the talented faculty and staff of SHPS in continuing their strong track record of success."
Moreland teaches a wide variety of upper level undergraduate and graduate accounting courses including auditing, intermediate and advanced financial accounting, governmental and non-profit accounting, and professional accountancy. He is the recipient of several campus teaching awards.
Moreland is an active researcher, and has published in Auditing: A Journal of Practice and Theory, Research in Accounting Regulation, The CPA Journal, and Issues in Accounting Education, among other journals.
Moreland has held, and currently holds, various committee and service positions at UM-Flint, including two terms as Chair of the University Academic Affairs Advisory Committee, the two most recent Chancellor Search Advisory Committees, and several terms on the SOM Executive Committee. He is active in professional organizations, including as a member of the Michigan Association of CPA's Financial Literacy Task Force and Accounting Educators' Task Force, of which he also is a former chair and vice chair. Moreland is currently serving on the City of Flint Master Plan Implementation Economic Development and Education Task Group. He has been recognized for service contributions as the recipient of the UM-Flint Distinguished Service Faculty award in 2009. He has also served as the Director of Academic Programs and as the Associate Dean of the School of Management.
Contact University Communications & Marketing with comments, questions, or story ideas.