UM-Flint Helps City Earn Bicycle Friendly Designation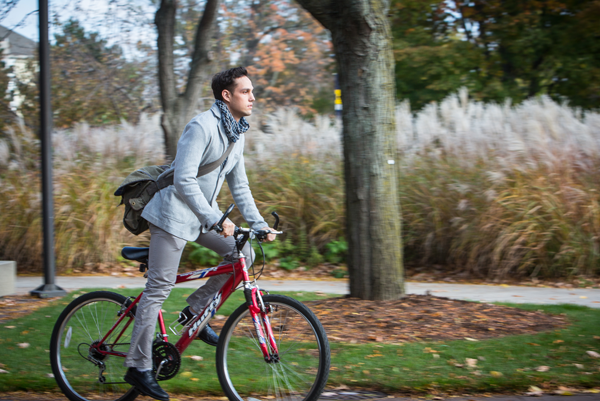 The League of American Bicyclists (LAB) recently recognized Flint with a bronze Bicycle Friendly Community award for investing in bicycle promotion, education, infrastructure, and pro-bicycle policies.
The Crim Fitness Foundation, who partnered with the City of Flint in completing the Bicycle Friendly application, gathered much of the information from the UM-Flint Walk and Bike Work Group.
"Cade Surface, the group's coordinator, and Professor Greg Rybarczyk, were particularly helpful with gathering information related to the distance of the city's trail networks, on-road bike paths, enforcement, and more," said Ali Harris, Crim's active living events coordinator. "LAB looks favorably upon community applicants that already have a bicycle friendly university, therefore the group's previous work at gaining Bronze level designation on behalf of the university was also very helpful with obtaining the designation for the entire city."
"Our partnership with the Crim Fitness Foundation is a prime example of how it takes everyone working together to create a culture and environment that promotes health through active living," said Theresa Landis, UM-Flint auxiliary and recreational services director. "The UM-Flint Recreation Center supports active transportation and physical fitness through innovative services including a bicycle rental program and the new Maize Bike Share program that was piloted this fall."
According to Rybarczyk, an assistant professor of earth and resource science, the Bicycle Friendly designation is a strong indicator that the city is making positive strides towards becoming a safe and friendly place to walk and bike.
"The award complements a similar achievement that UM-Flint received recently (bronze level bicycle friendliness designation), solidifying our co-commitment of increasing accessibility and mobility options for our students, faculty, and staff who live in and around the city of Flint," said Rybarczyk. Individuals interested in supporting the free Maize Bike Share program by donating a gently used adult size bike should call 810-762-3441 to make arrangements."
Contact University Communications & Marketing with comments, questions, or story ideas.