UM-Flint Physical Therapy Professor and Students Conduct Balance Screenings for Flint Seniors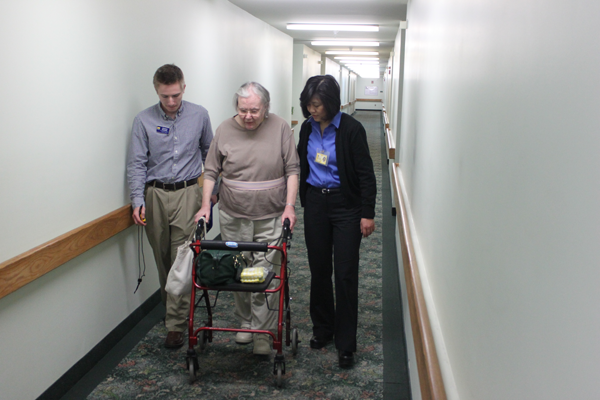 Sammie Johnson braced himself between the student and professor and angled his body slightly to the left.
"We'll catch you if you feel you are going to fall," said Dr. Min Hui Huang, an assistant professor in physical therapy at the University of Michigan-Flint. Dr. Huang and the student hovered next to Johnson as he tested his balance.
Johnson, a resident of Court Street Commons, a 55 and older independent living community in Flint, was participating in the UM-Flint research project on social participation, mobility and fall risk, led by Dr. Huang and several Doctor of Physical Therapy (DPT) students from the university.
"They are very thorough," Johnson said after the physical tests held in a lobby at Court Street Commons.
Dr. Huang and the DPT students have visited the residential facility several times this semester as part of an outreach and research project. Dr. Rie Suzuki, an associate professor of health education and another graduate student are also involved with the initiative.
The DPT students, with Dr. Huang, provide physical therapy evaluation to identify the residents who may need further consultation to reduce fall risks. They also work on helping the residents understand their fall risks and why it's important to tell their healthcare provider about their falls.
According to the Centers for Disease Control and Prevention, one out of three older adults aged 65 or older falls each year, but less than half talk to their healthcare providers about it. Falls are the leading cause of both fatal and nonfatal injuries in older adults, Dr. Huang said, citing the CDCP. The death rates from falls among older men and women have risen sharply over the past decade, she said.
The free physical therapy evaluations take more than hour, with a series of balance and mobility tests; along with vision and memory screenings and a series of questions about health and social participation. The participants also receive a VISA card worth $10.
"Some people would think 'If I lost my footing and fell into a couch, that isn't falling,'. But if there is no couch to fall into, that person would be falling onto the ground," said Dr. Huang, who is also the Coordinator of Neurologic Certificate and Residence Program at the university.
Dr. Huang refers some residents who may need more therapy to the Court Street Commons, which works with outside physical therapy agencies. But the work done by Dr. Huang and the UM-Flint students also helps build preventative measures and awareness among residents, said Laura Macias, the director of social services and student affairs at Court Street Commons.
"That leads to fewer falls and therefore to fewer hospitalizations and rehabilitation," Macias said.
Injuries sustained from a fall can lead to long stretches of immobility, Dr. Huang said, which can lead to other health problems. At times, she gives the residents exercises to help improve their balance.
Johnson, who has had two knee replacements on his right knee and may need to get his left knee replaced, learned some exercises at his session from Dr. Huang to improve his ability to react quickly and with more strength when losing balance.
"It's very nice of them," Johnson said about the UM-Flint crew's involvement at Court Street Commons.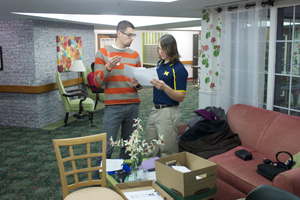 Austin Righter, a 2nd-year student in the DPT program, said the experience working with residents have been "eye opening", as several have balance challenges, including walking on grass or other uneven surfaces.
"It makes you think about how they are going to be in Michigan winters," he said. "Are they going to be safe to walk to the bus stop or to get to the store or take a walk around the community center."
Dr. Huang said the project is also evaluating what may influence a person's involvement in social participation in their own community.
"We will be able to tell how much is due to balance and walking problems and how much is due to their perceptions of their physical health or their emotional well-being," said Dr. Huang.
About a dozen residents have been screened so far, with another two dozen on the waiting list. The group will continue visiting Court Street Commons regularly next semester, with hopes of expanding the initiative into other senior facilities over time.
Dr. Huang is one of the university's Boyer Faculty Scholars this year. Each year, the scholar program, run through the University Outreach department, supports the professional development of up to five faculty involved with community engagement.
Dr. Huang said the workshops and training she's received through the Outreach department have sharpened her approach to working within the community.
"You are there to work with the community as partner," she said. "You really have to work with the community and find out what they need. It is not cookie cutter. You need to know what are the priorities of your community partner, otherwise it won't be successful."
Second-year DPT student Andrew Doubek said the multiple visits have helped build a rapport between the students and residents.
"People start to trust you," he said.
---
Contact University Relations staff writer Robert Gold with comments, questions, and ideas at goldr@umflint.edu, (810) 424-5596, or on Twitter, @writerobert.
Contact University Communications & Marketing with comments, questions, or story ideas.