UM-Flint Helps Train Pediatric Nurses from Cambodia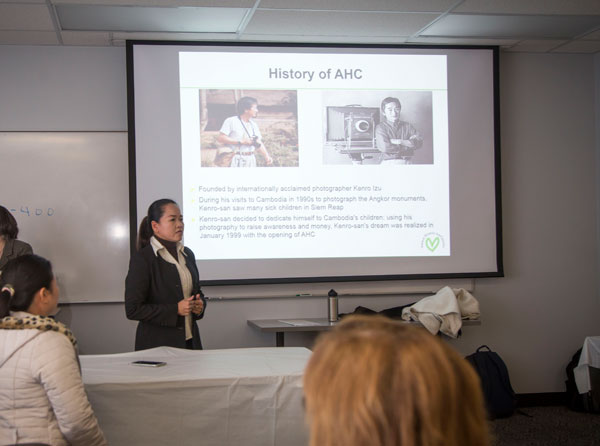 University of Michigan-Flint student nurses have unique opportunities to travel to various parts of the globe to further their education. One of those locations is in Cambodia. The Department of Nursing established a partnership seven years ago with the Angkor Hospital for Children in Cambodia. As part of the partnership, nurses from Cambodia come to UM-Flint for special training.
Two Cambodian nurses, one who works with children with HIV and another who works in an outpatient setting, recently visited the UM-Flint campus.
"Through this exchange we are helping them with the education of pediatric nurses and learning standards and practices," said Clinical Assistant Professor Maureen Tippen. "They take this back to their staff and develop their own practices."
While the visiting nurses were on campus, the nursing department hosted a "lunch and learn" talk where they presented some of the health care challenges in Cambodia.
Many Cambodian health care workers were killed in the conflict that occurred in that country more than 30 years ago. Today, the rebuilding of the country's health care system continues.
Tippen travels yearly as a volunteer to Cambodia and plans to take a student group in May 2016.
Contact University Communications & Marketing with comments, questions, or story ideas.