UM-Flint's Earth and Resource Science Department Offers City and Regional Planning Minor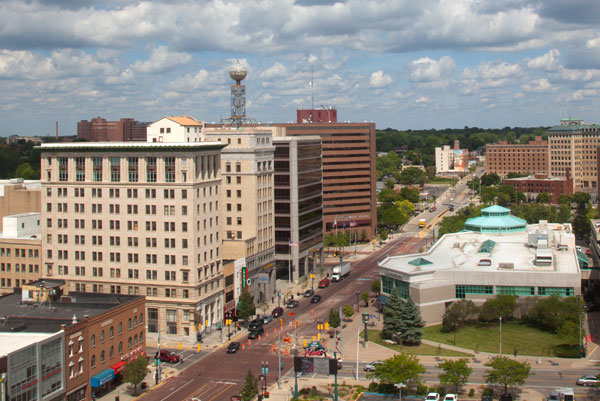 A new University of Michigan-Flint minor lets students from a variety of academic backgrounds delve into the dynamics of urban planning. It also empowers students to contribute to community initiatives, including the city of Flint's new master plan.
The city and regional planning minor, which started this semester, is a 22-credit program offered through the Earth and Resource Science department. It incorporates a wide range of studies, including community research, spatial analysis, mapping, land use, geographic information systems (GIS), and environmental analysis.
"It is relevant to a wide variety of fields," said Victoria Morckel, an assistant professor of Earth and Resource Science and faculty advisor for the minor.
"This minor is ideal for anyone interested in creating healthy, efficient, and sustainable places for people to live," the Earth and Resource Science department advertises on its homepage. "Planners work in a variety of subfields, including environmental planning, transportation, urban design, and economic development. Planners can work for city, state, and federal governmental agencies; non-profit agencies, and private consulting firms."
The classes that make up the minor already existed within Earth and Resource Science but "by having it a formal minor, it allows it to be accessible to those students outside of the department," such as from political science, sociology, public policy, economics, and public health, Morckel said. Other faculty involved are assistant professor Greg Rybarczyk and professor Martin Kaufman.
The classes will frequently be involved with the city of Flint and its new master plan. Last year, the city unveiled its first master plan in more than 50 years. It has been working with a host of community groups, including people from UM-Flint. The document created improvement goals for a wide spectrum of issues, including housing, the environment, economic development, and arts and culture.
Morckel, involved with the master plan since joining the university in 2012, said the city's evolving approach means students can learn the field firsthand.
"We are interested in doing outreach and doing what we can in the community," she said. "Flint can serve as a wonderful laboratory for our work and it can be the perfect reciprocal relationship. We are certainly interested in a mutually beneficial relationship."
For example, her Urban and Land Use Planning class gathered data on commercial property conditions on North Saginaw Street and Davison Street in 2012 and provided the information to the city. This included photographs and information on vacancies, sidewalks, and buildings.
Paul Mattern, a dual major in economics and energy and sustainable systems, is working towards the new minor as well.
"I wasn't really interested in planning until I had taken some of the resource planning courses," he said.
But the classes helped illuminate to him the challenges that planners face and what a city's health can mean to the region.  This included a course which examined how planners respond to cities with falling populations, including Flint, Detroit, and Cleveland.
"This minor can really help that knowledge of what is going on with the larger picture," said Mattern, who has become involved with the city's master plan.
Vincent Slocum, a planner for the city of Flint, graduated from UM-Flint this summer. While a student, he participated in the 2012 commercial property assessment project.
Now heavily involved with the master plan, Slocum said the introduction of the minor can further involve UM-Flint students in the plan's implementation and the future of the city.
"This seems like the perfect time to establish planning programs," he said.
---
Contact University Relations staff writer Robert Gold with comments, questions, and ideas at goldr@umflint.edu, (810) 424-5596, or on Twitter, @writerobert.
Contact University Communications & Marketing with comments, questions, or story ideas.