National Student Exchange Participants Find Their Niche at UM-Flint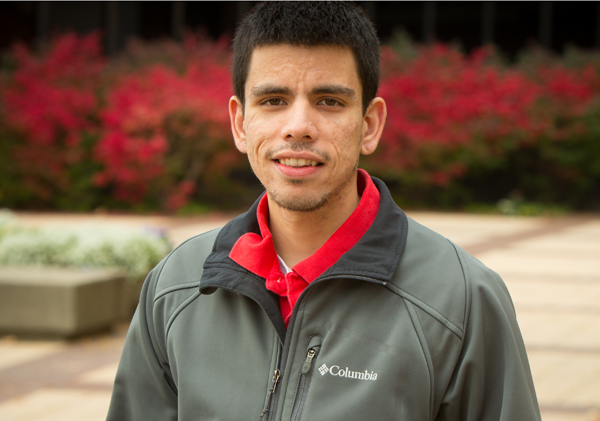 The University of Michigan-Flint kicked off its membership into the National Student Exchange this semester, a program which allows students to study for a semester or year at one of the nearly 200 participating institutions in the U.S., Canada, Guam, Puerto Rico, or the U.S. Virgin Islands.
UM-Flint participates under the category in which students pay tuition to their home campus, and room and board to the host college. Scholarships and financial aid are given to the students as usual, said Laura Staudacher, UM-Flint's NSE coordinator.
There are four UM-Flint students studying elsewhere this semester or next term (in the U.S. Virgin Islands, Vermont, Hawaii and New York).
But there are also two students who chose UM-Flint to expand their college horizons.
Leighton Goebel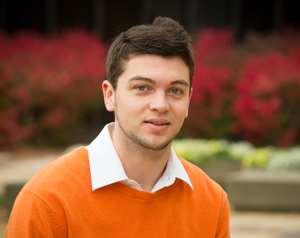 The winged helmet drew him in. As a young boy growing up in the Canadian province of Saskatchewan, Leighton Goebel caught a University of Michigan football game on television. The famed Wolverine helmet made him a fan.
Several years later, Goebel and his friends played college football video games. He would always pick University of Michigan as his team.
His connection to the Wolverines continued, even as he started school at the University of Regina. Goebel would watch Michigan basketball on streaming video online.
Until then, Goebel's connections were purely sports-related. But a tip by a friend in college turned things personal. His friend told him earlier this year about National Student Exchange.
Goebel joked that he would participate if Michigan was on the list. Things turned serious when he saw University of Michigan-Flint was on the list. He hadn't heard about the Flint campus, but after researching the university, he signed up for this semester.
The business student, who grew up in Regina, had never been away from home for more than 10 or so days at a time. Here was his chance.
"I wanted to get out of my comfort zone and grow as a person," he said.
Back home, Goebel had his life-long friends to bank on. He never would think about approaching strangers for a conversation or go to lunch with an acquaintance. But that changed here. He became a pledge to the Kappa Sigma fraternity and a member of the men's lacrosse team.
"I talk to people I don't know," he said. His ever-expanding connection of friends includes students from Taiwan, South Korea, Germany, Poland, France, Saudi Arabia, and Tanzania.
Goebel said he's connected with the campus. He was immediately drawn by the Flint River cutting through campus.
"You don't get anything like that at home," he said.
The 21-year-old has loved his time here so much he wants to extend it. Originally slated to stay for one semester, Goebel is looking into transferring to UM-Flint. He wants to finish his undergraduate career at the university. What appeals to him about UM-Flint? The college experience, he said, such as making new friends and living away from home.
"The whole life," Goebel said.
Rigoberto Aguirre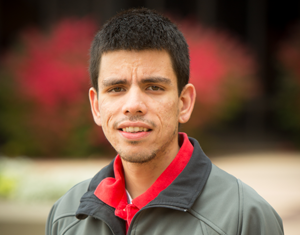 Rigoberto Aguirre spent the first two years of his college career at Dakota State University in South Dakota. The computer science student lived with his parents and walked to campus. The setup worked well but Aguirre wanted to gain some independence. He looked into an international exchange programs but felt they were too pricey.
So Aguirre researched schools involved with National Student Exchange. University of Michigan-Flint caught his eye. He liked that the Flint campus wasn't too big but knew that University of Michigan has a strong national reputation.
The computer science classes aligned well with his studies at Dakota State University, and the 16-hour drive from home was far enough but not too far.
"I thought I'd feel comfortable (at UM-Flint), he said.
When moving into First Street Residence Hall, Aguirre's decision became real.
"It hit me that 'Oh, I'm going to be here for a while'," he said.
Aguirre's expectations came to fruition. He connected with his three suitemates, all from Michigan. His classes have gone well and he likes the open design of campus.
"The people I have met have been really welcoming," he said.
The 21-year-old said he's grown personally by coming to UM-Flint.
"I've learned how to live on my own," he said.
---
Contact University Relations staff writer Robert Gold with comments, questions, and ideas at goldr@umflint.edu, (810) 424-5596, or on Twitter, @writerobert.
Contact University Communications & Marketing with comments, questions, or story ideas.