UM-Flint Partners with Grand Blanc High School to Launch the Grand Blanc Early College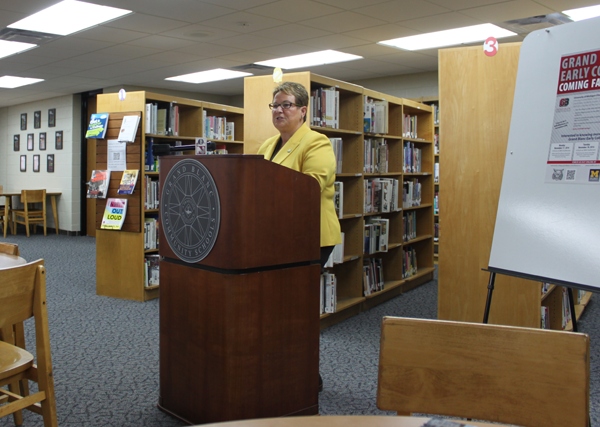 The Grand Blanc Community Schools in partnership with the University of Michigan-Flint will launch the Grand Blanc Early College in fall 2015. Designed to prepare motivated students for the rigors of higher education, the Grand Blanc Early College will allow students to earn college credit as they attend high school.
"I have rarely been as enthusiastic about the potential benefits of a specific educational program as I am about Grand Blanc's Early College partnership with the University of Michigan-Flint," said Grand Blanc Community Schools Superintendent Norman Abdella. "Since today's educational focus is all about 'options,' this partnership will offer yet another exceptional educational experience for our college-bound students."
Initially, up to 50 students will be admitted into the Early College program. Students who are admitted to the program will commit to a five-year high school and college experience. Junior and Senior students will take their high school and college classes on the campus of Grand Blanc High School. Students will then transition to the UM-Flint campus during their 5th year of Early College. College classes during the 11th and 12th grade will focus on general education courses required for a four year/bachelor degree, and all classes will be taught by UM-Flint faculty. Students may select courses geared toward a specific degree during their 5th year of the Grand Blanc Early College program.
Upon completion of the Grand Blanc Early College program, students will have earned college credits equivalent to one-third of a bachelor degree. They will be considered for formal admission to UM-Flint. An experienced university academic advisor will work with students one-on-one throughout the process, including the transferring of courses to other colleges and universities.
"This partnership with Grand Blanc Community Schools is another UM-Flint program aimed at serving students in our communities," said Chancellor Susan Borrego. "Our joint commitment to these students and their families is central to our shared mission of increasing college completion in the greater Flint area."
The cost of paying for college will be reduced for families. UM-Flint will offer a reduced tuition rate for Grand Blanc Early College students, and waive certain fees. Grand Blanc Community Schools and the State of Michigan will provide substantial financial support to offset the reduced tuition costs, resulting in a 48-credit Early College program that offers significant savings to students and their families.
There are other benefits for students who choose to attend the Grand Blanc Early College as well. Completing college courses on the high school campus eases the transition from high school to college with a dedicated academic and career advisor to mentor and guide students. Students maintain the ability to participate in high school sports and after-school activities.
"We are proud to offer this unique opportunity to Grand Blanc students," stated Principal Jennifer Hammond. "Preparing students to attend college is one of our top priorities, and the new Early College is an innovative way to help our students achieve their educational goals."
Contact University Communications & Marketing with comments, questions, or story ideas.