Theatrical Production About the Flint Farmers' Market Brings Community Together
A theatrical production celebrating the Flint Farmers' Market kicks off Friday, October 17. It also signals a growing connection between the two major players who created the show. The Department of Theatre and Dance at the University of Michigan-Flint and the Flint Youth Theatre (FYT) collaborated on the original play 9 x Nourished, which will be performed at the market itself.
"The play explores the various ways we, as individuals and as a community, seek and receive nourishment of various kinds, particularly through the lens of our Flint Farmers' Market," said Jeremy Winchester, the executive artistic director at the Flint Youth Theatre. "The title of the play comes from 9 points of view on nourishment, or 9 ways that we seek and are nourished." (Those 9 ways are place, love, local business, history, food, people, questions, memory and offerings).
The play was conceived and directed by Janet Haley, an associate professor of theatre at UM-Flint.
"This production asks questions about "place" and what makes us feel like we belong in a place. Belonging somewhere is a nourishing feeling. When we feel like we belong in a place, we in turn take care of it, and nourish it," Haley said.
Talks regarding the play started nearly three years ago, when the market was located on East Boulevard Drive. The crew delayed production when the market decided to move to its new space at 300 East First Street.
"You could never do this play anywhere else. It only makes sense at the farmers' market," Winchester said.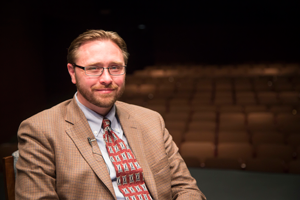 There are 40 company members for 9 x Nourished, Winchester said. Fourteen of them have connections to UM-Flint, including students, faculty, staff, and alumni. The play was written by Michael Rohd, who is based in Chicago. He is the founding artistic director of Sojourn Theatre and is faculty at Northwestern University.
"This production is the result of nearly three years of collaborative research, interviews, and community dialogues," Haley said. " The cast and producing team have directly contributed to the writing of the show. Many market vendors, employees, and patrons have shared their stories, insights, and experiences with us over this time. We're excited to share that 9 x Nourished is also an alliance production with UM-Flint, and students and faculty are involved as actors, choreographer, stage managers, and contributors to the ideas explored in the show."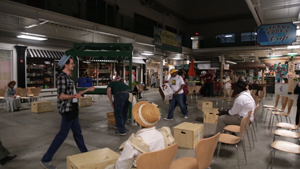 The play (which runs through November 2) guides the audience, often in groups of six, through the market itself. Professionals, including visiting artists from across the country, work alongside university students and FYT students. The Flint Youth Theatre students range from 7th graders to 12th graders.
"One of the ways in which we are very excited about serving the field of theatre itself is in providing an environment for emerging theatre artists to cut their teeth at a professional level," said Winchester.
This play marks a growing bond between the university and FYT. Faculty, staff, and students have been contributing for decades to FYT productions, Winchester said. But the groups agreed to a "formal alliance" this year. 9 x Nourished will help figure out exactly what that could mean in the future, Winchester said.
"College students, they are in this sort of incubator, they are learning all these ideas in the classroom and working on the shows in the department," he said. "They are formulating new ideas and making connections and finding new connections. They bring that enthusiasm and fresh perspective and point of view down the street, here, when they work on the plays."
UM-Flint theatre student Amanda Velasquez started working on the project last month as an assistant stage manager.
"I wanted to work on something different than what I've done," Velasquez said, who started studying theatre a year ago. She contributed to the Flint Youth Theatre's production of Alice in Wonderland this summer.
"It's all brand new. It's all new challenges and it's nothing like 'the last time I saw it (the production), it was like this,'" Velasquez said about 9 x Nourished.
At a recent rehearsal, Velasquez had a breakthrough realization. The stage manager wasn't able to attend so she was in charge for the full two-and-a-half hours. There was staging to track. There was a cast member who fell ill. There was an intensity and pressure to the rehearsal. And Velasquez loved it.
"It was a lot but I didn't feel overwhelmed," she said. "I felt happy."
When it was over, Velasquez had a moment of clarity and realized she truly wants to pursue a career in theatre.
But beyond her professional aspirations, Velasquez said the production has affected her personally. The Flint native said she's been buoyed by the creative and positive energies by those at the market, the university, and FYT.
"The farmers' market has uplifted me," she said.
Robbie Lash, who runs Willows Garden Juice Bar in the market with his girlfriend Sarah Johnson, has seen the 9 x Nourished staff prepare for rehearsals. And armed with tickets to the show, Lash is excited to see the end result. Lash and Johnson have run the juice bar at both the new and old market locations.
"I think it's cool. You don't see many shows in this kind of setting," Lash said.
Market manager Dick Ramsdell said he's excited to see how the performance unfolds and the telling should add a "whole different dimension" to the story of the farmers' market.
"Markets are much more than just going shopping. They are all about community. They are all about bringing people together," Ramsdell said. "They are about folks that live in the country and folks that live in the city and the fact we may not meet in many other places in our lives but the market is one place where we can come together."
---
Performances at the Flint Farmers' Market:
Friday, October 17 at 7:30 p.m.
Saturday, October 18 at 7:30 p.m.
Sunday, October 19 at 2:30 p.m.*
Friday, October 24 at 7:30 p.m.
Saturday, October 25 at 7:30 p.m.
Sunday, October 26 at 2:30 p.m.*
Friday, October 31 at 7:30 p.m.
Saturday, November 1 at 7:30 p.m.*
Sunday, November 2 at 2:30 p.m.
*A conversation with the creative team will follow this performance.
---
Contact University Relations staff writer Robert Gold with comments, questions, and ideas at goldr@umflint.edu, (810) 424-5596, or on Twitter, @writerobert.
Contact University Communications & Marketing with comments, questions, or story ideas.