UM-Flint Grad Using Fulbright Grant to Teach in Kosovo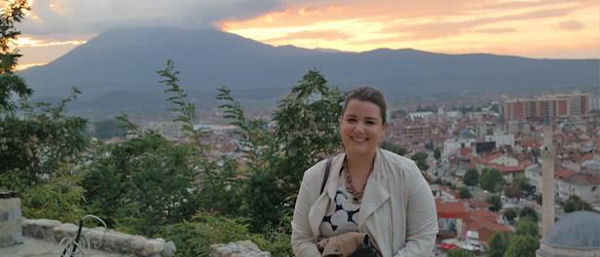 Cassandra Ganzak is spending this current school year teaching English in Kosovo. She graduated from UM-Flint last April with a master's degree in secondary education with a concentration in urban education.
"For me, an English teaching assistantship will not just be a year spent abroad. I wish to obtain a teaching assistantship to strengthen my abilities to teach and connect with my students in Detroit, as well as expand my qualifications as a doctoral candidate in programs that focus on urban education," Ganzak said. "The idea of a cultural exchange is an exciting prospect; I love sharing my American experiences with those from other countries."
Associate Professor of English Mary Jo Kietzman Gifford is the campus Fulbright Scholarship Advisor, and a recipient of a Fulbright Fellowship in 2010. She traveled to Kazakhstan to teach English. She sees Ganzak as a model future teacher.
"(Ganzak is) a woman intent on learning from foreign contexts and international exchange," said Kietzman. "The broken educational system in our country (on all levels) gives the lie to American exceptionalism. It is time we began recognizing that other countries have school structures, educational values, and pedagogies that we can learn from. Cassie Ganzak won the grant because she conveyed a deep respect for the classroom cultures she hopes to study abroad."
Kietzman Gifford noted that Fulbright teaching demands on the spot innovation and improvisation.
Ganzak is a Hartland High School graduate. She plans to have her students in Prizren, the city in Kosovo where she is teaching, write letters to and complete visual communications and projects with Hartland Consolidated Schools students. She plans to do the same with students from Henry Ford Academy in Dearborn, where she spent a year and a half teaching as part of her Master's program at UM-Flint.
Ganzak is the third University of Michigan-Flint student to receive the Fulbright Scholarship. Robert Burack received one in 2013 to travel to Turkey, and Brian Mathis traveled to Germany in 1994 for an English Teaching Assistantship.
The Fulbright U.S. Student Program is the largest U.S. exchange program offering opportunities for students and young professionals to undertake international graduate study, advanced research, university teaching, and primary and secondary school teaching worldwide. The program currently awards approximately 1,800 grants annually in all fields of study, and operates in more than 155 countries worldwide. In 1945, Senator J. William Fulbright introduced a bill that called for the use of surplus war property to fund the 'promotion of international good will through the exchange of students in the fields of education, culture, and science.'
Students interested in applying for a Fulbright Fellowship should contact Mary Jo Kietzman at mkietzma@umflint.edu. While the deadline has recently passed for this year, Kietzman said "It is imperative to plan early if students are to write competitive applications. They need to research their countries, garner recommendation letters, and work on project statements."
Contact University Communications & Marketing with comments, questions, or story ideas.