Feral Swine Study Pairs MSU and UM-Flint Researchers on Statewide Impact Assessment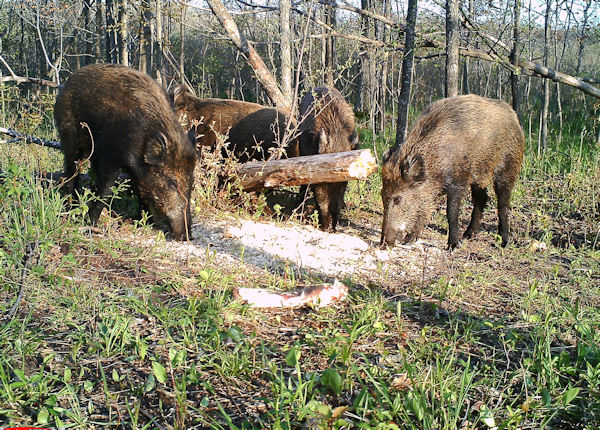 A new study will pair Michigan State University (MSU) researchers with researchers from the University of Michigan-Flint to learn more about one of the state's most potentially destructive invasive species: feral swine.
The approximately $500,000 grant from the Michigan Department of Natural Resources (MDNR) also pulls in resources from the U.S. Department of Agriculture (USDA).
"To eradicate feral swine from Michigan, we need to develop a better understanding of their ecology—specifically, how they use and disperse through landscapes," said Gary Roloff, associate professor in the MSU Department of Fisheries and Wildlife.
He is co-leader on the grant with Robert Montgomery, also an assistant professor in the Department of Fisheries and Wildlife.
Karmen Hollis, a wildlife epidemiologist at the University of Michigan-Flint, will focus on disease progression in feral swine and how diseases are transmitted from feral swine to livestock and some wildlife.
The study involves trapping and collaring up to 18 feral swine in the central Lower Peninsula to get a better idea of their hourly, daily, and seasonal movements, and habitat use patterns in the state. Another aspect of the project is to quantify agricultural and environmental damage caused by feral swine.
This summer, researchers honed their trapping and collaring skills on a single feral swine. Roloff said that researchers were interested in testing the collaring process, the collar design, and the fit of the collar on the swine. A large trapping effort to catch 17 to 18 more pigs will start in January 2015.
During the five-year project, MSU researchers will measure the location and extent of feral swine movement and rooting activities (ecological and agricultural damage), develop a predictive model of how feral swine use habitat, and evaluate the efficacy of techniques for controlling feral swine populations.
Researchers from the University of Michigan-Flint will monitor swine for the presence of diseases and parasites, as well as potential disease transmission routes from feral swine to wildlife, livestock, and humans. Feral swine are known to carry diseases that could have negative consequences on Michigan's pork industry if they're transmitted from feral to domestic swine.
Contact University Communications & Marketing with comments, questions, or story ideas.