UM-Flint Sees Big Savings from Retrofitting Campus Lighting and Other Green Initiatives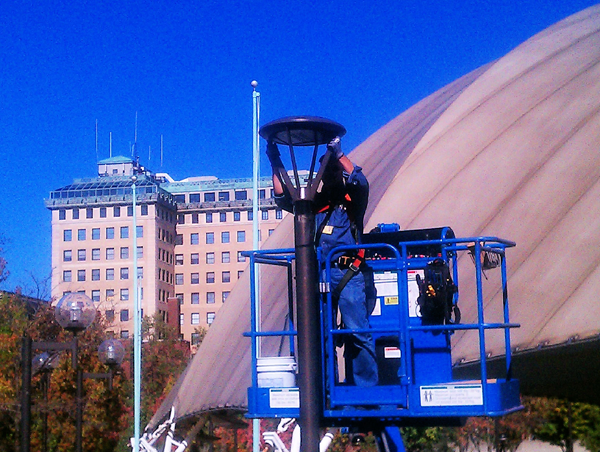 A seven-year process to relight the University of Michigan-Flint campus is nearing completion. It started in 2008 with the first major lighting project, retrofitting the Recreation Center's interior lighting, and has expanded annually to improve the efficiency and brightness of lighting across campus.
In all, 364 exterior LED lights now light the UM-Flint campus. Most of the lights were refitted, but some are new installations. While the cost was about $350,000, the savings in energy use has averaged $66,012 annually. Only the Northbank Center Parking Structure and the sidewalk bordering the William S. White Building remain to be upgraded. That work is scheduled for 2015.
The cost-saving efforts to date have meant a reduction of 825,000 kilowatts of electricity annually for the campus. These improvements have been significant and timely, as electric costs have increased nearly 25% over the same seven-year timeframe.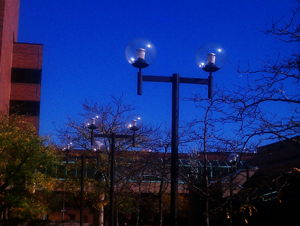 "Over the last seven years our utility costs have gone down both in usage and cost," said Tim Barden, assistant director of Facilities and Operations. "This has been accomplished despite utility cost increases and a big jump in the campus population."
Other projects during the past several years have led to major cuts in electrical usage, water consumption, and natural gas. In fact, a new boiler system installed last year, has already led to a 30% reduction of natural gas consumption annually. And since 2008, all but two campus buildings have been retrofitted with more efficient interior lighting. The remaining buildings, University Pavilion and Murchie Science Building, will be upgraded by mid-2015.
Contact University Communications & Marketing with comments, questions, or story ideas.