The University of Michigan-Flint Opens New Intercultural Center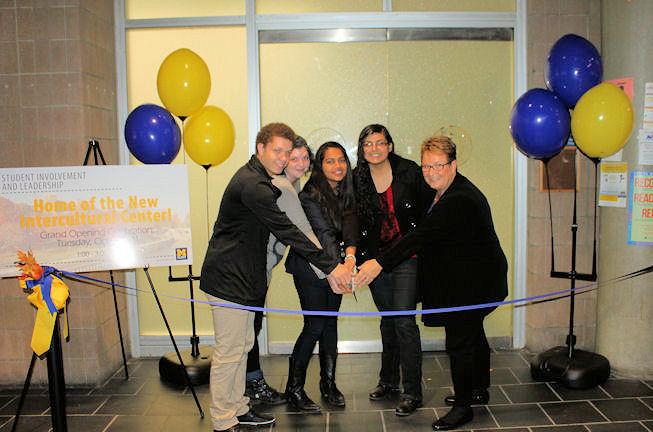 The University of Michigan-Flint has a new Intercultural Center (ICC) located in the former Ontario Room in the University Center.
The ICC is under the direction of the Department of Student Involvement and Leadership. According to Michelle Oksana Rosynsky, assistant vice chancellor for Student Affairs, it was established in response to a request from various cultural student organizations (including the Black Student Union, PRIDE, African Student Association, and Native American Student Association, among others).
"The students expressed a need to have a space focused on supporting the work of cultural student organizations, as well as to do educational programming around cultural competency," Rosynski said.
The Intercultural Center is charged with supporting and promoting the work of these cultural student organizations. Through its programs and services, the ICC will foster cross cultural and identity dialogues, and self-reflection and leadership development, while also providing opportunities for cultural celebrations and understanding.
"The opening of the Intercultural Center represents our commitment to developing an increasingly inclusive environment," Chancellor Susan E. Borrego said. "Our educational experiences and our lives are richer as we develop meaningful dialogue. The Intercultural Center will play a critical role in helping us achieve a more diverse university community."
"I feel that that there is a lack of resources available on this campus compared to the diversity of the population, and this is a good first step," said Amanda Shanesy, vice-chair of the Student Government Senate.
Student Government president Nakshidil Sadien said she hopes "the center can help shift the campus climate to one that is more inclusive to the diversity of the students on campus."
The search is underway for a director who will work very closely with the cultural student organizations, as well as offer programming for all students and the campus community, including cultural celebrations, leadership workshops, dialogues, MLK recognition, and other events.
Contact University Communications & Marketing with comments, questions, or story ideas.