UM-Flint Pre-Med Student Uses Art to Overcome Health Issues and Help Others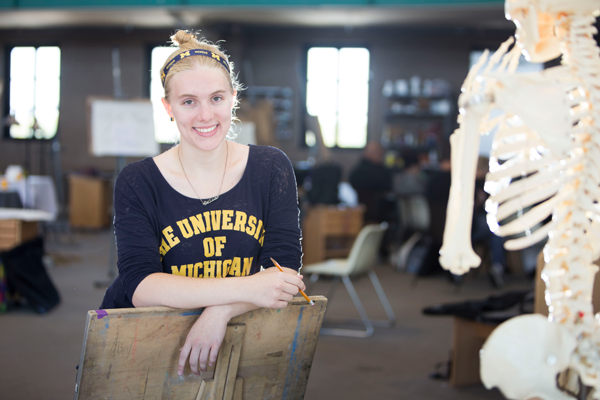 Melyssa Secor admits it. The third-year biology/pre-med student at UM-Flint sometimes sketches on her homework. She keeps it discreet, so as not to annoy her professors. It is usually just a few flowers. But Secor's creative side spills out. She usually channels her art into a small notebook she brings with her most places. About the size of her hand, she pencil or pens nature scenes.
"I have been into art as long as I can remember," the 19-year old said about her paintings, drawings, and other work. "It's been my escape."
Secor's artwork isn't a professional pursuit. It's more than a hobby. It's been a tonic since childhood, as she's taken on multiple medical challenges. And this November, two of her paintings will be featured as part of an art auction of the "Save a Heart" fundraiser for the University of Michigan's C.S. Mott Children's Hospital Congenital Heart Center. The money raised helps support families of pediatric heart patients.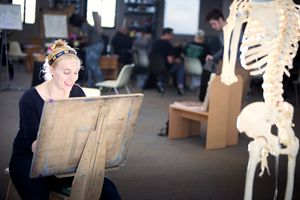 Secor, who grew up in Bay City, has been a patient at the hospital since she was five. She was born with a heart defect, in which there was a hole in the wall between the two upper chambers of her heart. And since a young age, she's dealt with cyclic vomiting syndrome. The condition, often stress induced, can last for days and result in trips to the hospital.
Secor said the syndrome can be triggered by "good stress" too.
"I have spent birthdays and holidays in the hospital," she said.
The symptoms often starts with overwhelming pain in her calves. It leaves her heavily fatigue and with pain sometimes spreading through her body. The latter stages are vomiting and dehydration.
Her painting and drawing are ways she stays calm. In class, it can ward away the tension.
"It lets me clear my head. It allows me to focus more clearly," she said.
Secor said she's never had her artwork shown publicly, but she was excited to help the hospital and current heart patients.
"This hospital have given me a lot," said Secor, adding that it lets staff see another side of patients.
The auction will be part of a larger "Save a Heart" fundraising event Nov. 15 in Ann Arbor at the University of Michigan's North Campus Research Complex.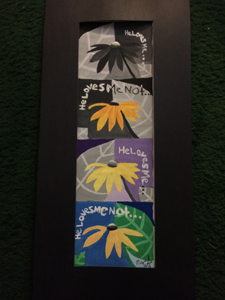 Paintings, photography, and other art from about a dozen people will be featured, said Donna Wilkin, a graphic designer at the Congenital Heart Center, and part of the events committee for the fundraiser.
The auction will feature art from patients and family members.
In years past, money raised from the overall fundraiser goes to a host of support programs, such as financial help to families of pediatric heart patients, summer camp sponsorships for young patients and medical research, according to information provided by the heart center.
Two of Secor's acrylic paintings she created in high school will be auctioned off. Those selected don't hold extra meaning, she said, beyond the fact that they were fun to create.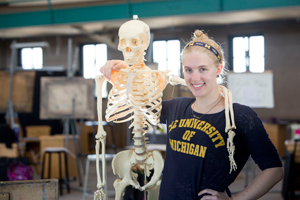 Secor, on the pre-med track at UM-Flint, aspires to be a doctor. She sees art in science and science in art. Both sharpen the student's problem solving skills.
"For me, it's definitely helped," Secor said, about merging both worlds. "It's helped me become a more well-rounded individual."
Wilkin said Secor impresses her well beyond the canvas.
"I think she has her head on her shoulders right. She really is going to go places. She doesn't let anything stop her," she said.
---
Contact University Relations staff writer Robert Gold with comments, questions, and ideas at goldr@umflint.edu, (810) – 424-5596, or on Twitter, @writerobert.
Contact University Communications & Marketing with comments, questions, or story ideas.