Civic Engagement Leads to Career Advancement for Recent UM-Flint Graduate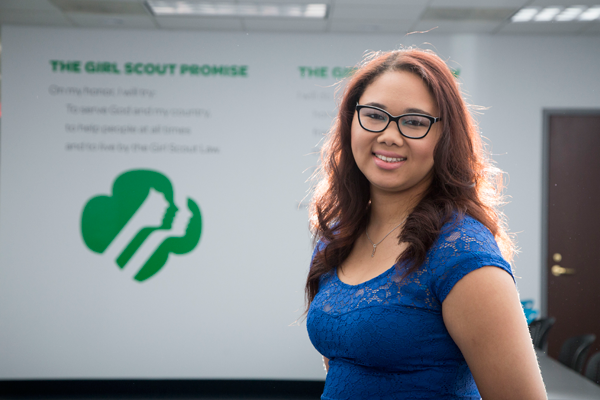 Cookies and clothes came to mind whenever Vivian Williams, during her middle school days, thought about the Girl Scouts.
"My idea was they sell cookies and wear really cool uniforms," said Williams, a recent University of Michigan-Flint graduate.
During much of her college career, Williams knew the organization was a "girl empowerment organization," but didn't know the details.
But starting in January, she had her first direct contact with the group. In her 2014 Winter semester Senior Capstone communication class, students broke into groups and worked with different organizations. Williams selected Girl Scouts of Southeastern Michigan. She and her classmates researched, developed, and held a "Netiquette" workshop for 6th through 12th grade Girl Scouts, which taught the dos and don'ts of social media. Through her sorority Phi Sigma Sigma, Williams also helped organize an event at UM-Flint this spring in which Girl Scouts learned about the cultures, songs, food, arts, and crafts of several countries.
"I didn't know how deeply it (the organization) went into the community until having those events with them and doing those particular projects," Williams said. "These are the things that help shape these young ladies."
In the spring, as Williams worked on these projects, she thought about how "awesome" it would be to work in the Girl Scouts' new Flint office downtown. But she had no idea it would become a reality so soon; and that her civic engagement class and sorority project would help hone her professional skills and help prepare her for the job.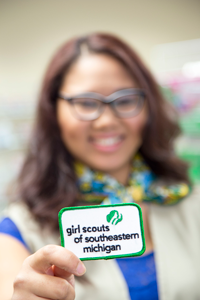 Williams, who majored in communication with an emphasis in public relations, graduated in May and started working at the Girls Scouts of Southeastern Michigan in early September as a troop support specialist.
"I think they are great," Williams said about the civic engagement options at UM-Flint. "It refocused me on what's important in the community. I think a lot of times we get caught up in our own problems. You don't think about what other people have done for you and what you should give back."
Throughout her college career, she was involved with several other community projects through her sorority, including co-captain of the 2014 Relay for Life held on campus to benefit the American Cancer Society.
Williams, in her new position, helps volunteers navigate the application process and get started in their troop roles. She also helps current troop leaders as a first person of contact.
The Detroit native said she developed a connection to downtown Flint during her college career and it's only grown since starting work at her Court Street offices.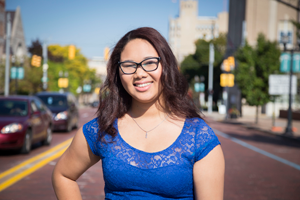 "Downtown Flint is amazing to me. I love the business owners. There aren't big companies overtaking downtown."
Williams' civic engagement class and her other community ties didn't enter her mind when she applied to the Girl Scouts job late this summer. She just knew she wanted to work in the philanthropy or non-profit world. After graduating in May, she worked several food service jobs and struggled to make ends meet. In the meantime, she applied to about five jobs a day, looking for something better.
When she saw the Girl Scouts opening, she saved the posting for about a week, fearing that "if they get my resume, they'll laugh at me." But Williams overcame her fear and applied. "Within two weeks, they wanted to bring me in for an interview," she said.
Those she interviewed with and hired her were different people than those she dealt with during her campus projects. But looking back at the experiences, Williams said the UM-Flint projects built her confidence and helped sharpen her interaction skills.
With regard to civic engagement, Williams said, "It is for personal development, regardless of whether you get a job out of it. It puts a lot more responsibility on you."
In her Senior Capstone project, she and her classmates researched several forms of social media, such as Snapchat, Facebook, and Instagram and helped the Girl Scouts and parents learn about the lasting impressions of online posts.
Communication Lecturer IV Tony McGill, the instructor for the class, said he was proud of the students' social media presentations.
"It was, I think, a little shocking for the parents and the girls what's going on out there (in social media) and what is dangerous," McGill said.
Julie Parsons, a community event and series coordinator at the Girl Scouts of Southeastern Michigan, said the UM-Flint students left an impression on the girls.
"For one thing, young girls don't want to listen to what their mothers tell them not to do on the Internet. They have to understand from young ladies who are not too much older than them. They can tell them flat out 'You don't want to do this and this is why'. These young ladies had a great presentation. They really showed them when putting their footprint out there, it is always going to be out there. They did an amazing program. It was very well organized."
The communication class (Comm. 426) was the first time Parsons worked with a UM-Flint civic engagement class, but she wants to make it lasting. The organization is working with a Women, Education and Globalization course this semester.
Parsons said she was pleased to hear her employer hired Williams, partly because it showed that the campus experience left an impact.
"You always think about how it impacts the girls. But you don't always think about how it impacts the students who do the civic engagement classes," she said.
Matt Matthews, director of troop support for the Girl Scouts of Southeastern Michigan, said Williams' enthusiasm for non-profit work and the organization was appealing to the hiring team. Her skills, backed up with real experiences at UM-Flint, enhanced her appeal as a candidate.
"I think those things you learn outside of the classroom are more important. I think it is critical."
---
Contact University Relations staff writer Robert Gold with comments, questions, and ideas at goldr@umflint.edu, (810) – 424-5596, or on Twitter, @writerobert.
Contact University Communications & Marketing with comments, questions, or story ideas.