Touch-A-Truck 2014: Family Fun Featuring "Driving & Flying" Vehicles on the UM-Flint Campus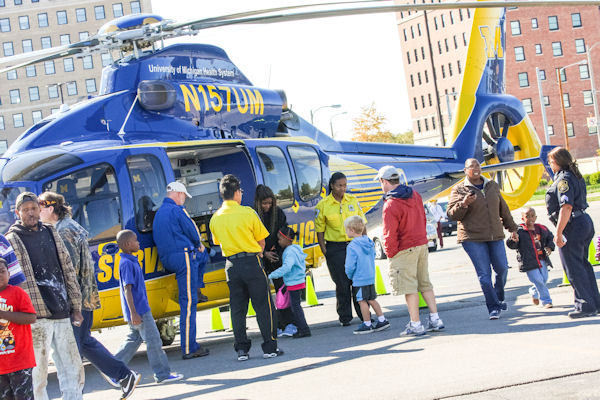 Visitors to the 2014 Touch-A-Truck event will get a chance to see what it's like to drive a big rig. One of the features at this year's free event is a Mobile Truck Simulator from the Michigan Center for Truck Safety. The North parking lot of the UM-Flint campus at N. Saginaw Street and Robert T. Longway Blvd. (across from Rally's) will again be the location on Saturday, September. 27th, 11:00 a.m. to 3:00 p.m.
Touch-A-Truck is made possible through a partnership with the UM-Flint Student Government, Black Student Union, and local block clubs, businesses, and organizations in partnership with the Flint Police Department, UM-Flint Department of Public Safety (DPS), Genesee County Sheriff Department, Michigan State Police, and Mott Community College DPS. The goal of the event is to enhance police and community relationships which form the cornerstone of quality public safety.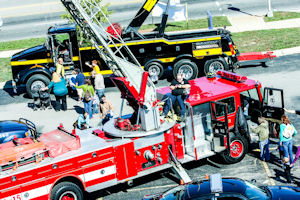 A big hit of past Touch-A-Truck events has been the appearance of a survival flight helicopter from the University of Michigan Health System. The helicopter and support crew will return this year and will be joined by a second helicopter from the Michigan State Police. In cooperation with General Motors, Fessler & Bowman Concrete Construction will bring some of their heavy construction vehicles for display. The Flint Mass Transportation Authority (MTA) will also bring their newest vehicles.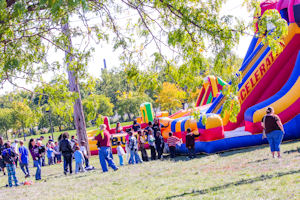 In addition to the vehicles, there will be free food, face painting, balloons, free child I.D. kits, and bounce houses. Local businesses and churches are collecting school supplies that will be given away on a first come first serve basis.
Over a thousand visitors attended last year's Touch-A-Truck event, intended to help familiarize children with the men, women, and yes, vehicles charged with keeping their community safe. This year, over 20 specialty vehicles will be available to check-out.
Contact University Communications & Marketing with comments, questions, or story ideas.