UM-Flint Murchie Science Building Renovations Feature State-of-the-Art Labs and Equipment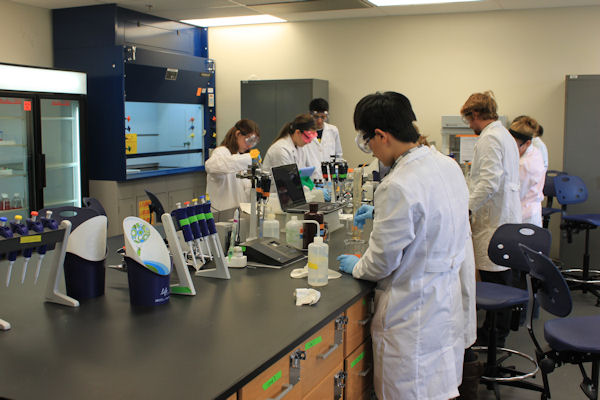 The renovation and remodeling of the Murchie Science Building (MSB) will top $23 million when it is completed about a year from now.
The nearly 27-year-old building will feature new labs and other facilities that will both enhance the learning experience of students and increase faculty resources. For faculty, special areas have been constructed in the labs where they can do their research, often with the assistance of students.
"Faculty will have better research facilities and that will allow for more participation of students in active research with faculty," said Ricardo Alfaro, a math faculty member who has been providing input for the renovation. "Overall, it will be a better experience by replacing the over 25-year-old old equipment with up-to-date equipment." Alfaro said $2.5 million will be used to update old lab equipment in the BIO and CHM laboratories. A new, larger generator on top of MSB will provide emergency power. The building will have a new fire alarm and extra areas where students can study.
The chair of the chemistry department, Jessica Tischler said the renovations to the 5th floor chemistry labs have created modern teaching/laboratory spaces for students at all levels.
"The new layout of laboratories will allow us to teach our pre-laboratory lecture in the same space as the lab thereby eliminating the need to move from a classroom to the lab in the middle of class, and each student will also be able to conduct their entire lab in their own chemical fume hood making their workspace safer and more efficient," said Tischler. "Our labs were also designed so that several different classes can now be taught in the same space allowing for increased flexibility in scheduling. Most importantly, the new spaces will allow us the opportunity to design new and exciting laboratory experiments for our students."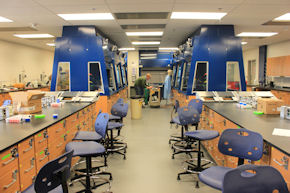 While most renovations of the biology department offices and teaching labs are scheduled for next spring/summer, the cadaver anatomy laboratory on the 4th floor of MSB is on its way to becoming a show-case teaching lab.
"This summer the square footage of the anatomy laboratory was nearly doubled – a significant improvement over the rather cramped learning space in the past," according to Steve Myers, the chair of the biology department. "Students now have sufficient space to work at the dissection tables as well as in a variety of dry-lab activities conducive to collaborative student learning."
The engineering department will get three new labs: electronics, dynamics, and project design. Students in the math teaching program will have a special study room designed for their course work. Two new computer science labs will be designed to work on artificial intelligence and wifi research. The new Math Lounge has already turned into a meeting place for math students to work together and help each other.
"I've been able to help several students just because I happened to overhear them working on some homework that they were having trouble understanding and I was able to offer them assistance," noted math major Daniela Goetz. "The Math Lounge and Lab just offer a great space for students to work with each other in a comfortable, laid-back setting that the classrooms often can't provide."
Phases one and two of the renovation have been completed, and phase three will get underway next spring. Completion is scheduled for August 2015.
Contact University Communications & Marketing with comments, questions, or story ideas.