UM-Flint's Innovation Incubator [IN] Marks Seven Years of Helping Student and Community Businesses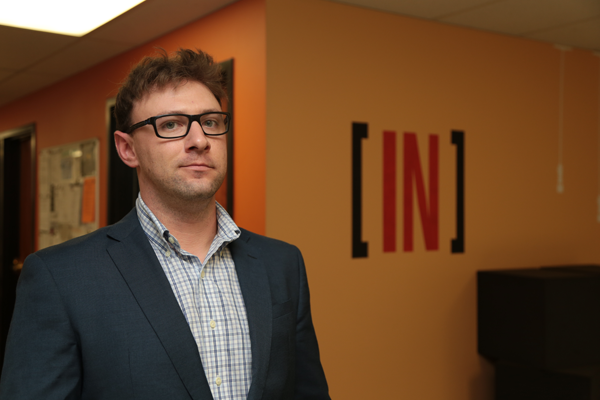 It started with the space. Vince Odine, a UM-Flint mechanical engineering student, was in need of an office for his small technical writing business. Odine had worked on his laptop or used his business partner's apartment to meet since starting DV Technical Writing in 2013.
So early this year he applied and was accepted into the Innovation Incubator ([IN]), a University of Michigan-Flint program which helps local entrepreneurs develop their ventures. The pair took an office on the 2nd floor of the Northbank Center in April.
But they weren't just moving into a room, Odine found out. They were building credibility, adding clients, developing a long-term plan and gaining access to an array of workshops, mentoring options, and other resources.
"We weren't expecting to get as much support as we got," he said.
The [IN], entering its seventh year, offers free support and resources to student-owned and community businesses. It provides office space to student-businesses. Everyone, both on campus and in the broader community, can tap into the other services, such as workshops, co-workspace for up to about 30 people, free wi-fi access, white boards, business planning help, referrals to other support organizations, and mentorship with faculty or other business professionals.
"We are here to help them. We are here to maximize their potential," said Sherry Hayden, administrative coordinator at the [IN].
The program, managed by University Outreach, is funded through the C.S. Mott Foundation, with the mentorship program also receiving support from multiple university departments.
Odine's business has grown markedly since moving into the space. It has four full-time employees with multiple part-time consultants. The company, which already has a satellite office in St. Clair Shores, may move into new headquarters early next year.
[IN] allows the company to bring clients into a professional space.
"It takes a lot of the worry away," Odine said. "It makes you feel you are making progress. Now you are looking a little more long-term."
There are currently seven businesses occupying office space, with enough room for one more, Hayden said. Dozens of others utilize the advice, workshops, workspace, a mailing address, and more.
Charma Dompreh, the owner of Sassy Green Chips LLC, has been utilizing the [IN] for two years. Dompreh makes kale and collard greens chips at her commercial kitchen space in her Flint home and sells her product Saturdays at the Flint Farmers' Market. She lauded the [IN] staff for their encouragement and said the reference materials are "fantastic." Dompreh has used the workspace and attended workshops.
"It's nice, it's clean, it's beautiful. It's professional. And lots of light," she said.
The workshops are held in the fall and winter semesters, program coordinator Sara McDonnell said, with topics such as grant writing, business of the arts and tax planning.
Registered patent attorney Stefan Chmielewski, who is based out of Ann Arbor, has led an intellectual property workshop at the [IN] and is talking with staff about becoming a mentor. Chmielewski said the program benefits both the university and overall community.
"Intellectual activity never stops," he said. "Part of the college experience is teaching people how to strive and achieve. Entrepreneurship happens at all ages and all times."
Staff also provide more in-depth counseling for business owners, including going over financials and specific company benchmarks.
"It is someone else to keep you accountable," McDonnell said.
Hayden said the [IN] increasingly focuses on social entrepreneurship, in which businesses use their talents to tackle social issues.
"It has not been a hard sell," she said. "They get it."
Among the tenants in the [IN] are Flint SOUP­, which organizes micro-fund dinners in which participants vote on a project to support that helps the city of Flint, and Shop Floor Theatre Company, which collaborates with schools and the community on arts and educational programming.
Larry Nichols, a lecturer of management and executive-in residence at the university, does mentoring for business owners through the [IN]. Nichols said the program lets the university leverage its assets to help the overall business community, which in turn can improve the overall standard of living in the area.
"I think it's a wonderful outreach for the university," he said.
---
Contact University Relations staff writer Robert Gold with comments, questions, and ideas at goldr@umflint.edu, (810) – 424-5596, or on Twitter, @writerobert.
Contact University Communications & Marketing with comments, questions, or story ideas.