UM-Flint's "Smoke-Free" Campus Marks Third Anniversary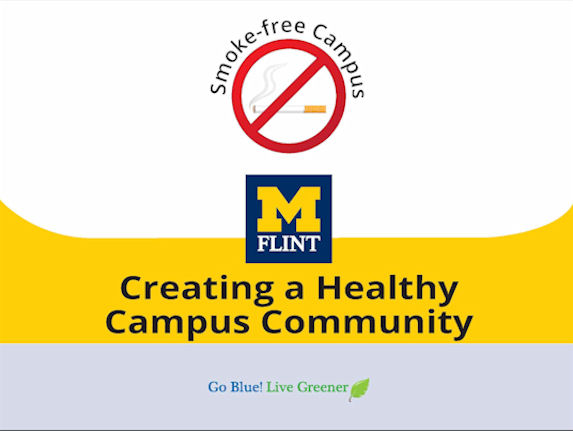 It has been over three years since the University of Michigan-Flint campus has been smoke-free. Now, the focus is on helping the campus community become tobacco-free by providing information on the resources available to help quit tobacco use.
The goal is to establish a culture that supports a smoke-free community. The success of the policy is dependent on the thoughtfulness, consideration, and cooperation of smokers and non-smokers. The UM-Flint smoke-free policy includes e-cigarettes.
Smoking is permitted in privately-owned vehicles and sidewalks adjacent to public areas.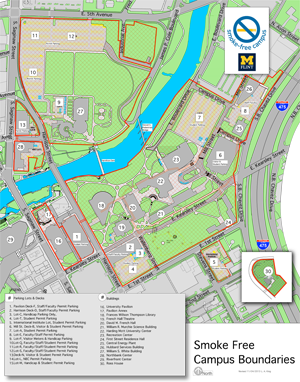 To inform visitors and remind the campus community of the smoke-free policy, cement urns, marked with special signage, will be placed around the periphery of the campus to collect discarded smoking materials.
There is a commitment by groups and organizations to improve the health of the campus. One organization taking a leading role in that effort is the Student Health Committee (SHC).
"The SHC is composed of faculty, staff, students, and members of health-related community organizations," said Theresa Landis, director of Auxiliary and Recreational Services. The committee has taken on the role of increasing awareness about the Smoke-Free Policy and the health benefits and resources  that are designed  to support becoming tobacco-free.
The MHealthy Tobacco Consultation Service (TCS) is one of the resource available to help both employees and students of the University of Michigan, as well as patients of the University of Michigan Health System to quit tobacco. TCS offers a variety of tobacco treatment options to meet the needs of the U-M community, and provides tobacco treatment services in a non-judgmental, supportive environment.
Other resources include:
Tobacco treatment programs for faculty, staff and students
1-800-537-5666
Information on how to quit smoking and methods
The SMART Coalition is a group of agencies dedicated to reducing tobacco use and involuntary exposure to second-hand smoke in Genesee County. Includes links to Smoke‐free Dining Guide and a list of smoke‐free apartments.
(810) 341-5898
Free Telephone Counseling and Nicotine Patches for Eligible Enrollees
Call the quit line or enroll on-line at the link listed below
(800) QUIT-NOW
1‐800‐480‐7848
State Quitline Number
Provides toolkit and tobacco treatment resources
1-800-537-5666
Medicaid
Many Medicaid programs cover the nicotine patch and nicotine gum.
Call 1-888-367-6557 or visit The MDCH Medicaid Page.
National Cancer Institute
On-line Resources/Quit Smoking Support
Quit Smoking Support for Women
Quit Smoking Support for Teens
or text QUIT to iQUIT (47848)
American Lung Association
Freedom From Smoking (On-Line)
Free Telephone Counseling & Lung Health Issues
(800) 548-8252
Contact University Communications & Marketing with comments, questions, or story ideas.