UM-Flint Research Takes a Closer Look at Playgrounds for Kids
They are called "boundless playgrounds" and are designed to accommodate both children with and without disabilities to help promote youth's physical, cognitive, and social development.
Boundless playgrounds have mazes with wide access ramps; children can enter and use the mazes in their wheelchairs. Swings have special restraints to prevent children living with disabilities from falling. Amphitheaters and playhouses are wheelchair accessible. Enough space is available so that all children can play side by side on most sections of boundless playgrounds. Sensory-rich gardens (such as gardens with scented plants, textured touch-pads, and Braille descriptions) are available for children living with sensory disabilities.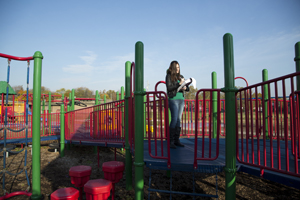 One reason the study of these playgrounds is important is their potential role in helping children with disabilities maintain a healthy weight.  The Center for Disease Control and Prevention (CDC) found that children with disabilities had a higher obesity rate than children with no disabilities. According to the CDC, one of the reasons for this was the lack of public spaces for exercise for children living with disabilities.
There are 28 boundless playgrounds spread throughout Michigan, often built with a mix of private and public funding. A recently completed UM-Flint study took a closer look at 10 of the playgrounds located in the Southeast and mid-Michigan areas, including the one boundless playground in Flint. The study sought to assess their accessibility for all children, as well as document whether they were located in poor or affluent areas.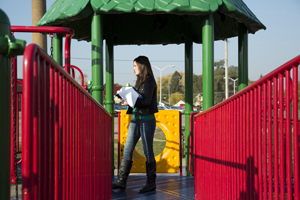 Assistant Professor Gergana Kodjebacheva, Ph.D., from the UM-Flint Department of Public Health and Health Sciences is the principal investigator of the study. Kodjebacheva collaborated with Tina Sabo, an undergraduate health care administration student. "Tina has outstanding research and writing skills," said Kodjebacheva. "I am very grateful to the UM-Flint Office of Research and the Undergraduate Research Opportunities Program (UROP) for supporting Tina's active involvement in this project. Tina visited most of the playgrounds and is one of the co-authors of all project manuscripts."
The UM-Flint study examined key features of the 10 playgrounds selected for the project. A main focus was to determine if they were designed to properly allow children with wheelchairs and sensory impairments access and use of the facilities, and if there was social interaction among children of different abilities.
The study also investigated whether the playgrounds were located in poor or affluent areas and in areas where many children with disabilities reside.
"We found that most of the playgrounds were located in more affluent neighborhoods. Three of them were located in poorer urban settings and were in need of site maintenance, such as vegetation removal," said Kodjebacheva. "We are developing a set of recommendations for improving the playgrounds that can be used by urban planners."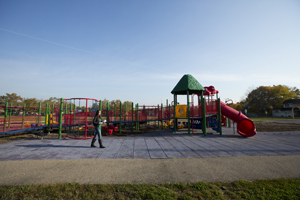 "There is a need for more education and awareness about the parks," noted Kodjebacheva. "Many parents who have children with disabilities may be unaware that such playgrounds exist. Some parents may have transportation barriers to accessing the playgrounds."
Kodjebacheva recently presented the study findings to the Genesee County Steering Prevention-Reducing Obesity Utilizing Teamwork (SPROUT) Coalition in May 2014. Tina Sabo presented a poster on some of the findings at the 2014 Meeting of Minds conference at Oakland University.
Contact University Communications & Marketing with comments, questions, or story ideas.