Olivia P. Maynard and S. Olof Karlstrom Add Tuition and Travel Funds for UM-Flint Social Work Students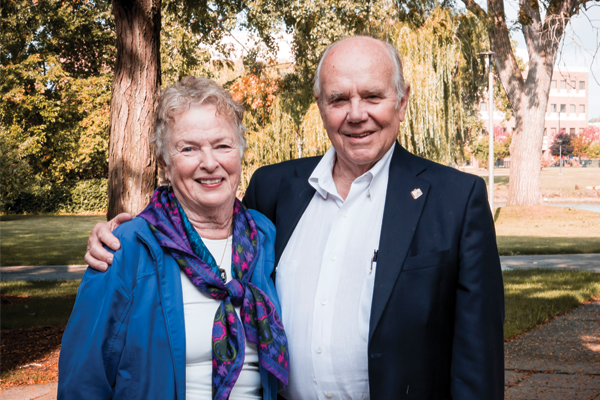 Through the generosity of Olivia P. Maynard and S. Olof Karlstrom new funds have been established to provide support for tuition and conference travel for students in the University of Michigan-Flint Department of Social Work.
Maynard received a B.A. degree from George Washington University in 1959 and a M.S.W. degree from the University of Michigan in 1971. From a very early age, she was exposed to politics and its impact on social issues. Maynard has dedicated her life's work, professionally and personally, to service in politics and as a social work advocate. She was the first woman to chair the Michigan Democratic Party (1979-1983), and the first woman nominated for the office of Michigan's lieutenant governor in 1978. She was elected and served on the U-M Board of Regents from 1996-2012. While on the board she was strong supporter for the growth of the Flint campus.
When Maynard ended her term as U-M Regent, she closed out her Maynard for Michigan fundraising account and directed the balance to the Social Work Department at UM-Flint. The total gift exceeds $16,000, of which $10,000 was endowed for the student scholarship, and the remaining $6,104 was brought to the endowment level with a gift from the Highfield Foundation.
Karlstrom earned degrees from the University of Michigan's College of Literature, Science, and Arts; School of Education; and Law School. His advocacy is reflected in his work for the ACLU, the Urban League, and Flint Watershed Coalition. Before private practice, he worked at the University Reading Clinic as a reading therapist and served as a Vice President of Benton Harbor and Mott Community Colleges. He also served as Flint City Attorney. Before retiring from law, Karlstrom's practice focused on labor, municipal, zoning, and environmental law.
The establishment of the Olivia P. Maynard and S. Olof Karlstrom Scholarship by the couple exemplifies their lifelong support and respect of the social work profession, and efforts to enact positive social change for the most vulnerable populations through social service, politics, teaching, and advocacy.
In addition to the tuition scholarship, the Olivia P. Maynard Training Fund has been set up by Ms. Maynard to enable and encourage University of Michigan-Flint students in the Bachelor of Social Work (BSW) program to embrace the value of continuing education, training, and networking throughout their careers. The Fund supports BSW students attending LEAD Day hosted by the National Association of Social Workers–Michigan State Chapter. The day is spent at the State capitol to observe how social workers engage with legislators and to experience how social work issues are addressed at that level. Award amount may vary and is dependent on available funding.
Both funds are fully endowed. The training fund will be available to make awards during the 2014-2015 academic year. The scholarship will be first awarded for the academic year of 2015-2016.
Guidelines for both scholarships are available from the Department of Social Work or Office of Financial Aid. Students must meet set requirements.
Contact University Communications & Marketing with comments, questions, or story ideas.