UM-Flint Engineering Seniors Enhance Test Lab by Building New Equipment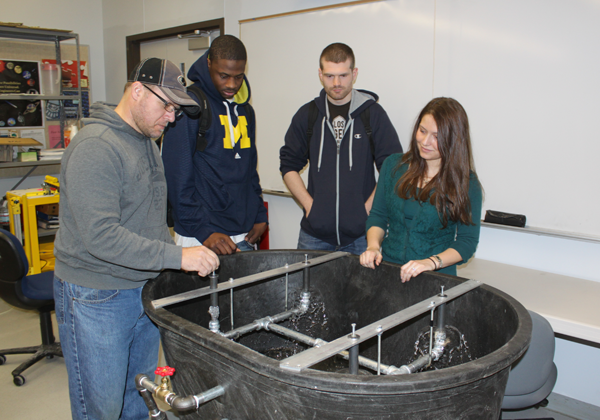 One of the main goals of the UM-Flint Engineering Department is to provide students with educational experience that connects theory with practice. This year's senior projects did just that, becoming permanent additions to the engineering lab once completed.
Upgrading and adding new test equipment to the materials engineering lab could have meant expenditures of many thousands of dollars. But four teams of UM-Flint students spent just $2,000 to build test equipment that will enhance engineering at UM-Flint for years to come.
"This year senior design projects are geared towards increasing the capability of our materials testing laboratory," said assistant professor of mechanical engineering Olanrewaju Aluko. "It is noteworthy to mention that the senior design projects have added unique equipment to our materials laboratory at very low costs."
Equipment that will be added to the lab includes a Jominy end quench test, which will allow students to better utilize new hardness testers that were recently purchased.
Students also built a  Zwick tension/compression tester, a mechanism by which the metal can be tested for its properties under bending. This has application for testing materials that might go into a design of beams for an overhead crane, buildings, and bridges. With this type of testing, you can tell when a beam is going to fail.
Students also built a vacuum former, which has a wide variety of uses. For example, a piece of plastic can be heated up to the temperature at which it can be easily deformed. It is then pulled down over a forming tool with a vacuum that is created by the vacuum pump.
The fourth team of students built a hand-operated sheet metal shear. The new cutter allows for more precise cutting of smaller sections of sheet metal.
"In providing engineering education to our students at UM-Flint, our teaching responsibilities are focused on undergraduate education that connects theory with practice," noted professor Aluko. "Furthermore, because engineers are currently working in groups to solve complex and modern day problems in industries, our senior design students have been able to acquire the much-needed ability to work successfully in groups with a common goal of providing solutions to the engineering problems at hand."
Contact University Communications & Marketing with comments, questions, or story ideas.